Though they only had three and a half sessions to do it in last week, the bulls managed to get a lot done. Or, was it only a lack of bears and sellers that allowed the market to drift higher, unchallenged? We're actually leaning towards the latter, though smart option traders will look at things with an unbiased eye…and so will we, in a moment. First, however, we need to slice and dice last week's major economic numbers.
Economic Calendar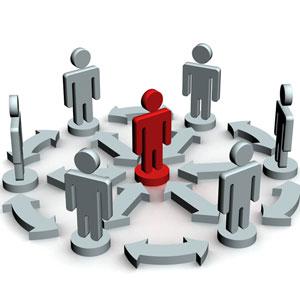 It wasn't terribly busy last week - some of the key data was rescheduled for the prior or following week because of the holiday. But, we did get a few items worth examining, particularly on the real estate front.
Existing home sales reached an annual pace of 4.79 million in October, topping expectations of 4.7 million. The rate of existing home sales has held steady around there for several months now. Housing starts and building permits were also strong again, coming in at 894K and 866K. Both of those numbers are also at or near multi-year highs, and showing no signs of slowing down.
On the sentiment front, the final score for November's Michigan Sentiment Index came in at 82.7, slightly lower then the preliminary reading of 84.9. Still, it's also trending higher, as it only scored a final reading of 82.6 in October. That's the highest reading since 2008. It will be interesting to see if the Conference Board's consumer confidence reading for November also comes in at a multi-year high when it's released on Tuesday.
All the rest of last week's numbers are on the grid below.
Economic Calendar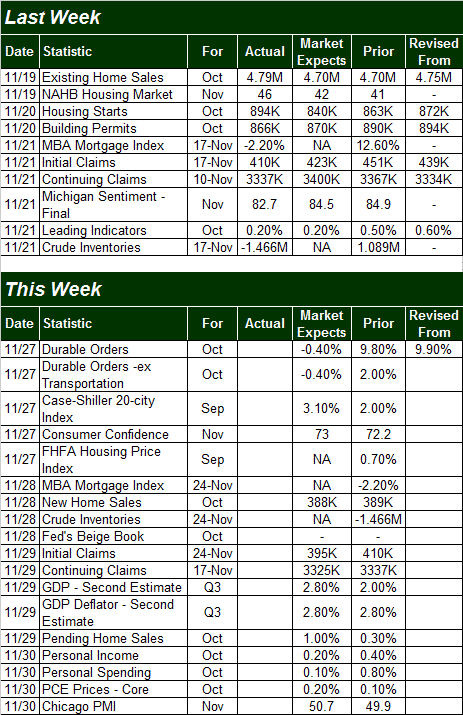 We're back in full swing this week with economic data, starting with durable orders on Tuesday. The pros aren't expecting anything great. In fact, economists are expecting a 0.4% dip for October, with or without transportation. Don't sweat the dip too much though - it's following a 9.8% increase from the prior month (and even a 2.0% increase not counting transportation for October's change).
Also on Tuesday we'll get November's final consumer confidence figure from the Conference Board. As was noted above, despite the worries the media seems to be thriving on, consumers themselves seem to be feeling pretty good about pretty much everything. The pros are looking for a reading of 73.0, up from October's 72.2.
Finally on Tuesday, we'll round out the most recent look at real estate data with October's new home sales rate. Forecasters are expecting a rate of 388K, roughly in line with September's number.
That's it until Thursday, when we get the 2nd estimate for third quarter's GDP. Economists are still expecting a growth rate of 2.8%.
Stock Market
It was nothing but bullishness last week, kicking off with a 1.98% rally on Monday, and finishing with 1.3% advance on Friday. All told, the S&P 500 (SPX) (NYSEARCA:SPY) gained 3.62% last week - a move that stopped the bleeding at a point in time when the market desperately needed the bleeding to stop.
Problem: Not only was last week's bullish volume on the light side, it got progressively lighter as the week wore on. Point being, last week's gains weren't a majority opinion. Is it possible that most traders are actually bears right now, and were just taking the bulk of last week off? Possibly, and given the 3.62% gain, there's certainly plenty of motivation to take some profits here.
Notice how low the CBOE Volatility Index (VIX) (NYSEARCA:VXX) traded last week. This is most likely just the result of a lack of participation and interest in the market. Don't read too much into it.
Does anything change when we take a step back and look at a weekly chart of the S&P 500? Not really . In fact, the only thing a weekly chart of the index confirms is that the market is on the fence…right in the middle of two key sets of Bollinger bands [the daily chart is in the same position].
The bottom line is, the market may have left off last week with a bullish bias (NYSEARCA:DIA) (NASDAQ:QQQ) (NYSEARCA:IWM), but that doesn't mean it's going to start this week with one. The fact is, near-term bullishness or bearishness is a 50/50 proposition for the time being for option trading. From here, we need to start looking to see what happens when key support and resistance levels (key moving average lines, most likely) are met.
Disclosure: I have no positions in any stocks mentioned, and no plans to initiate any positions within the next 72 hours. I wrote this article myself, and it expresses my own opinions. I am not receiving compensation for it. I have no business relationship with any company whose stock is mentioned in this article.
Additional disclosure: BigTrends Rapid Options Income subscribers have an open SPY options position.