Anika Therapeutics (NASDAQ:ANIK) develops and markets biopolymer (based on the naturally occurring polymer hyaluronic acid or HA) joint health and tissue repair products with a pending FDA decision for a key pipeline product, MONOVISC (single-injection, six-month biopolymer arthritis product), expected by year-end.
On the Q3 2012 conference call in late October, the Company provided guidance for an expected FDA decision by year-end-reporting that during the quarter additional data was submitted to FDA analyzing the clinical benefits of MONOVISC, including clinical trial data in a new format. The FDA accepted the additional information and responded with follow-up clarification questions which the Company subsequently addresses and classified as being straightforward in nature-resulting in optimism over the potential FDA approval by year-end for MONOVISC (pages 3, 5 and 6 of Q3 2012 earnings call transcript).
The Company also reported (page 3 of transcript) that a patent infringement lawsuit filed by Genzyme in 2010 over MONOVISC is on hold by mutual consent pending a court ruling on Genzyme's appeal of jury verdict finding Genzyme's patent invalid. MONOVISC has been marketed in Europe since 2008 and the potential FDA approval represents a key growth catalyst for the Company and has been pending for approximately three years following submission of the final module of a premarket approval (NYSEARCA:PMA) submission during Q4 2009 and subsequent follow-up with FDA over efficacy data.
Below is a summary of the Company's financial highlights as of Q3 2012 results reported in late October:
- As of 11/1/12, Anika reported 13.8 million shares of common stock outstanding.
- As of 9/30/12, Anika reported approximately $40 million in cash and equivalents with $10 million in total debt.
- Anika reported Q3 2012 total revenue of $14.8 million which decreased 20% from year-ago period due to a temporary scale-up issue at the Company's Bedford manufacturing facility-resulting in $2.8 million in sales being delayed to Q4 2012 for which the Company expects to report record revenue as highlighted in the Q3 2012 results press release.
- During the first nine months of 2012, Anika reported total revenue of $48.8 million which increased 5% from year-ago period despite $2.8 million in deferred revenue due to the manufacturing issue affecting ORTHOVISC sales, which was subsequently resolved by the Company.
- During the first nine months of 2012, Anika reported net income of $7.3 million or $0.51 diluted earnings per share (NYSEARCA:EPS) vs. $5.6 million or $0.41 in the year-ago period.
- The Company provided guidance (page 6 of earnings call) for full-year 2012 revenue of $70 million and EPS of $0.74 compared to approximately $65 million in revenue and $0.62 EPS in 2011.
As illustrated on the six-month stock chart below, shares of Anika have plunged from the mid-teens ($14-16) to the current trading range in the mid-$10s over the past few months.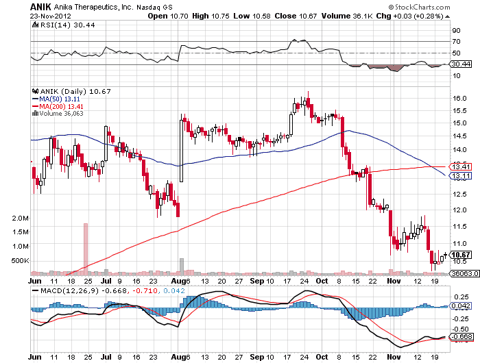 With an expected FDA approval for MONOVISC by year-end, record Q4 2012 revenue guidance, a strong balance sheet, a growing profitable underlying biological joint health business and other key pipeline products in development (e.g. Cingal and Hyalograft-C); shares of Anika are poised for a quick rebound back to the low teens ($13-14 target back toward the moving averages) given favorable growth prospects and reasonable valuation metrics based on projected 2012 results that include a price to sales ratio of about 2X and a price to earnings ratio of about 15X.
The expected near-term FDA approval for MONOVISC and valuation metrics for Anika compare favorably to BioMimetic Therapeutics (NASDAQ:BMTI) which was recently acquired by Wright Medical Group (NASDAQ:WMGI) in a deal announced last week that is expected to close during Q1 2013. The total potential value for BMTI shareholders in the WMGI deal is about $380 million or $12.97/share, consisting of an upfront payment of $190 million ($6.47/share including $1.50/share in cash and 0.2482 shares of WMGI stock) and a Contingent Value Right (NYSEMKT:CVR) for potential future milestone-based cash payments of up to $6.50/share ($3.50/share for FDA approval of Augment Bone Graft and $3/share in sales-based milestones).
BioMimetic is a regenerative medicine company focused on the development of Augment Bone Graft for foot and ankle fusions for which the Company has provided guidance (Q3 2012 results press release) to receive a final FDA decision by April 2013 to January 2014. In addition, during the first nine months of 2012, BioMimetic reported a net loss of $17.1 million and total revenue of $1.6 million.
The main near-term risk factor for Anika is the potential for additional delays or failure to obtain approval for MONOVISC, which would likely generate further selling pressure on the stock back to the high single-digits and possibly through the 52-week low of $7.66/share. However, even under this scenario, the Company has continued to report growing profitable operations over the past several years as the MONOVISC application has been pending and already has a similar multi-injection joint health product marketed in the US as ORTHOVISC so further delays or even a FDA rejection would not be catastrophic for the Company.
FDA approval for MONOVISC would likely propel shares back to the high teens ($16-18 target) and possible through the 52-week high of $17.70/share given a low share count and float which results in highly volatile trading patterns for the stock as illustrated by the major stock price moves (both up and down) in just the past six months as illustrated on the chart above.
Disclosure: I am long ANIK. I wrote this article myself, and it expresses my own opinions. I am not receiving compensation for it (other than from Seeking Alpha). I have no business relationship with any company whose stock is mentioned in this article.