Chevron (NYSE:CVX) is classified as a dividend champion stock, with a track record of 25 straight years of dividend increases. I have written on Chevron previously regarding the importance of the Gorgon project in Australia and also included the stock in my Sun Tzu portfolio series when I rebalanced the portfolio and allocated funds from Caterpillar (NYSE:CAT) shares to Chevron.
However, past performance is no guarantee of future success, and given looming litigation and potentially costly legal payouts in Argentina and Ecuador, the question needs to be asked if Chevron will remain a dividend champion, or does it get relegated back to challenger status, or does it get knocked out of the preferred dividend paying stock list altogether?
This article will examine Chevron's suitability as a core holding within a dividend growth portfolio and its standing as a strong company that pays an annual dividend that has continually increased over 25 years. It will review the company's current financial performance; provide an overview of the looming litigation the company is facing, and discuss any other factors which may significantly affect Chevron's ongoing operations. It will also serve as a necessary primer for Seeking Alpha Contributor Caiman Valores's article providing a detailed review of the specific legal risks and implications facing Chevron.
Company Overview
Chevron Corporation is a multi-line energy company with revenue-driving business units spread across a number of categories. The company's Exploration and Production division focuses on oil and natural gas. Its Manufacturing, Products and Transportation division deals with manufacturing and refining, global trading of raw materials, wholesaling of gasoline and other refined products, transportation and storage of petroleum and petrochemical goods through pipelines and shipping, development and delivery of multiple lubricant products, and research and development to improve fuels and lubricants performance. Its interests also lie further afield in a diverse range of mining, chemical, energy and technology businesses.
Chevron is the type of stock individual investors should look for as a core holding when constructing a dividend growth portfolio. It is a highly liquid company that generates substantial revenue, delivers a healthy profit annually, and provides a good return on equity for investors. The company has a strong track record of capital growth in share price, has a historical record for delivering sustained increases over 25 years on dividends paid, delivering additional returns for investors via dividend income. The diversification of the company across upstream and downstream product lines is complemented by its global reach and geographical dispersion worldwide. This provides it with a presence in emerging markets like South America, as well as more secure and established markets in Australia and the United States. Chevron's global geographical dispersion is shown below: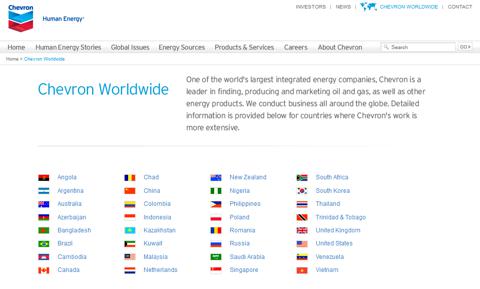 Recent Financial Performance
In its most recent announcement on financial results from the 3rd Quarter 2012, Chevron's CFO Ms. Patricia Yarrington highlighted the following key points:
3rd quarter earnings of $5.3 billion or $2.69 per diluted share (~30% decrease compared to 2nd quarter 2012 & 3rd quarter 2011).
Year-to-date earnings are down ~13% versus 2011.
Return on capital employed for the trailing 12 months was 17.4%.
Debt ratio at the end of September was 8.5%.
Cash balances were ~$21 billion, and net cash position was ~$9 billion.
Repurchased $1.25 billion of Chevron shares.
Ms. Yarrington also highlighted that a number of items negatively affected Chevron's "third quarter comparisons, including swings in foreign exchange and timing effects in the downstream, as well as timing of asset sale gains and other transactions".
Looking to current performance, Chevron is currently trading with a trailing PE ratio of 8.65; however, it has a five-year forward looking PEG ratio of -4.27. Its current share price on 23 November 2012 of $105.47 per share represents a $37.54 (55%) premium against its current book value per share of $67.93. The stock is approximately 12.3% below its 52 week high of $118.53 per share (9 October 2012) and 14.3% above its 52 week low of $92.29 (25 November 2011). Its current profit margin is 10.70%, against a return on equity of 18.91% and it pays an annual dividend of $3.51 (2012).
A current snapshot of Chevron's key financial statistics as at market close on 23 November 2012 is shown below: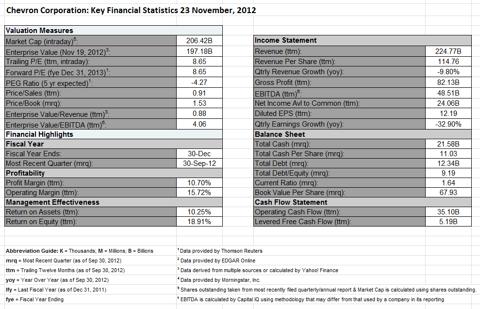 Dividend Performance
Besides being a profitable diversified energy company Chevron has an additional attraction for investors seeking to generate additional returns on their capital invested. The company pays a strong annual dividend of $3.51 (2012 expected) at a yield of 3.33% based on a share price of $105.47 (23 November 2012). The table below shows the annual dividend paid each year for the last 10 years, which has grown year-on-year by a factor of approximately 9%.

For investors seeking a dedicated dividend income stream from their portfolio, Chevron is a highly desirable energy stock to hold, given the security of knowing the company pays a strong annual dividend. When you review the Dividend Champions, Contenders and Challengers spreadsheet published by Seeking Alpha contributor David Fish, Chevron is classified as a dividend champion because it has paid increasing dividends for 25 years, generating a reliable form of dividend income, which we can see in the graph below showing the last ten years of dividends paid.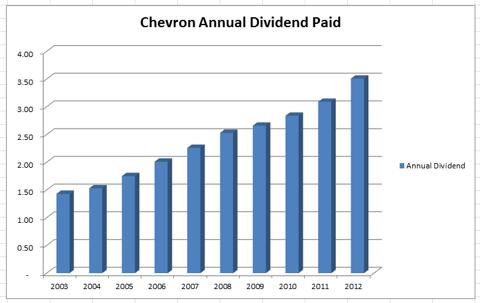 The dividend revenue appears stable, incremental, reflecting a pattern of established and sustained growth. Investing in a reputable energy company paying a strong sustained dividend that meets the qualifying requirements of being a dividend champion seems like the perfect investment.
Legal and Operational Risk
Chevron is currently fighting a long-running legal battle with the Ecuador government, which readers can bring themselves up to date on the detail via the dedicated information page on the company's website. The broad background to the issue is as follows:
"Chevron is defending itself against false allegations that it is responsible for alleged environmental and social harms in the Amazon region of Ecuador. Chevron has never conducted oil production operations in Ecuador, and its subsidiary Texaco Petroleum Co. ("TexPet") fully remediated its share of environmental impacts arising from oil production operations prior to 1992. After the remediation was certified by all agencies of the Ecuadorian government responsible for oversight, TexPet received a complete release from Ecuador's national, provincial and municipal governments prior to being acquired by Chevron in 2001. All legitimate scientific evidence submitted during the litigation in Ecuador proves that TexPet's remediation was effective and that the sites it remediated pose no unreasonable risks for human health or the environment."
Chevron's current position on the case states that:
"The Ecuador judgment is a product of bribery, fraud, and it is illegitimate. Chevron does not believe that the Ecuador judgment is enforceable in any court that observes the rule of law."
In addition to the Ecuador judgment, Chevron has other mounting legal issues stemming from a number of operational incidents. The following announcements have been made in recent months and are viewable on Seeking Alpha's Market Currents section for Chevron:
In his April 2012 article 'Brazil's Case Against Chevron; Oil Nationalism In Disguise', Seeking Alpha contributor Caiman Valores provided a review and analysis on the actions taken by the Brazilian government as a result of the two minor oil leaks at Chevron's Brazilian oilfields in November 2011 and March 2012. In relation to these two incidents Chevron was fined and officially sanctioned, but it was also subjected to criminal and civil actions brought by Brazilian federal prosecutors. Caiman wrote about the potential risk implications in relation to these outcomes:
"So where does this leave Chevron? The civil damages brought by the Brazilian government in proportion to Chevron's revenue and net income are extremely damaging as they represent over 9% of Chevron's 2011 revenue and 82% of that year's net income. Obviously, if Chevron were to pay these damages should a judgment be awarded against them, there would be a significant financial impact on the company. But it is unlikely that Chevron would pay any such judgments and would seek to have the judgment overturned on appeal. Even if Chevron was forced to comply with a judgment against it, it would only initially be enforceable in Brazil until the Brazilians were able to legally apply for it to extend to other jurisdictions."
However, the recent developments in relation to Brazil, Ecuador, and Argentina are significant; the potential seizure of Chevron's assets in a third party country, in addition to the potential payment of $18 Billion in compensation, would significantly affect Chevron's bottom line. Per his previous article Caiman summarized the potential impact for the company as follows:
"It is estimated that Chevron's total Brazilian oil assets are worth around $4.1 billion. Therefore, in a worst-case scenario, Chevron could declare its Brazilian unit bankrupt and leave the Brazilian government to seize those assets. Chevron's U.S. and global assets, which are in other legal jurisdictions, would be beyond the reach of the Brazilian government. It would seem that despite Chevron misjudging the risks of operating in Brazil, the company has employed a sensible risk mitigation strategy by compartmentalizing its operation and minimizing the assets that it has exposed in Brazil."
These negative developments represent significant downside risk for the company and investors, and they are already having a negative effect on share price. Below is a chart which shows the share price performance over the last month following the US Supreme Court ruling on 9 October 2012. It accurately reflects a steep downturn in price ($7.96 / 7.21%) on 6-7 November 2012 following the Argentinean court order announcement regarding seizure of Chevron's assets, and this downtrend only seems to have corrected following Chevron's filing of a motion for revocation of the court order.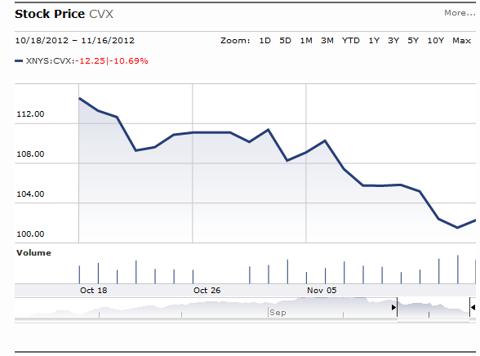 Source: Morningstar.com
There are necessary ongoing legal costs associated with Chevron needing to deal with these law suits. It is estimated that Chevron may be spending $200 million per year in legal fees related to the Ecuador case alone. If the additional Latin American law suits become as protracted as the Ecuador case, these fees could increase significantly, drawing money away from funding new projects that generate revenue and/or being returned to shareholders via dividends.
As there appears to be a distinct lack of information available publicly on these latest developments, I approached Caiman Valores for his perspective on the situation and its likely risk for investors. Having the benefit of his local insight gave me a fresh perspective regarding this issue, and during the course of our discussions over a number of days, Caiman's opinion was that there was a sufficient level of complexity in relation to the ruling (from legal and investment viewpoints) that warranted an in-depth focus piece so that readers can understand these legal implications, and this is why we decided to prepare an interlinked assessment of the issue.
Is There Any Upside
There are plenty of investors who rate Chevron not only as a quality company, but because of its performance relative to its peers, and for the returns it offers via its dividend distributions. An example article that speaks to these strengths is 'Top Yields' article 'Chevron, A dividend Investment for the Future'. Another by 'Efsinvestment' is 'Chevron Demonstrates Impressive Free Cash Flows'.
Chevron's strong track record is warranted; over the last three years its share price has increased, it has grown earnings per share, continued to increase its dividend per share, and has decreased its long term debt to equity ratio. Over the same time period its return on equity ratio has outperformed the Oil & Gas Industry. A consolidated three year summary of Chevron key performance ratios is included below: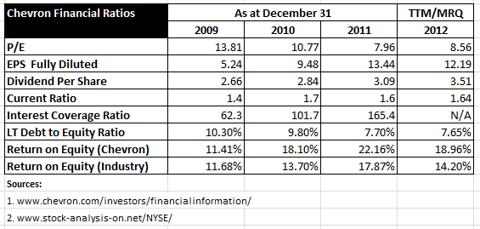 Both of the above articles are correct in terms of Chevron's strengths and highlight them to readers, but both downplay the risk associated with the legal developments in Latin America and possible cost over-runs in completing the Gorgon project in Australia. I share the sentiment that the company is (historically) a quality holding, and think that this would remain the case if Chevron is able to uphold its position legally. 'If' is a significantly fluid factor in these cases, which is why I am conducting my own due diligence regarding Chevron's suitability as an investment. As Caiman points out in his linked article,
"I am not saying to be risk averse, but to weigh up the true risks and the impacts they can have on the company in which you are investing and ultimately the value of your investment".
Dividend Champion, or Dividend Knock Out?
The historical performance of Chevron combined with its strong growth in share price and annual dividend payments makes it a naturally desirable stock to hold within a diversified investment portfolio. It is without a doubt a dividend champion. However given the current and emerging legal and operational risks, I think that it is prudent and in all investor's best interests to revisit their positions in Chevron against their current risk profile.
It will be interesting for readers to gain a perspective from a writer and investor who understands the complexities and nuances of the local laws as they apply to the Chevron cases within Latin America, and to that end I strongly recommend investors read Caiman's article and consider his recommendations, prior to making any decision on current and future investment in Chevron.
While many would argue the merits of investing in the stock while it is currently trading at discounted levels, the recent legal developments should preclude this from being an 'eyes wide shut' investment. Investors should have some appreciation of the potential impacts the legal judgments could have on the fair value of the stock, and Caiman's article does this with a number of different scenarios in a discounted cash flow valuation model.
Investors need to ensure that they take all of the legal suits and judgments seriously; to dismiss them as a minor annoyance that wouldn't go anywhere nor be taken seriously by international courts would be a mistake, when the reality is that they would be and now have been taken seriously, with entirely tangible consequences. Dividend champions do occasionally stumble, and if the Argentinean judgment is upheld (setting precedence) it may very well be that Chevron becomes a dividend knock out, and a champion no more…
Disclosure: I am long CVX. I wrote this article myself, and it expresses my own opinions. I am not receiving compensation for it (other than from Seeking Alpha). I have no business relationship with any company whose stock is mentioned in this article.
Additional disclosure: This information is general advice only. Investors should seek independent financial advice prior to making any investments of their own.