For short term traders, nothing creates a more enticing investment opportunity than having a stock fall despite beating earnings estimates. However, for VF Corporation (NYSE:VFC), the recent 5% fall after earnings provides an attractive entry point for long term traders as well.
It was April 2011 when VF Corp posted first quarter earnings of $1.82. That number soundly beat estimates of $1.61 and extended the company's streak to six consecutive quarters of topping projections. Yet, immediately after the report the stock fell nearly 8%.
It took shares almost two months to climb back over $100 per share. However, once they did they immediately climbed to a new all-time high of $130 before retracing again after another solid report.
Such has been a recurring theme for this stock and its recent performance following earnings. A month ago after announcing a third quarter figure of $3.52 that came in over 18% higher than last year's $2.87 reading, the trend continued. This time, shares dropped over 7%.
Investors have their reasons to pull money from the stock following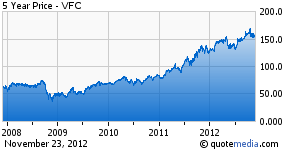 earnings. After all, the last eight times the company has reported, shares have been either right at or within 5% of all-time highs. However, with the company's continued growth, there's no reason to believe such a long term upward pattern can't continue.
Now the company does have its risks. Currently trading with a P/E ratio over 17, the stock may come across as a little pricey. Still, the holiday shopping season may breathe even more life into its shares.
Although I have been skeptical at how much success retailers will find this holiday as a result of big name companies like J.C. Penney (NYSE:JCP) and Best Buy (NYSE:BBY) losing business and posting deteriorating earnings, the season is still a time for opportunities.
With VF Corp ranking 14th last year in satisfaction rankings with a customer satisfaction of 85/100, the company's management also gives me no reason to think they will do anything to hurt their own bottom-line. With an annual dividend of $3.48, the stock shouldn't be hurting any investors, either.
Any buy orders here should have a stop loss order at $150 and, given immediate weakness following earnings, short term investors should look to take profits before the company's next scheduled earnings report in late January.
Disclosure: I have no positions in any stocks mentioned, and no plans to initiate any positions within the next 72 hours. I wrote this article myself, and it expresses my own opinions. I am not receiving compensation for it (other than from Seeking Alpha). I have no business relationship with any company whose stock is mentioned in this article.