Seeking Alpha author Chuck Carnevale said it best when he wrote (in Dividends Provide a Return Bonus):
If you examine two companies with equivalent rates of earnings growth, where one pays a dividend and the other does not, the dividend payer will provide their shareholders a higher total return. In other words, we're suggesting that both stocks will provide equivalent capital appreciation when measured over a time period when the market is behaving rationally. We would define this as a time period when both stocks were being priced at fair value in the beginning and in the end. Consequently, the stock that pays a dividend to its shareholders is providing them a return bonus or kicker.
The esteemed Seeking Alpha author further went on to explain the secret sauce for total returns when he wrote:
In either case, dividend paying or not, the bulk, or majority, of total return will be provided by the capital appreciation component. This is why we are saying that dividends are a kicker or bonus return. In other words, capital appreciation is the cake and dividends (if any) are the icing.
Now the concept of REIT investing is rooted in the same "cake and icing" blueprint that Mr. Carnevale explained; however, the two elements (dividends and capital growth) are reversed for REITs making dividends the "cake" and capital appreciation the "icing." Accordingly, REITs help to balance a conventional common stock portfolio by reducing volatility and by providing a natural hedge against inflation.
A Recipe for Dividends and Growth
Last week, Seeking Alpha author, Regarded Solutions, wrote an excellent article, 3 Solids REITs for Dividends and Growth. In the same "cake and icing" analogy, the author went on to explain:
The issue a sound investor faces is: what stocks can be invested in that could give the best total returns in any economic environment? It can come in the form of dividends, or growth of course, but perhaps right now we can have both. Sort of like having our cake and eating it too.
As the author went on to explain,
As dividend seeking investors, we strive to reach for income. These (health care) stocks offer attractive yields as well as the potential for capital appreciation. With all of the uncertainty investors face, these stocks could also offer a safer haven given the business sector they are in.
Healthcare REITs are predominantly considered a defensive sector due to the non-cyclical nature - namely, people do not tend to change their healthcare spending patterns depending on the economy. Accordingly, healthcare REITs indirectly participate in the defensive nature of their tenants through their lease payments.
Before the election, there was considerable uncertainty about the future of the Affordable Care Act. This all went away with the re-election of President Obama. As a result, health systems and doctors will now be able to move forward with the certainty they need to make major decisions such as leasing, capital expenditures, and other investments.
The Affordable Care Act is projected to add an additional 35 to 45 million insured patients into the marketplace. These individuals are expected to increase their utilization of health services which should bode well for hospitals' and physicians' volumes - a net positive for hospitals and the owners of on-campus medical office buildings.
These additional patients are expected to be somewhat funded by Medicare and Medicaid cuts to providers. In total, the increased volume for hospitals and physicians are expected to offset any reimbursement cuts. But what about skilled nursing facilities? Are they expected to face the most difficulties from the cuts?
What Does the Affordable Care Act Mean for Omega Healthcare Investors?
Omega Healthcare Investors (NYSE:OHI) is a pure play nursing home company that appears to be particularly vulnerable to Medicare rate cuts. These cuts that are being made are to Medicare reimbursements paid to nursing facilities for seniors receiving post acute care. This care is provided to Medicare recipients recovering from surgery or an illness who require rehabilitative services before returning home.
Hospitals typically discharge seniors as soon as possible to skilled nursing facilities for care in order to reduce costs. The changes only impact short-term stay residents at nursing facilities. Medicare does not pay for long-term care at nursing homes.
Distributions of Medicare payments for healthcare services and supplies has grown from around $180 billion in 1995 to around $489 billion in 2010. During the same time, distribution of Medicare payments to skilled nursing facilities has grown from zero (in 1995) to around 13% of all Medicare reimbursements today.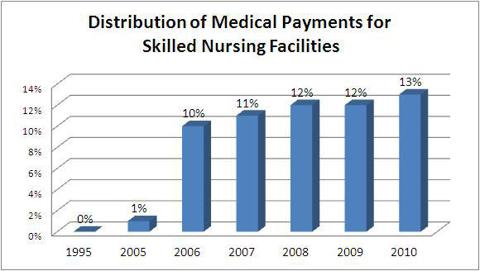 Click to enlarge
But over the last few years, a growing number of nursing homes have added more rehabilitative services in order to attract more Medicare reimbursed residents. Medicare pays about $500 a day for short-term stay services, whereas a long-term care resident might only pay about $120 a day.
The property types (and sectors) that stand to suffer most from the Affordable Care law are those with operators that receive reimbursements from Medicare - payments scheduled to be cut by hundreds of billions of dollars over the next decade. In particular, skilled nursing facilities - nursing homes - draw 40% to 50% of their reimbursements from Medicare, and post-acute care hospitals draw around 80%.
REITs like Omega Healthcare Investors tend to house such tenants under triple-net leases, and they assess the operators' health and ability to pay by looking at rent coverage, a number representing how many times a tenant's EBITDA covers the rent.
In an interview (not available online) with SNL, Robert Mains, an analyst at Stifel Nicolaus & Co. Inc., said he was "not really all that concerned" about REITs taking a hit from sequestration, if it happens. Nursing homes already faced an 11% rate cut in 2011," he noted, without any solvency problems. On top of that, he said, the potential 2% cut comes on the heels of a modest pay increase that providers received Oct. 1. As Mains explained,
The amount of the Medicare cut to providers, it's 2%. It's painful, but it's not so deep that it's going to force a bunch of structural changes anyway. From a REIT standpoint, it probably means that rent coverages will go down a little bit, but nothing worrisome. … REITs write hospitals and nursing homes to pretty wide coverages. So if coverages right now are 1.4, maybe this makes them go down to 1.35 or 1.38 or something like that. It's not going to be a severe drop.
So Let's Examine the Risk of Omega Healthcare?
Omega Healthcare Investors invests principally in long-term healthcare facilities. The Maryland-based REIT has a market capitalization of $2.538 billion and its current dividend yield is 7.77 percent. The company owned or held mortgages on 460 skilled nursing facilities, assisted living facilities and other specialty hospitals with approximately 51,117 licensed beds located in 33 states and operated by 47 third-party healthcare operating companies.

Omega has assets of around $3.051 billion, consisting of 92% owned assets and 8% in mortgages.

The majority (97.3%) of Omega's facilities are leased to skilled nursing operators and the remaining facilities are leased to assisted living and other specialty operators.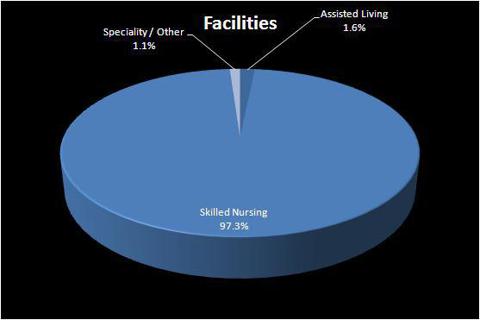 Click to enlarge
Omega has a geographically balanced platform that consists of 51,117 licensed beds in 33 states. Florida, Ohio, and Texas account for over 40% of Omega's rental income.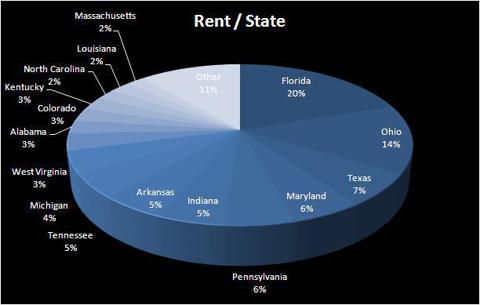 Click to enlarge
In addition to geographic diversification, Omega also maintains consistency in operator diversification. Currently, the company has contractual (2012) commitments with 47 operators.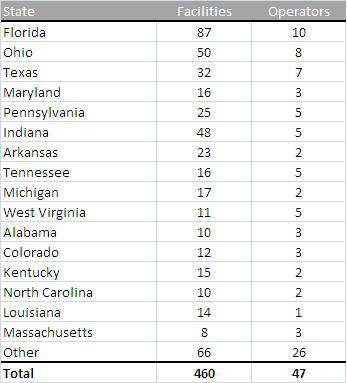 Omega's largest operator/tenant is Communicare (36 facilities and 11.4% of rent), Sun (40 facilities and 11.1% of rent), and Airamid (38 facilities and 7.9% of rent).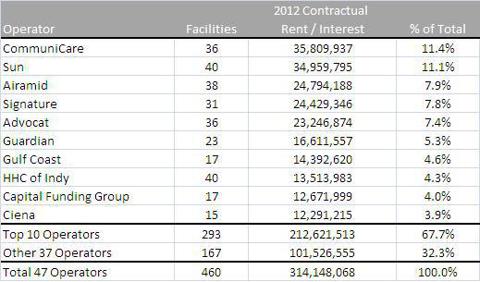 Click to enlarge
The majority of Omega's properties are leased to skilled nursing operators (435 facilities), and the growing senior population fundamentals provide REIT investors with attractive investment opportunities. While certified beds and patient occupancy rates remain relatively stable, the number of skilled nursing facilities continues to decline, signifying that demand for skilled nursing facilities will exceed supply.
What is Driving Omega's Sustainability?
The unexpected healthcare cuts have sent nursing home operators scrambling to figure out how to pare expenses and many developers, meanwhile, have scratched plans to build new facilities. Of course, that means that the number of new facilities is also shrinking.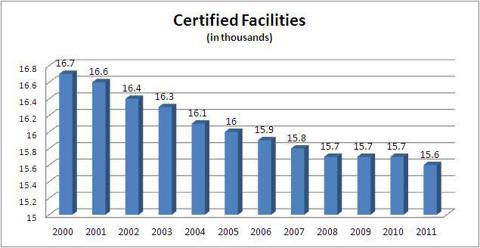 Click to enlarge
Conversely, the demand for skilled nursing could never be stronger (as the 85+ population growth is soaring):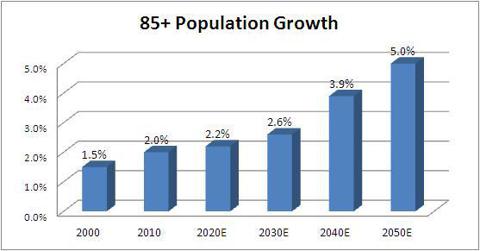 Click to enlarge
The attraction to the skilled nursing facility concept is the low cost fundamentals that are strategically aimed at the growing demand (85+ population) and limited supply (and fragmentation). Payors are focused on driving seniors to skilled nursing facilities because they offer the lowest cost setting of healthcare.

Click to enlarge
Conclusively, these supply and demand fundamentals have allowed Omega to maintain stable occupancy trends (current industry average is 83% percent and Omega occupancy is 84%).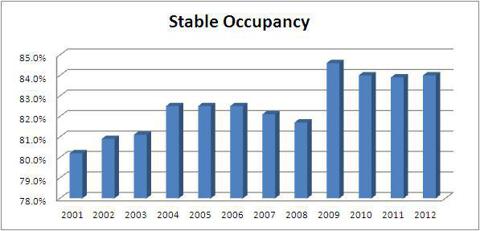 Click to enlarge
The key metric to watch with Omega's sustainable income model is the company's cushion in rent coverage. The purpose for having strong portfolio rent coverage is to ward off the danger of fluctuations in income. As of Q2-12, Omega had a 1.58 EBITDAR coverage and, from a REIT standpoint, the coverage is not worrisome (and it may go down more in months and years to come). Although operators will look to pare costs (reduce labor, etc.), there should not be a significant drop (in the foreseeable future).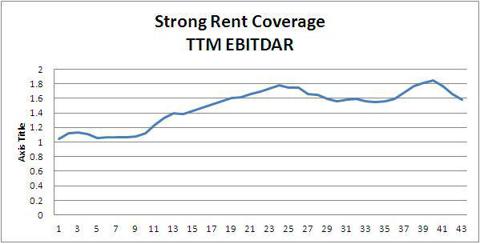 Click to enlarge
What is Driving Omega's Growth?
As mentioned above, Omega's core competency is investing in skilled nursing facilities and the company's growth strategy is to pursue selective acquisitions and to leverage existing (47) operator relationships. Since 2004, Omega has grown its portfolio by over 200% (17.1% CAGR from 2004 to 2011).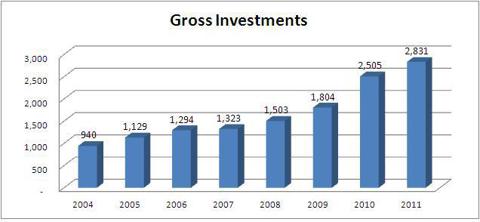 Click to enlarge
During the same time (2004 to YTD 2012), Omega has acquired approximately $2.4 billion of properties. Additionally, the company has approximately $90 million committed to its operators for capital improvement and new construction projects to be completed over the next 18 months.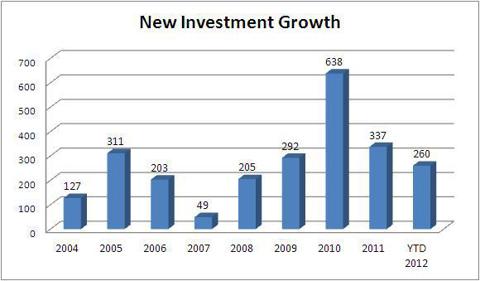 Click to enlarge
Omega's core operations revenue (excludes owned and operated nursing homing revenue) has grown 18.9% (OTCPK:CAGR) from 2004 to 2011.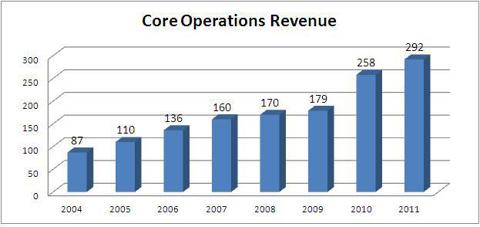 Click to enlarge
Omega generally utilizes its credit facility to make acquisitions and replenish availability with long-term debt and equity issuances (cash and undrawn credit facility total $390 million as of September 30, 2012). Omega has maintained a consistent financial policy that includes a targeted debt to adjusted EBITDA ratio of 4.0x to 5.0x (4.2x at September 30, 2012).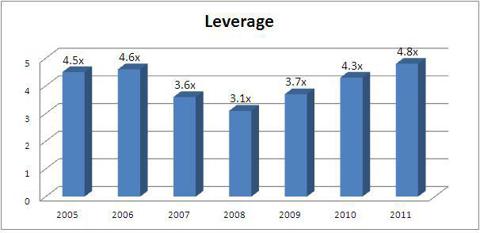 Click to enlarge
Omega's cash fixed charge coverage ratio as of September 30, 2012 is 3.4x.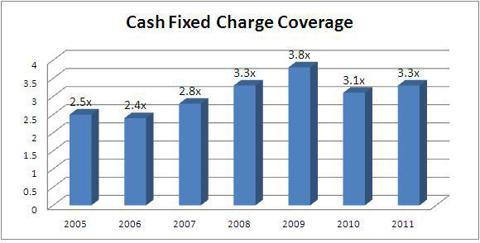 Click to enlarge
Omega has a $475 million unsecured revolving credit facility (BBB- S&P rating) with an August 2015 maturity (and a $125 million accordion). There are no other near-term debt maturities .
Omega has 86% of assets unencumbered ($2.726 billion) and $1.2 billion of long-term bonds. In addition, Omega has $265 million of 30+ year amortizing HUD loans. Omega's adjusted EBITDA has grown by 20.9% (OTCPK:CAGR) from 2005 to 2011.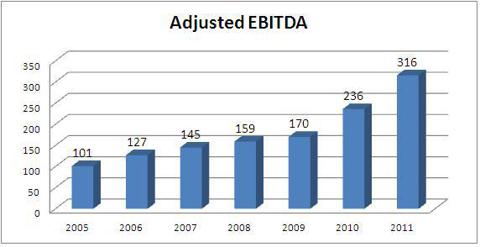 Click to enlarge
Omega's Funds from Operations (FFO) has grown by 22% (OTCPK:CAGR) from 2005 to 2011 ($161 million at September 30, 2012).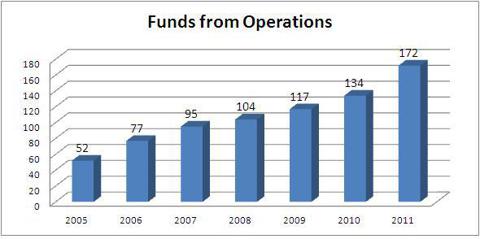 Click to enlarge
Is There an Adequate Margin of Safety in Omega Healthcare?
As Ben Graham would have agreed, the fundamental test in evaluating a security is to determine whether there is a buffer to protect against market fluctuations. That buffer - also referred to as the margin of safety - is the difference between the real or intrinsic value of the business underlying the security and the price assigned to that security at the moment.
Now remember, I started this article with the premise that REITs, unlike traditional stocks, are anchored by dividends, not growth. Accordingly, I think it is important to start the valuation analysis with the all important dividend.
Skilled nursing facilities trade at very high yields relative to most commercial real estate, so Omega already has a lot of potential Medicare risk already priced into its share price. In fact, Omega has the highest dividend yield (7.77%) of ALL healthcare REITs.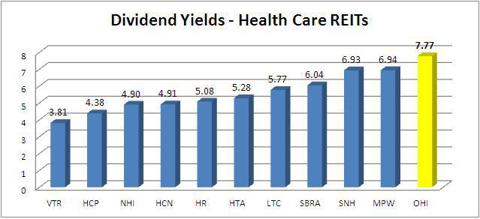 Click to enlarge
In addition, Omega is one of just five other healthcare REITs that has maintained and increased dividends for over five years. HCP, Inc. (NYSE:HCP) is a dividend champion (as defined by Seeking Alpha writer, David Fish, here), and National Health Investors (NYSE:NHI) and Omega have both maintained a record of ten consecutive years of dividend increases.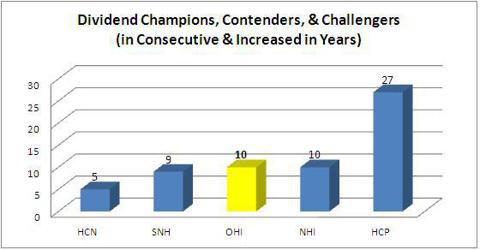 Click to enlarge
Omega recently increased its dividend from $.4200 to $.4400 (4.8% increase) making the annual dividend payment $1.6900.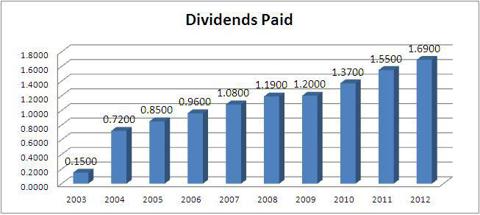 Click to enlarge
In addition, Omega has increased its dividend by 9.3% between 2011 to 2012 and the company has increased its average payout by 11.4% over the last eight years.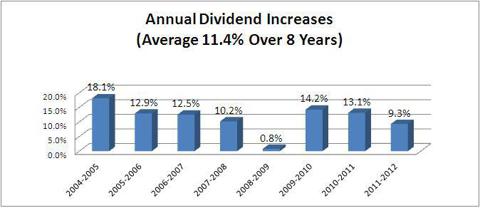 Click to enlarge
Now regarding Omega's current valuation, there is no argument that Mr. Market has given REITs a very cheap cost of equity, and that in turn has allowed them to buy billions of dollars' worth of healthcare real estate over the last couple of years. However unlike most REITs (including an article I recently wrote on Realty Income (NYSE:O) and its low cost of capital), Omega shares are trading at $22.65 and despite a third quarter report which beat estimates by $0.02 per share, the shares have decreased.
Snapshot of Omega's 90-day stock price history: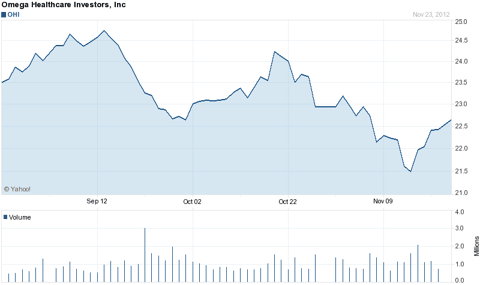 Click to enlarge
Omega's FFO multiple is 10.6 and the REIT's decrease in price and increase in forecasted earnings give me pause that a "margin of safety" could be forming. Furthermore to get a clearer picture of FFO, I often look at Adjusted Funds from Operations (or AFFO). (Note: professionals tend to focus on AFFO for two reasons. (1) it is a more precise measure of residual cash flow available to shareholders and therefore a better "base number" for estimating value, and (2) because it is true residual cash flow, it is a better predictor of the REIT's future capacity to pay dividends).
Omega has a P/AFFO multiple of 12.3, again one of the lowest multiples in the healthcare sector. In addition, the reciprocal of P/AFFO is AFFO/P - also referred to as the "AFFO yield." For Omega, the AFFO yield is 8.13% and that tells me that Omega's cash flow (cap rate) is considered market for similar healthcare related assets (cap rates for similar assets range from 8% to 9%).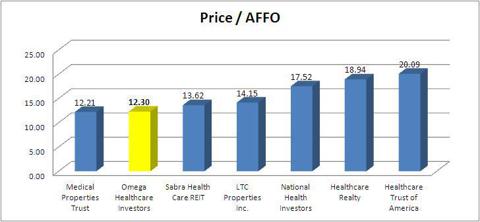 Click to enlarge
Perhaps the Affordable Care regulation has priced the potential risk for the sector and Omega has not been adequately rewarded for its stellar track record of profitability? Regardless, Omega "has a new value champion" (see article by Dane Bowler) and the value proposition appears consistent with Ben Graham's explanation (in The Intelligent Investor) when he explained that the value investor's purpose is to capitalize upon "a favorable difference between price on the one hand and indicated or appraised value on the other."
Going Back to the Cake and Icing
Finally, let's take a look at Omega's historical performance as it relates to its combined dividend and growth performance. Or better said, let's determine whether there is an appetite for icing (dividends) and cake (capital growth) that makes the combined total return calculation a "best selling" REIT recipe.
Omega's year-to-date total return is 26.2% and the 5 year total return is 100%.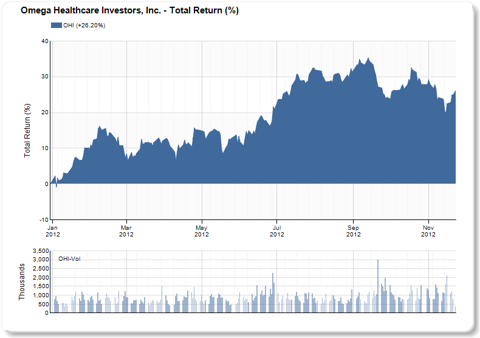 Click to enlarge
Not bad and since October 2002, Omega's stock price has appreciated by 18.6% (OTCPK:CAGR) and the company's 10 year total return has been over 653%. Omega has a well-defined value proposition and I remain bullish on the skilled nursing sector. Risks appear to be limited given the long-term performance fundamentals and the fact that skilled nursing is still the lowest-cost provider of post-hospital care.
Though the Medicare rate cut will figure in underwriting for future acquisitions, Omega Healthcare is a strong healthcare REIT with a sound rent coverage ratio. With a well-balanced revenue platform, Omega's operators should have adequate cash flow to pay the rent and the highest paying dividend REIT should continue to maintain a sustainable dividend platform.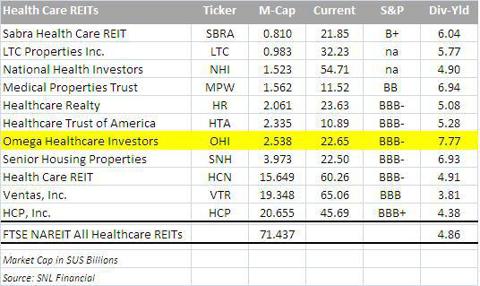 Click to enlarge
Peer REITs: (NASDAQ:SBRA), (NYSE:LTC), (NYSE:MPW), (NYSE:HR), (NYSE:HTA), (NYSE:SNH), (NYSE:HCN), (NYSE:VTR).
Source: Omega Healthcare Investor Presentation (November 2012), SNL Financial, DRiP Investing
Disclosure: I have no positions in any stocks mentioned, and no plans to initiate any positions within the next 72 hours. I wrote this article myself, and it expresses my own opinions. I am not receiving compensation for it (other than from Seeking Alpha). I have no business relationship with any company whose stock is mentioned in this article.