In 1995, Amazon. Inc (NASDAQ:AMZN) set out with a mission to become "Earth's Biggest Bookstore". It is this trailblazing spirit, and the fact that as of last year it captured almost 7% of the global $680B e-commerce pie, that has now justifiably made AMZN into "Earth's Biggest Online Retailer". Will Amazon win investors' hearts in the coming future?
Tracking Financials
AMZN's Q3 2012 operating results were a somber, though not unexpected, reminder of the prevailing economic uncertainty and the competitive challenges facing the online retailer. But despite the tough environment in which it operates, the company reported a 27% increase in Net sales ($13.81b) compared to the same period figures for 2011 (10.88b). Unfavorable foreign-exchange rates eroded almost 3% of Net sales growth, which could have been as high as 30% in same period comparisons.
AMZN has continued to invest in expanding its infrastructure, primarily in terms of technology, as well as in innovative new products. Not surprisingly therefore the company saw its year-over-year Operating expenses rise by 28% ($13.58b).
Since 2003, the company started reporting its results based on 2 core segments of its operations - North America and International. The consolidated results of these segments is what AMZN refers to as "Segment Operating" results. The company reported Consolidated Segment Operating Income (CSOI) of $232m, which was down by almost 11% from Q3/2011 ($260m). Comparing segment performance, North America reported a Q3/2012 operating income of $291m, while for the first time in the last year International operations saw an operating loss of $59m.
While the company's higher reported revenue growth is certainly impressive, it is clear that the overall rate of growth has started decelerating, with the growth of even higher operating expenses squeezing operating margins. The combined impact of higher infrastructure growth spending and negative exchange rate cannot be ruled out for this decline, which saw CSOI margin narrow by 70 basis points, to 1.7%, compared to last year. As a result, AMZN ended Q3/2012 with a $274m Net loss, which translates to a loss of $0.60/share, compared to a Q3/2011 Net income of $63m ($0.14/share diluted).
Stock Performance
As of the time of writing this analysis, based on Morningstar data, AMZN has been trading at a 52-week range of between $166.97 and $264.11. Since mid-Oct 2012, the stock has been trading in a band between its 60-day Simple Moving Average of $244.4 and its 200-day SMA ($220.80), only barely testing this support level on Nov 15 ($220.59). The stock price has since been on a upward trend and, as highlighted in the chart below, is outperforming its major competitors on a percentage change basis.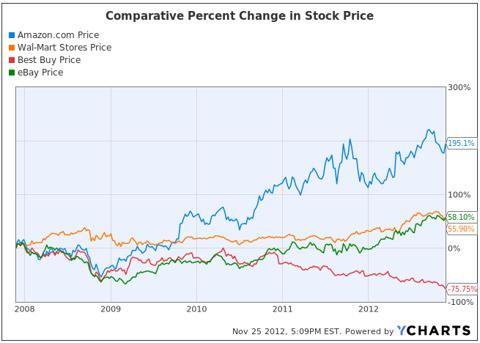 Click to enlarge
Of the three competitors highlighted above, Walmart Stores Inc (NYSE:WMT) and eBay Inc (NASDAQ:EBAY) have had relatively steady price increases compared to the spectacular, though somewhat volatile, rise in AMZN. However, evaluating an investment purely on stock price movement is not what investment decisions are made of.
If we compare the stock's performance on a P/B metric, a more realistic picture of AMZN versus it's competition emerges.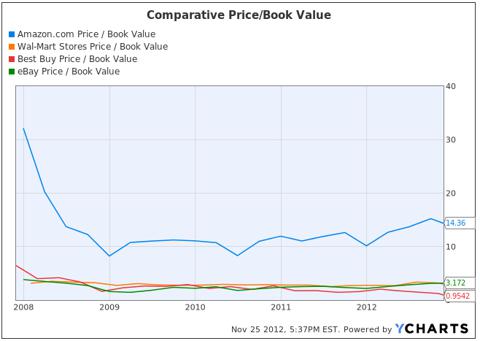 Click to enlarge
Once again, we see that AMZN is trading significantly higher than WMT and EBAY, making it a comparatively overvalued stock at 14x its book value. With the company investing so much of its earnings back into growth and infrastructure, perhaps investors are expecting better results in the coming quarters and the stock price has those expectations baked in. However, running a YCharts comparison for Return On Assets show that both WMT (8.39%) and EBAY (13.59%) are delivering much better return on assets than AMZN (0.18%).
The fact is that both WMT and EBAY are eating market share from AMZN. In anticipation of the holiday shopping season, WMT has increased its catalogue of electronic and other popular offerings, including tablets and smart phones. It is also moving into the same-day-delivery model with its "Walmart-To-Go" offering local pickup for online shoppers. With 40 distribution centers across the US, AMZN is no match to the 3,000+ WMT stores that can be used for pickup.
What Does the Future Hold?
Management have given strong indications, in their forward looking statements to the Q3 2012 operating results, that they plan to march ahead with the company's strategy of spending on growth initiatives and infrastructure in the foreseeable future. The company's future seems to hinge on a strategy to continue to maintain lower prices while investing heavily in developing newer service offerings, which fueling stronger revenue growth while sacrificing profit margins.
On the innovation front, the company continues to re-invent itself, and the addition of Amazon Lockers, and its partnerships with companies like Staples and 7-Eleven to install these lockers all across U.S. locations, is just one more example of what the future holds.
A continued quest for growth, in the face of a weak global macroeconomic environment, is leading AMZN to expand its operations in Europe and China. Several recent (Nov 2012) developments also provide an insight into the company's future direction. The shipping of the market-leading Kindle Fire HD 8.9" e-reader, the expansion of its Amazon Web Services (AWS) via the Amazon Cloud Drive in Japan, and the launch of the free Unity plug-ins for their In-App Purchasing and Amazon GameCircle APIs, are clear indications that the company sees significant future growth coming from its technology-based product and service offerings.
For the near future however, investors should expect some optimism. As the Vice President of Investor Relations, Mr. Sean Boyle indicated in his forward looking statement for "For Q4 2012 we expect net sales of between $20.25 billion and $22.75 billion, a growth of between 16% and 31%"
Make or Break For Investors?
Out of the 11 analysts evaluating Amazon, six recommend it as a Buy, whereas other five prefer the neutral Hold rating. This situation creates a bit of uncertainty for the average retail investor -- should he or she jump in with both feet (buy) or remain on the sidelines (hold) for the time being until additional guidance is received?
While the company's underlying business model is extremely attractive, it is clearly facing stiff competition from other established online retailers, as well as from traditional brick-and-mortar shops who are finding low barriers to entering the online retailing arena. A forward P/E of 100.8, a P/B value of 14.5, and a 33.0 P/C valuation all tend to indicate a fairly high valuation to the stock. Rising infrastructure spending, and diversification into technology-based products and services is a right step, but investors need to sit back and see the results of execution, before making a firm investment decision in AMZN.
Bottom Line
Clearly, geo-political and global macroeconomic forces need careful watching too. Recent moves from France and Britain to try and force online retailers like AMZN to pay more sales and income taxes would not bode well for the company either. Based on the information provided, I currently consider AMZN a Hold option.
Disclosure: I have no positions in any stocks mentioned, and no plans to initiate any positions within the next 72 hours. I wrote this article myself, and it expresses my own opinions. I am not receiving compensation for it (other than from Seeking Alpha). I have no business relationship with any company whose stock is mentioned in this article.