Cubist Pharmaceuticals (CBST) is a $2.56 billion market-cap biopharmaceutical company involved in the research, development, and commercialization of drugs to treat unmet medical needs in the acute care space. The company currently has two FDA approved drugs on the market: Cubicin and Entereg. Cubist also co-promotes, Dificid, with Optimer Pharmaceuticals (NASDAQ:OPTR). Cubist has three drugs in Phase III clinical trials with a few others in earlier developmental stages.
Cubicin, the company's largest selling drug with U.S. sales of $593.2 million for the first nine months of 2012, is an intravenous antibiotic that is used to target gram-positive bacteria. The drug has proven to be effective in treating MRSA. Cubicin has been approved in the U.S., the European Union, Japan, and other countries.
Entereg has been approved for marketing only in the United States. The drug had sales of $29.2 million for the first nine months of 2012. It is used to accelerate upper and lower gastrointestinal recovery following partial large or small bowel resection surgery with primary anastomosis. Entereg is also in Phase 4 clinical study to accelerate the time to upper and lower GI recovery in patients undergoing radical cystectomy.
Dificid has been approved only in the U.S. and is used to treat Clostridium difficile-associated diarrhea, or CDAD.
Cubist's international revenues totaled $36 million for the first nine months of 2012.
The company's pipeline includes three drugs undergoing clinical trials:
Drug

Indication

Phase

CXA-201

Ceftolozane/tazobactam

(for Gram-negative pathogens)

Complicated urinary

tract infection (cUTI)

Phase 3

CXA-201

Complicated intra-abdominal infection

(cIAI)

Phase 3

CXA-201

Hospital-acquired/ ventilator-associated bacterial pneumonia

(HABP/VABP)

Phase 2

CB-315

Oral novel lipopeptide

Clostridium difficile-associated diarrhea

(CDAD)

Phase 3

CB-5945

Novel mu-opioid receptor antagonist

Opioid-induced

constipation (OIC)

Phase 3
The Competition
Cubist's success depends a lot on the continued success of its best-selling drug, Cubicin. Cubicin had U.S. revenue of $698.8 million and worldwide revenue (including U.S.) of $735.5 million in 2011. Cubist expects Cubicin to reach blockbuster status with yearly revenue exceeding $1 billion in the next few years.
Teva Pharmaceuticals (NASDAQ:TEVA) is seeking to develop a generic version of Cubicin (daptomycin). Cubist and Teva have a license agreement that allow Teva to begin marketing daptomycin as early as December 24, 2017. This agreement was the result of a patent infringement lawsuit against Teva. If Cubist obtains a six month extension of marketing exclusivity for Cubicin under section 505A under the FDA Modernization Act of 1997, then Teva would have to wait until June 24, 2018 to launch. This gives Cubist five years to deal with the loss of marketing exclusivity for Cubicin. In the meantime, the company will need to make a timely strategic acquisition to replace the potential loss of revenue in anticipation of Cubicin's loss of marketing exclusivity.
Cubicin does face current competition with various drugs designed to address gram-positive bacterial infections. However, Cubist is still able to maintain and grow its piece of the revenue pie even in the face of the current competition. Cubicin's primary competitor, vancomycin has 70% of the market. Cubicin is considered as a main alternative. These are the current competitors to be aware of:
Competing Company

Drug

Abbot Laboratories (NYSE:ABT)

Vancomycin

Pfizer (NYSE:PFE)

Zyvox

Synercid

Tygacil

Theravance Inc. (THRX)

VIBATIV

Forest Labs (NYSE:FRX)

Teflaro
It is important to note that Cubist also faces possible future competition from Hospira (NYSE:HSP) who has filed an ANDA and NDA with the FDA for the rights to sell a generic version of Cubicin. However, Cubist has sued Hospira claiming patent infringements. This situation could play out similar to the Teva situation, where Cubist ultimately benefited from the ruling.
Cubicin also faces possible competition from drugs that are under development as treatments for cSSSI, or complicated skin and skin structure infections:
Company

Drug under development

Phase

The Medicines Company (NASDAQ:MDCO)

oritavancin

Phase 3

Trius Therapeutics (TSRX)

tedizolid phosphate

Completed 1 of 2 Phase 3 trials

Durata Therapeutics (NASDAQ:DRTX)

dalbavancin

Phase 3

Basilea Pharmaceutica AG

ceftobiprole

Completed Phase 3

& under regulatory review
Currently, Cubist's Entereg is the only drug on the market for its indication. Helsinn Therapeutics has a drug in Phase 2 clinical trial that could be a future competitor for Entereg.
Dificid faces competition from Vancocin, a treatment for CDAD, marketed by ViroPharma Inc. (VPHM). Vancocin is also available in an inexpensive generic form. Pfizer's Flagyl is another Dificid competitor. Flagyl also has an inexpensive generic version available.
Just like many pharmaceutical companies, Cubist will have to stay nimble to maintain its growth and not fall victim to its competition. The company has proven itself to navigate effectively thus far. Cubist had only one drug on the market with Cubicin two years ago. Due to strategic business moves, the company is now selling two drugs on its own, and co-marketing a third. It also has three drugs in Phase 3 trials with future marketing potential.
The company has made a commitment to add new products through its own development, in-licensing, and via acquisition over the next few years. Cubist has $896.96 million in total cash available for its next strategic move.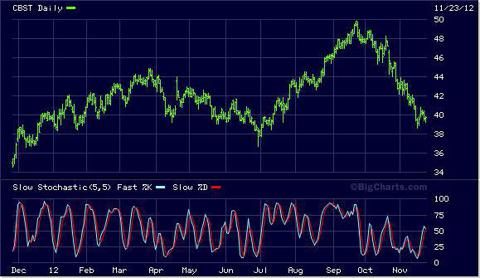 Click to enlarge
Valuation
On the surface, Cubist's trailing PE ratio of 20.40 and forward PE of 21.14 show the appearance of a stock that is overextended. However, the PEG ratio of 0.51 and price to book ratio of 2.69 give the stock an undervaluation. The stock price of $39.74 has already pulled back about 20% from its 52-week high of $49.86.
Earnings Expectations
Over the past five years, Cubist has achieved annual earnings growth of 21.15%. The company is expected to grow at a more vigorous annual pace of 39.02% for the next five years. This is based on optimism from analysts that Cubist's pipeline products have strong potential. The company has exceeded its earnings expectations for the last four quarters.
Recommendation
It is interesting to note that 18.1% of the float is short the stock. With three drugs in Phase 3 trials, I personally would not want to be short this stock. I think that investors should have a contrarian view against these shorts. Any major positive catalysts for Cubist could cause a significant short-squeeze, pushing the stock higher.
In October 2012, Jefferies gave Cubist a buy rating and a price target of $55. This was based on optimism for Cubist's pipeline products. Overall, I think the stock has good long-term potential, looking five years out. The shorts are underestimating the positive impact that the pipeline products can have on Cubist. I think that investors should go contrarian against the shorts and buy the stock.
Disclosure: I have no positions in any stocks mentioned, and no plans to initiate any positions within the next 72 hours. I wrote this article myself, and it expresses my own opinions. I am not receiving compensation for it (other than from Seeking Alpha). I have no business relationship with any company whose stock is mentioned in this article.