Understanding the dividend of a company can be a valuable asset in making an informed decision to invest, stay invested, or not to invest.
It is important for an investor to consider the benefits that dividends can offer and how easy it is to include dividend paying stocks in any portfolio. Some of the advantages a quality dividend stock can offer are attractive returns, less volatility, and, over time, increasing yields. These are some aspects that a quality dividend stock can add to a portfolio.
In this article, I will be analyzing 3M's (NYSE:MMM) historical dividend payout, earnings per share growth rate, and historical dividend payout ratios. Based on these criteria, we should get a good understanding of the history of the dividend and some estimates of what to expect in the future.
According to the company website, "3M has paid 384 consecutive quarterly cash dividend and increased the annual dividend for 54 consecutive years. "
Below is a chart of the dividend payout per fiscal year for 3M company's common shares since 2003.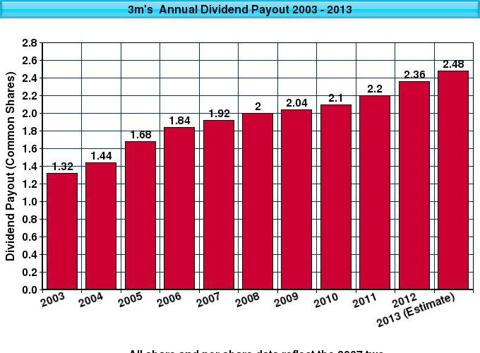 The current dividend payment as of November 12, 2012th for 3M is $.59 USD per common share. This will put the dividend payout for total 2012 at $2.36. For the full year 2012, a consensus of 14 analysis at Bloomberg Businessweek are stating that 3M will have an EPS of $6.32. As Bloomberg Businessweek is estimating 3M's 2012 revenue at $29.7 billion, this would give the company a net profit margin of 14.71% and a projected net income of $4.37 billion.
These results would be a slight increase in revenue over 2011, and a slight increase in the net profit margin over 2011. With a dividend payout of $2.36 and an EPS of $6.32, 3M will have a payout ratio in 2012 of 37.34%.
Looking forward to 2013, Bloomberg analysts are currently estimating 3M's 2013 revenue to be at $31.2 billion. Analysts are projecting the EPS for 2013 at $6.81. If the company maintains the same amount of shares outstanding at 691.93 million, this would give the company a net profit margin of 14.46% and a projected net income of $4.51 billion.
In 2013, if the company was able to achieve analysts estimates of an EPS of $6.81, 3M would be able to support a dividend payout of $2.48. This would give 3M a 2013 payout ratio of 36.41%. This would be a 5.08% increase over 2012.
Since 2003, the average payout ratio for 3M company is 0.40. The estimated dividend payout ratio for 2013 is 0.36. This ratio is slightly lower in than the company's payout ratio average since 2003.
Based on many of the company's financial ratios, 3M company appears to be very strong regarding its financial health. The company seems to have an handle on its debt with a slight increase in debt and liabilities over the past 5 years, as I described in my article Analyzing 3M Company's Debt And Risk". The company looks to have some strong growth, and plenty of free cash to maintain its growth and continue to provide a dividend, as described in my articles "3M: Profitability Analysis" and "3M Company: Inside The Numbers".
Looking forward to 2013, the indications noted above reveal that 3M company should be able to maintain its tradition of raising its dividend.
All numbers sourced from 3M website, MSN Money and Google Finance.
Disclosure: I have no positions in any stocks mentioned, and no plans to initiate any positions within the next 72 hours. I wrote this article myself, and it expresses my own opinions. I am not receiving compensation for it (other than from Seeking Alpha). I have no business relationship with any company whose stock is mentioned in this article.