A friend of mine passed along a great, recent interview with Bill McBride, the writer of the blog "Calculated Risk." This interview included a review of how McBride went from being a bear on housing in the latter years of the bubble to being a bull on housing earlier this year when in February he called a bottom. He even went on to claim that the economy is in its best shape since 1997. This interview gave me some belated vindication for my January call to buy the dips in homebuilders as part of a thesis for a 2013 bottom in housing. The comparison to 1997 was surprising, but it makes sense if housing can indeed sustain its recovery in the coming years. It is hard to be bearish on the U.S. economy when housing is working. Homebuilders are also the ultimate play on the U.S. economy given the minimal (direct) linkage to global macro-economics. For a good summary on how housing can drive recessions and recoveries see an EconTalk podcast interviewing Ed Leamer from UCLA: "Leamer on Macroeconomic Patterns and Stories". Here is one of many key quotes from the transcript:
…housing is the business cycle. At that point, 10 downturns since WWII; two not consumer downturns: 1953 disarmament downturn, Korean War, structural change; one other, 2001, internet comeuppance, only business downturn that we've had…Quarterly data since 1947; housing gave 3-4 quarter warning of recessions. Two false positives: housing weakened but didn't have a recession…
So, as the housing recovery continues to unfold, 2013 should prove to be a pivot year for the economy. Next year should also be a time to get picky about trading homebuilders as full participants in the recovery. While the recovery is in its early stages, the rally in homebuilders is quite advanced. For example, Toll Brothers (NYSE:TOL) was recently trading at 7-year highs. This year, I pounded the table for KB Home (NYSE:KBH) mainly because it was one of the most under-appreciated of the homebuilders. KBH was a roller coaster; after some handwringing in the middle of the year, KBH is finishing the year as a top-performer. It is now up 116% year-to-date, ranking third in my list of select homebuilders just above Ryland Homes (NYSE:RYL). In late October it was up as high as 150% year-to-date (and my holdings were carried away thanks to someone who was eager to exercise calls I sold against my position).
Key for ticker symbols used in the rest of this piece: Beazer Homes USA Inc. (NYSE:BZH), DR Horton Inc. (NYSE:DHI), Hovnanian Enterprises Inc. (NYSE:HOV), KB Home , Lennar Corp. (NYSE:LEN), MDC Holdings Inc. (NYSE:MDC), Meritage Homes Corporation (NYSE:MTH), PulteGroup, Inc. (NYSE:PHM), Ryland Group Inc. , Toll Brothers Inc.
click to enlarge images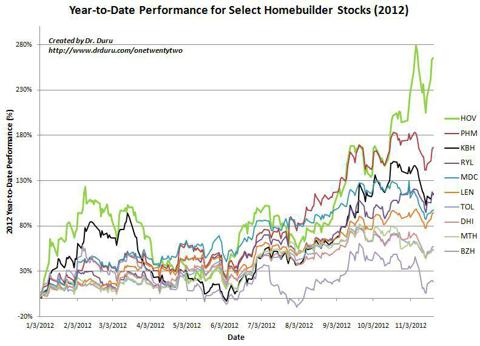 Source: Prices from Y!Finance
*To help follow the spaghetti in the chart, the legend is ordered to follow year-to-date performance in descending order.
Notice that for much of the year, homebuilder stocks trended with each other very closely even as absolute performance differed markedly. HOV and KBH were notable exceptions starting the year as top performers, dropping to bottom performers in the middle of the year, and now rising to top performers again. BZH has been a consistent under-performer this year, even dropping into negative territory for brief spells.
Since the October earnings, some divergences have unfolded. The biggest losers since then have been KBH, MDC, and the 4 bottom performers for the year: TOL, DHI, MTH, and BZH. LEN, RYL, PHM, and HOV have all either held roughly steady or gained over this time period. This sudden divergence is the sharpest of the year and could signal the beginning of a larger pullback. Based on a look at some cross-company metrics, I decided to make MTH, MDC, TOL, KBH, and PHM, in descending order of preference, my top picks for 2013. I think the recent declines in these stocks are leading the way for the rest of the pack, but also setting up an imminent buying opportunity.
For some clues, I looked for the hot spots that have the focus of the housing bears. It turns out there is a mild relationship between the change in short interest this year (measured as a ratio in shares short) and year-to-date stock price performance. There is no correlation if I include HOV which has the distinction of having the best price performance despite soaring short interest. Eliminating HOV from the list of homebuilders, leaves the remaining nine homebuilders with a -0.59 correlation between the 2012 change in short interest and year-to-date performance. This is not a strong (inverse) correlation, but it is notable. This inverse correlation means that an increase in short bets in 2012 tends to be associated with lower relative price performance of the homebuilder's stock (or on the flip side, a decrease in short interest tends to be associated with higher relative price performance, perhaps due to a short squeeze). Of course, since all homebuilders except BZH have had strong, positive performances this year, homebuilder shorts have mainly been money-losers. However, the persistence of high short interest levels suggests housing bears are going to stubbornly stick by their best bets, so I think this activity provides good signals for what to expect next year.
I divided the charts below on short interest between homebuilders which have experienced increases in short interest (ratio greater than 1) and those which have seen decreases in 2012 (ratio less than 1). Short interest is normalized by a ratio using shares short on December 31, 2011 as the denominator.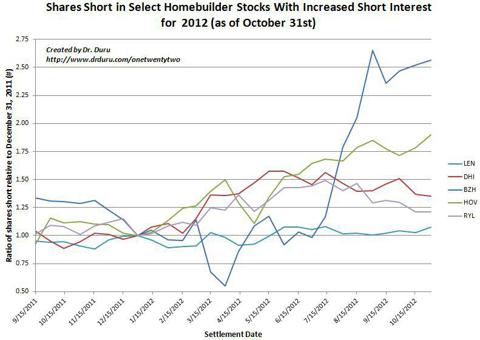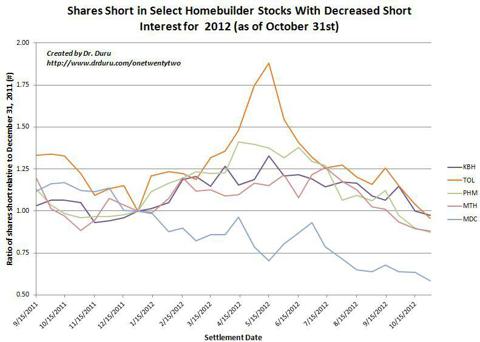 Source: NASDAQ.com Short Interest
Bearish bets against BZH have soared by 2.5 times. Given the resulting poor performance in the stock, BZH immediately exits my list for consideration. On the other hand, shorts have ramped up bets against HOV, even as the stock has similarly ramped higher in value. Note that HOV is not experiencing a short squeeze since the higher HOV goes, the more shorts enter the fray. Shares short against HOV have soared almost 2.0 times in 2012. HOV does not make my list of picks for 2013, but I am keeping it on the radar as a speculative play given the future squeeze potential.
Shorts have pulled back this year on five select homebuilders. MDC has seen the largest drop, 0.60 of where it began the year (or a 40% drop). Thus, MDC gets included in my picks for 2013 on the assumption that the sharp drop in short interest is related to greatly improved prospects for the company. The other four homebuilders - KBH, TOL, PHM, and MTH - have experienced very slight drops in short interest year-to-date. TOL is of greatest interest in this group because short interest increased 1.9 times for the year by mid-May before plummeting. The subsequent short squeeze helped take TOL to near seven-year highs, the best performance relative to bubble highs of all the homebuilders. Again, I think this sharp drop is indicative of TOL's greatly improved prospects. I covered those prospects in September in "A Swell Of Pent Up Demand Supports The Surge In Toll Brothers." I put KBH, PHM, and MTH all on my list of picks. I excluded all homebuilders that have experienced increases in short interest.
I used valuation to place a final ordering on my picks. As I have mentioned in previous pieces, I am not so concerned with P/Es at this stage since homebuilder earnings are in the early stages of recovery. 2013 guidance should better inform forward P/E levels and put 2012 trailing P/E into better perspective. In the meantime, I am focused on price-to-sales (P/S) and price-to-book (P/B) ratios. The table below combines valuation with the short interest and price performance metrics. Stocks highlighted in yellow are my picks for 2013.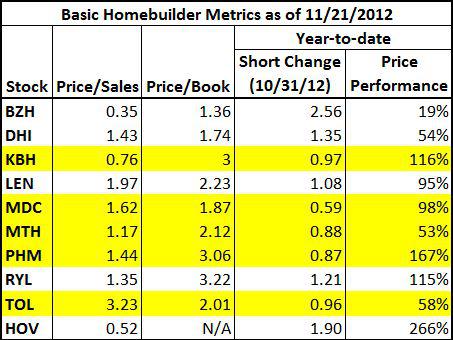 Basic Homebuilder Metrics as of November 21, 2012
Source for valuations: Y!Finance
BZH and HOV have the lowest valuations of the entire group to go along with their soaring short interest. Top-performers PHM, KBH, and RYL all have the highest book values to go along with their status as top performers for the year. KBH sticks out with a P/S ratio that remains below 1.0.
Overall, MTH looks like the most attractive of the group with short interest that has dropped for the year, relatively low P/S and P/B ratios, and one of the lowest price performances of the year. In other words, it seems to have a lot of room to run in the next year. In late January, I pointed out how MTH had out-performed KBH for at least the last three years. MTH was attractive as the homebuilder with the highest percentage of its business in non-judicial states; KBH was #2. While I have argued that foreclosures represent a much less serious issue for builders now, investing in a builder concentrated in non-judicial states adds a bit of cushion. Presumably in those states the highest quality foreclosures have largely cleared the system already. MTH also has a very attractive chart from a longer-term perspective. Unlike most homebuilders, MTH's decline stopped with the 2008/2009 financial panic and recession. Since then, the stock has essentially consolidated and broken out to, at one point, a 6-year high.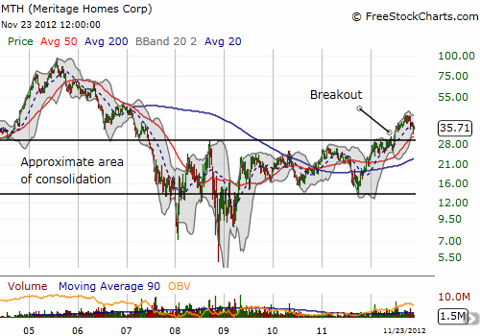 MTH broke out this year
Source: FreeStockCharts.com
MTH's #1 ranking, pushes MDC to #2. TOL gets a #3 ranking mostly by virtue of the recent sharp decline in short interest. I consider its valuation a bit high but not surprising given it serves the higher-end segment of the housing market. KBH gets a #4 ranking based on the low P/S valuation. Finally, PHM gets a #5 ranking as the remaining homebuilder stock with decreased short interest on the year. Like KBH, its P/B ratio is very high, but unlike KBH its P/S ratio is in the middle of the pack.
So, whenever the market next delivers relative bargains amongst homebuilders, I will be pulling the trigger on MTH, MDC, TOL, KBH, and PHM, in that order. The next step in further refining these rankings will come with 2013 guidance across all homebuilders. I will be looking for assessments of market demand and plans for new communities. I will likely also take a much closer look at debt levels with an eye to which builders should be most resilient if the housing bottom and recovery thesis falls flat in 2013.
Most homebuilder stocks have traded down from levels at the end of September when I suggested taking at least some profits on homebuilder stocks. I am now recommending those profits will find a good home back in homebuilder stocks at some point soon in 2013.
Be careful out there!
Disclosure: I have no positions in any stocks mentioned, but may initiate a long position in MTH over the next 72 hours. I wrote this article myself, and it expresses my own opinions. I am not receiving compensation for it (other than from Seeking Alpha). I have no business relationship with any company whose stock is mentioned in this article.