RadioShack (NYSE:RSH) is cheap - cigar butt cheap. With the turmoil in the shares, resulting from bad results and poor management, the stock is selling at a total market capitalization of $192 million or $1.93 a share. As we will see in the balance sheet below, the book value of the company is about $662 million or $6.65 a share. Current assets [1] less total liabilities, is $346 million, or about $3.47 a share. See the reproduced balance sheet below: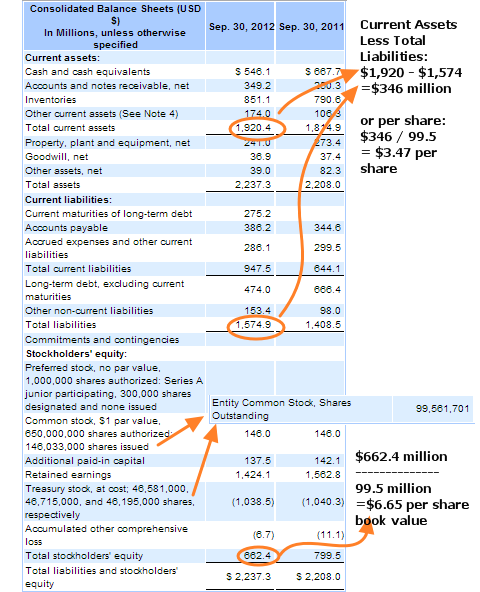 (Source: RadioShack XBRL Balance Sheet Data, dated September 30, 2012)
Therefore, one can see that RadioShack's market capitalization is about 55% below its net working capital position less long-term liabilities. This is a sought after quality, indicating a very cheap value stock. Yet the fact that the shares are selling at a discount to net working capital won't quite do it, as Ben Graham notes in Security Analysis:
"The current assets shown in any balance sheet may be greatly reduced by subsequent operating losses; more important still, the stated values frequently prove entirely undependable in the event of insolvency." [2]
In the case of RadioShack, we need to be cognizant of the possibility of future operating losses, which the company has been experiencing recently, and which it expects to continue to experience in the 4th quarter [3]. See its most recent income statement below: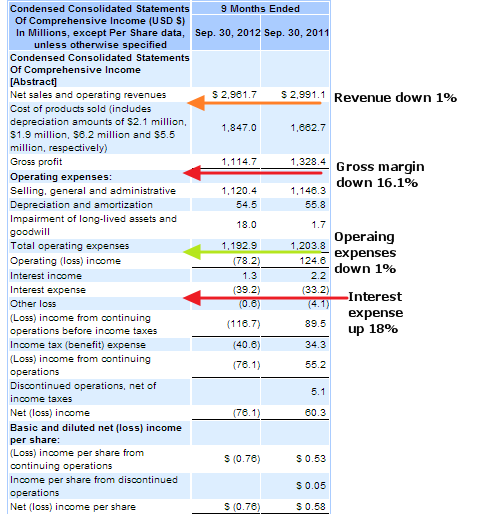 (Source: RadioShack XBRL Income Statement Data, dated September 30, 2012)
As RadioShack moves more towards selling mobile devices, its gross margins have been contracting. For the most recent quarter, the gross margin was 36% - in 2011, for the same period, the gross margin was 42.8%. One can see that the largest decline in the table above is the gross margin contribution, which declined some 16.1% despite the fact that revenue declined only 1%.
This migration of sales mix towards mobile can be seen in the table below. Note, also, the movement of sales mix toward mobility and away from its "signature" products [4], the latter of which represents a higher gross margin business:

(Source: RadioShack 2011 10-K, p. 21)
While we can anticipate more pressure on gross margins, it should be obvious that RadioShack needs to get control over the new sales mix -- even if it means slowing top line growth.
Target Mobile
As of the 2011 Annual Report (pdf), the Target (NYSE:TGT) Mobile stores were touted as a growth opportunity for the business. However, RadioShack has since realized that the Target Mobile business is cash flow negative. Year-to-date the deal has cost RadioShack some $38.2 million - or nearly half of its year-to-date loss. As RadioShack stated in the last conference call, it has submitted a notice to end the relationship, if Target and RadioShack cannot restructure the agreement to create value for both companies:
"We've been in discussions with target to revise our agreement. While these discussions are still ongoing, the outcome is uncertain at this time. And as a result, we've executed a termination notice that will allow us to exit this business in April of next year.

We continue to believe that there are strategic benefits to both the target and RadioShack to continue our partnership. And we'd like to see this relationship continue under our new structure and agreement that will drive shareholder value for both companies." (Conference Call, 10/23/2012)
Operating Leases
RadioShack, unlike many other retailers, has very short leases - which will come in handy if the business model fails in specific areas and it needs to downsize. On the conference call management noted:
"…our stores generally have a fairly short term lease[s], some of them were frankly annual leases on average." (Conference Call, 10/23/2012)
If we take RadioShack's contractual lease payments as a proxy for the timing of future lease renewals (or cancellations), we see that RadioShack is rather nimble compared to most other retailers: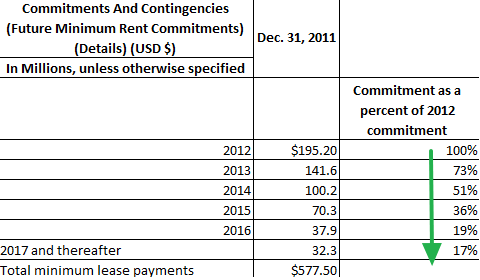 (Source: RadioShack 2011 10-K, p. 63)
The table should be read as "in 2013, approximately 27% of RadioShack's lease commitments come up for renewal; in 2014 approximately 49% of today's lease commitments come up for renewal." If RadioShack needs to downsize, it is uniquely able to do so.
Comment on Strategy
Some authors suggest new strategies for management to follow, but I generally don't because management - I figure - must be in a better position to see the companies' strategy than myself, a lowly security analyst. In this case, I sort of think RadioShack itself sees what it must do. But, perhaps, it has not been able to embrace it fully. It still wants to be a big boy and sell smartphones (of which it has single digit market share) - but perhaps the phones it sells should only be a prop, so to speak, for the more important, and higher gross margin, product it carries: accessories.
I think many people following RadioShack already get this, but I want to push the idea as it seems like RadioShack needs to fully embrace itself as a parasitic player in the electronics industry. As a metaphor, if RadioShack's relationship with the industry is basically this: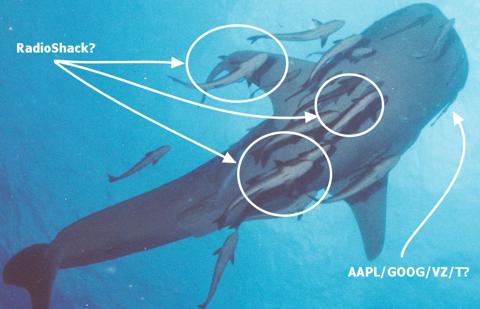 Then, we can suggest a few courses of action so RadioShack can be a better player. It needs, obviously, to provide a service which is too fractured and difficult for one of the big players to do - which I obviously think could be the accessories market.
In focusing more and more on accessories, the company could, perhaps, reestablish itself as the "go-to" place for phone, tablet, and computer accessories (note, however, that its "signature" product group, which includes accessories, was on the revenue decline in the third table above).
With RadioShack's convenient stores, such a mission is achievable. RadioShack's convenience can be gleaned in its various locations below: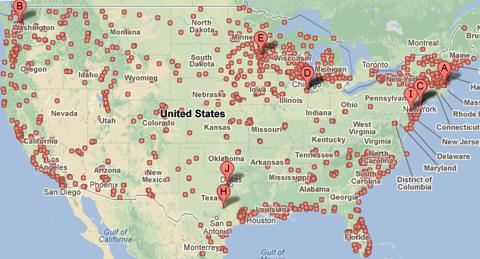 Compare that with, say, Best Buy's (NYSE:BBY) store locations [5]: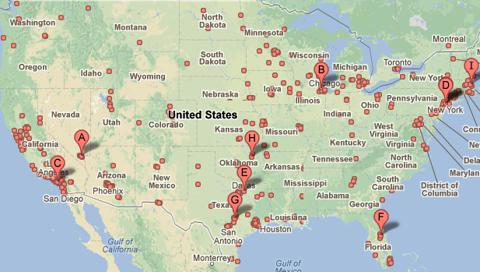 Further, juxtaposing that to the growing importance of smartphones: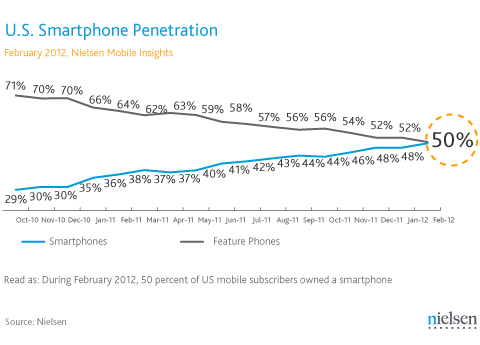 (Source: Nielsen Insights here, accessed 2012-11-12)
We can say, assuredly, that there is room for a RadioShack if it can differentiate itself - if it can market itself and bring smartphone owners into its store for accessories. This, indeed, matched with the growth in tablets, creates an image of what looks to be a huge market - frankly, a whole new culture - which is forming around the tablet and smartphone.
The accessory market is highly fragmented with every player in the industry providing an assortment of accessories. Could RadioShack win that niche? Management made at least one promising statement about this prospect on the conference call:
"In fact, approximately 50% of the iPhone 5 cases that we've sold so far have been to customers who purchase their handset elsewhere and came to our stores for their accessories. We're increasingly becoming a destination for these wireless accessories and we're continuing to build on these assortments." (Conference Call, 10/23/2012)
I think RadioShack ought to embrace this trend - because, frankly, RadioShack doesn't seem to really have much else going for it at this point.
Conclusion
RadioShack is not my type of investment, but the fact that it is selling below its net working capital gives me hope that pessimism might push the shares to an even lower price. If RadioShack simply stabilized, the share price could likely improve significantly. With short interest such that there is 11.96 days to cover, an optimistic event (unlikely in the fourth quarter but maybe in subsequent quarters) could trigger a short squeeze.
Notes:
I figure the reader knows what current assets are, but in this case it is important to explicitly state them: inventories (44%), cash (28% of current assets), accounts receivable (18%), and "other current assets" (10%)-which includes restricted cash (1%).
Graham, Benjamin, and David L. Dodd. "Senior Securities with Speculative Features." In Security Analysis. 6th ed. New York: McGraw-Hill, 2009. 329.
The interim CEO, Dorvin Lively , commented in the most recent conference call: "The fourth quarter started off slower than we would have liked, primarily due to the continued shorts of lot of the new iPhone 5 handset that I referred to earlier. And some of the same themes of the third quarter will play out here in Q4. Within our mobility business, this margin compression will continue in our postpaid business as well as a greater mix in smartphones. Specifically the iPhone 5, with the demand of this device continues to be in high supply and they're short at this time, but makes up a big chunk of the business across the whole iPhone devices." (Conference Call, dated 10/23/2012)
"Wireless, music, computer, video game and home entertainment accessories; general-purpose and special-purpose power products; headphones; technical products; and services." (Inside Cover, 2011 Annual Report)
Using Google Maps is not the most accurate means of approximating store location, but for presentation purposes it serves to illustrate the point.
Disclosure: I have no positions in any stocks mentioned, and no plans to initiate any positions within the next 72 hours. I wrote this article myself, and it expresses my own opinions. I am not receiving compensation for it (other than from Seeking Alpha). I have no business relationship with any company whose stock is mentioned in this article.