I don't own a tablet or a smartphone, but I did notice while using a friend's Google (NASDAQ:GOOG) Nexus that a device with a screen not that much smaller than a laptop was loading mobile websites designed for cell phones, and that the mobile versions contained a lot fewer ads than the full ones. I almost considered actually getting a tablet so I could have a more spacious internet experience with less bothersome ads. This poor use of ad space will not last long.
The world of mobile advertising is still brand new. Most companies have not had the time to optimize ad space or traffic, and in some cases, even begin to do so. The fact that tablets are loading the same mobile sites designed for smartphones demonstrates a serious lack of efficiency in this space that is hurting companies, especially Facebook (NASDAQ:FB).
Business Insider predicted back in 2010 that mobile data traffic would grow 26x through 2015 (See chart below). This doesn't just spell opportunity, but rather danger for companies that don't adapt. There are only 24 hours in a day, and a human being can only be hooked into cyberspace for so long. If he spends more time on mobile, eventually, the share of conventional traffic must decrease per capita. This means ad revenue from browser-based surfing will start coming down as a percentage of total income. Mark Cuban makes this argument in his blog quoting the Wall Street Journal.
From the Wall Street Journal:
As more people gravitate to smartphones and tablets, they're increasingly forgoing the desktop to the access the Web. Between 2008 and 2011, the percentage of U.S. adults who accessed the Internet from PCs daily grew to 62% from 54%. In the same period, the percentage of daily mobile Internet users rocketed to 26% from 4%, according to Forrester Research.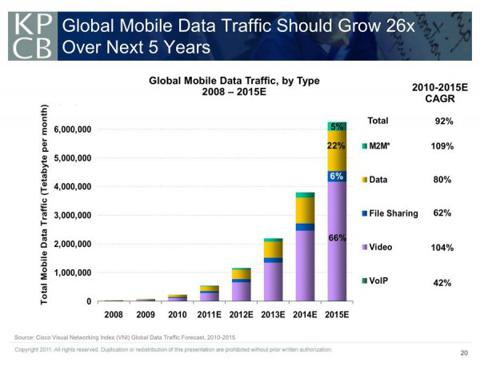 Despite its IPO crash, Facebook is still a Wall Street darling. Everybody wants it to do well and believes it can. If that weren't the case, there would be no way that the stock could jump nearly 25% since a report that revenues increased, even though the company is operating at a $57M loss. The big fuss was mobile, mobile, and mobile. What people liked seeing was not necessarily that revenues were up, but that the company was earning 14% of its money from mobile users. Those numbers are decent, considering page 21 of their quarterly report (emphasis added):
Relative to June 30, 2012, daily active users (DAUs) increased from 552 million to 584 million , primarily due to an increase in mobile users. During the third quarter of 2012, the number of DAUs using personal computers increased modestly compared to the second quarter of 2012, but in certain key markets such as the United States and Europe the number of DAUs using personal computers was essentially flat quarter-over-quarter after having decreased modestly during the second quarter of 2012.
This means that mobile traffic increased about 12%, while they're getting 14% of their revenue from that space. They still need a lot more.
Towards that end, they are only now starting to optimize their mobile ad campaigns. Facebook advertisers can now choose which mobile devices their ads appear on. Facebook is making a big bet on the app market; starting just a few weeks ago, it has been allowing all developers to buy mobile app install ads to appear on mobile feeds. You don't want someone with an iPhone getting an ad for an app or game that is designed for Android. The more Facebook optimizes, the more it will make in the mobile sphere. In my opinion, the hard numbers per se are not what's important, but rather the direction. Facebook must overcome the stigma that it cannot capitalize on the mobile market. Once it shows it can, and with at least steady growth in the mobile sphere, it will have overcome major downward pressure on the stock price.
The fact that Facebook is having such a hard time with this should point investor eyes in other directions to see who's working on the problem. One company doing some pretty intriguing work in this sphere is Mobivity (OTC:MFON). What it does is this: CNN often has text-in polls and text-in a question to the anchor on its news shows. Under normal circumstances, managing the deluge of texts from viewers would be a nightmare, since everyone is texting in from different platforms and carriers. To make it possible for CNN to organize and make sense of the data they're getting from mobile participants, they hired Mobivity and use its software as a service for an annual licensing fee.
The purpose of getting a viewer to text in is, on the one hand, customer relationship management, and on the other hand, it builds a database for advertising to potential customers. Mobivity's unifying platform also handles Facebook and Twitter feeds, so anyone tweeting in will also be filtered through the system in the same way.
Aside from CNN, Mobivity is making some serious inroads in professional sports. It recently unleashed a spree of deals with three different professional sports franchises and a new deal to engage fans at 4 upcoming college bowl games, all of which will enable the teams to advertise directly to their fan base in the same way CNN does with Mobivity's software.
Mobivity's business model and approach are inherently more stable than a company like Yelp (NYSE:YELP) for example, because Yelp is selling advertising space to local businesses on its website. These businesses are so decentralized, that to contact, and get them to advertise on Yelp takes an enormous amount of manpower, and for a little fish, it's just not worth it if all you're getting out of it is a temporary ad.
Mobivity is doing what Yelp is trying to do, but with a broader strategy. While Yelp is limited to local business by the nature of its website, Mobivity's software-as-a-service platform enables it to go after the big fish like CNN and professional sports leagues, revenues from which support the sales staff needed to grab local advertisers for the longtail approach. Once Mobivity has one, that customer pays a licensing fee for the service of reaching out to his customers via their phones. So Mobivity is selling an ad service rather than the ad space itself, and its ad service can be used by the advertiser either for Salesforce (NYSE:CRM) or for netting new customers. This model is much more flexible than Yelp's, which, despite broad advertising volume, only succeeded in narrowing its loss this quarter.
It's too early to tell if Mobivity is really onto something yet, as it is just a $7.4M company, but the company is the only one doing what it is doing, and essentially has no direct competitors selling the same kind of software. The danger, as I see it, is in annoying potential new customers by inundating their phones with text ads. But I don't see that as too big of a problem, since customers can easily opt out, and any local business can simply decide to use Mobivity's service for CRM instead of risking annoying unknowns. (Enjoyed Johnny's Pizza? Text "deal" to 12345 or tweet "deal" to @Johnny's and get free updates for special deals at Johnny's Pizza right to your mobile phone or Twitter feed!)
The real key for Mobivity will be to combine the big names (CNN, professional sports) with the local touch (Johnny's Pizza) and go for the franchised restaurants.
Just to give an idea of this company's direction, gross profit has more than tripled since 2010, from $501,000 to over $1.5M in 2011. It went on an acquisition spree last year of almost $12M, but now that it's over, it looks like the company may be turning its first profit since going public. Once that's logged, its tiny $7.4M market cap will start heading north.
Disclosure: I have no positions in any stocks mentioned, and no plans to initiate any positions within the next 72 hours. I wrote this article myself, and it expresses my own opinions. I am not receiving compensation for it. I have no business relationship with any company whose stock is mentioned in this article.