Regular readers of my columns know that I have a decent portion of my portfolio, both in the growth and the income segments, comprised of North America energy concerns. I believe we are still in the early innings of a huge domestic expansion of energy production that the IEA (International Energy Agency) predicts will have the United States energy independent over the next two decades. One fast growing supplier to this expansion of energy production that I own is below.
U.S. Silica Holdings (NYSE:SLCA) produces and sells various commercial silica and industrial mineral products. The company offers whole grain commercial silica products to be used as fracturing sand in connection with oil and natural gas recovery.
Valuation & Balance Sheet:
The stock is selling at just 9x forward earnings and nine times operating cash flow
In its four quarters as a public company, the company has easily beat earnings estimates three times. It met expectations the other reported quarter.
The company has grown operating cash flow (OCF) by over 600% during the past three years. It has approximately $175mm in net debt which is easily serviceable by its $90mm of OCF.
SLCA has over 300mm tons of high quality reserves (over 10 years of supplies at current run rates) in an industry that has long lead times to bring new capacity on-line.
Growth Prospects & Catalysts:
Revenue growth should clock in at better than 45% in FY2012 and analysts expect a 20% sales increase in FY2013. The stock has a minuscule five year projected PEG (.20).
Earnings are marching up smartly. SLCA made 88 cents a share in FY2011 and is on track to post $1.38 a share in profits in FY2012. Analysts currently project a consensus of $1.68 a share in FY2013.
It is opening two new processing facilities in 2013 adding to the 13 it already operates.
Proppant volume (up 31%) grew faster than horizontal rig counts (up 21%) in 2011 as laterals have become longer. This trend is continuing in 2012.
Insiders & Technicals:
Several insiders have made small purchases since May and there has been net insider buying over the past nine months. It recently brought in a new CFO from Meyer Industries, a similar sized manufacturer of polymer products.
After going public in February, SLCA shot up to $22 a share. After bottoming around $10 over the summer, the stock has shown strength and is solidly above its 100 and 200 day moving averages (See Chart).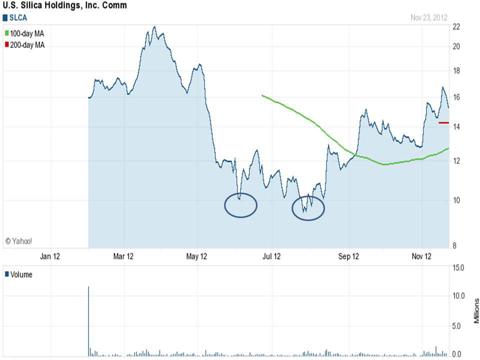 Click to enlarge
Other Considerations:
Given the company's under $1B market capitalization and the fact that it provides a key component for hydraulic fracking, U.S. Silica would make a logical acquisition target by a larger oil services firm that wants more control of its input costs. I think Halliburton would make the ideal acquirer given it provides more fracking services than any other firm in North America. It also took a hit to earnings earlier in the year when guar gum (another key component for hydraulic fracking) prices shot up. On a side note, I think Halliburton (NYSE:HAL) is significantly undervalued here as well.
Disclosure: I am long HAL, SLCA. I wrote this article myself, and it expresses my own opinions. I am not receiving compensation for it (other than from Seeking Alpha). I have no business relationship with any company whose stock is mentioned in this article.