Recently I wrote an article on the proposed first ever gaming REIT (called PropCo) being formed as a spin off by Penn National Gaming, Inc. (NASDAQ:PENN) into two publicly traded companies. The proposed operating company, Penn National Gaming ("PNG") would lease from the proposed tax-free REIT spin-off, PropCo.
Through a tax-free dividend, PENN shareholders could receive PropCo common stock. PropCo could subsequently declare a taxable dividend of approximately $1.4 billion of accumulated earnings and profits equivalent to approximately $15.40 per PENN share comprised of approximately $487 million of cash, or an approximately $5.35 cash dividend per PENN share, with the remainder comprised of PropCo shares.
Clearly PENN's proposed spin-off strategy benefits current stakeholders, but as I wrote in my article, I am not certain that investors in the new REIT could benefit from a pure casino "sale/leaseback" model. By having just one category (gaming) in a net lease portfolio, there is minimal diversification and the odds of maintaining consistency in cash flows is deemed to be in favor of the house - in other words: High Risk for Investors.
Las Vegas Sands: These Odds Look a Lot Better
Las Vegas Sands (NYSE:LVS) is the preeminent operator and developer of integrated casino resorts. LVS resorts are exceptionally high-quality mixed-use properties that feature a combination of gaming, lodging, entertainment, and retail facilities. LVS focuses its gaming business on the higher margin mass market, owns retail catering to the high-end luxury market and creates a lavish hotel experience for guests.
LVS is a Fortune 500 company and the leading global developer of destination properties (Integrated Resorts) that feature premium accommodations, world-class gaming and entertainment, convention and exhibition facilities, celebrity chef restaurants, and many other amenities.
As with many companies, the history of LVS begins with the vision of its founding chairman and CEO: Sheldon G. Adelson.
Adelson got his major start in the trade show business. As early as the 1970s, he saw the potential in personal computers. He and his partners founded the computer trade show COMDEX in 1979. Ten years after founding COMDEX, Adelson and his partners bought the famous Sands Hotel in 1989. A year later, they opened the Sands Expo and Convention Center across from the hotel. The 1.2-million-square-foot center is currently the largest privately owned convention facility in the world.
While developing the Sands properties, Adelson sold COMDEX in 1995 for more than $800 million.
The money was needed. The Sands Hotel was having grave trouble competing with the newer resorts on the Las Vegas Strip. Something had to be done to make the hotel competitive, or it would perish. But what?
Inspiration struck while Adelson was on his honeymoon in Venice, Italy, with his wife Miriam. As Miriam told a reporter (source: LVS website):
We thought Venice was a very unique city. It's romantic and historical; you walk through the streets and you feel that there were so many generations who walked those very streets before you. It's a very special city. I told him [Sheldon Adelson], if you can bring the romantic atmosphere of Venice with all the luxuries that can only be found in Las Vegas, then it can be a winner.'
In 1996, Adelson imploded the Sands Hotel to make room for The Venetian. Construction began in 1997 and it was completed on May 3, 1999, amid a flutter of white doves, sounding trumpets, and singing gondoliers. The themed resort was a smashing success. In the words of Fortune magazine (source: LVS website), The Venetian
fueled the overall renaissance of Las Vegas itself.
The secret of the resort's success? Adelson had focused his hotel efforts on courting the convention and tradeshow industry. At the time, when other hotels were focusing on gambling, his approach was unorthodox, even mocked.
Adelson was also among the first to foresee the financial potential of Asia. Before his American competitors, he made the move to locate his company nearer to the Asian market. Macao, the former Portuguese colony turned over to China in late 1999, is the only place on mainland China where casino gambling is legal. Las Vegas Sands opened the Sands Macao in 2004.
Also in 2004, Adelson took the Venetian's parent company public: Las Vegas Sands Inc. became Las Vegas Sands Corp. When the trend in Las Vegas shifted away from themed hotels, construction on The Palazzo Las Vegas began in 2005. Upon completion, the resort displaced the Pentagon as the largest building in the United States in terms of floor space.
All together, The Palazzo and The Venetian and Sands Expo make up the world's largest integrated resort, with 7,100 all-suite rooms, 2.3 million square feet of convention and exhibition space, and an array of shopping, dining and entertainment.
Adelson then offered a bolder vision for Macao. He saw that one billion people are within a three-hour flight of Macao, and around three billion people are estimated to live within a five-hour flight. He realized that his company's future was in creating not one hotel, but establishing an entire strip-a kind of "Las Vegas Boulevard" in Macao, featuring many hotels of various styles and price ranges.
But the idea seemed impossible. Again, "those-in-the-know" mocked Adelson's idea. And perhaps understandably. There were profound physical challenges to his idea: the total area of the small peninsula and two islands that make up Macao is less than 12 square miles; this area is densely populated; and, at the time, there was no land for such a large strip.
Easy right? Adelson was able to construct land (from a swamp) and then he began construction of the largest inhabited building in the world-the Venetian Macao. To ensure the structure was stable, 13,500 steel piles were driven into the bedrock below. At peak times, 15,000 people were working on the construction site. Adelson set a three-year time limit for construction. This meant building needed to take place at a rapid pace, but the building was finished on time.
The resort is twice the size of its Las Vegas counterpart, making it large enough to hold ninety Boeing 747 jumbo jets. The facility has an arena that will seat 15,000 people and one of the largest exhibition centers in Asia. The resort receives between 70,000 and 100,000 visitors each day and has a staff of approximately 12,000 on site. The 550,000-square-foot casino is also the largest in the world. An incredible achievement.
But neither Adelson nor the rest of our company were done. In 2008, next to The Venetian Macao, the company opened The Plaza Macao, now featuring The Four Seasons Hotel, The Paiza Mansions, and The Plaza Casino.
The Great Recession Deals LVS Some Tough Cards
Despite its successes, Las Vegas Sands hit hard times in 2008 during the global financial crisis. At one point, the company was losing $1,000 per second. The stock price fell 97 percent within a 52-week period. To stop the bleeding, Adelson loaned the company $1 billion of his own money.
Undaunted, the company continued with plans to build. The Sands Casino Resort opened in Bethlehem, Pennsylvania on May 22, 2009. It has since become instrumental in helping Pennsylvania replace New Jersey as the gaming center of the Eastern United States.
Even bolder was Adelson's decision to go forward with a $5.6 billion resort-Marina Bay Sands-in Singapore. Given the financial difficulties the company was facing, there was skepticism about his decision to develop the Marina Bay Sands.
However, Adelson argued that, with only one other competitor in Singapore, opening the resort would prove profitable. He was right. After it opened at the end of April, 2010, it posted a $600 million operating profit in the first eight months of business, a record in the industry.
The Marina Bay Sands has three 55-story sloping towers with approximately 2,600 rooms and suites. The most striking feature of the hotel is the Sands SkyPark, a park that is set on top of the three towers. It has lush vegetation, an observation deck, several restaurants, and an infinity swimming pool that seems to flow over the building.
The resort's prime location right next to the city center allows it to serve as an entertainment site for the local population and also a destination for business travelers and MICE (Meetings, Incentive, Convention, Exhibition) events.
A year after Marina Bay Sands opened, tourism to Singapore shot up 20% and the economy expanded by 15%.
With such a successful history, the company is feeling more optimistic than ever. Its latest resort is Sands Cotai Central, which opened in April of 2012 in Macao. This property-a massive three-tower resort-joins its sister Cotai properties to form an unprecedented fully integrated resort city, offering a diverse mix of accommodation, entertainment, dining, retail, gaming and MICE events.
Always looking for new expansion opportunities, Sheldon Adelson and his company continues to challenge the status quo of the hospitality industry. LVS is currently keeping an eye on the potential for new resorts in countries such as Japan, South Korea, Vietnam, Taiwan, Thailand, India, and Madrid, Spain.
Unlocking the Value of LVS
Las Vegas Sands is trading at $44.18 per share - a 50% discount to net asset value. Should the legendary gaming brand convert to a REIT?
Clearly, many other companies are aiming their sites on REIT-dom. Who wouldn't? With REIT multiples two times the size LVS.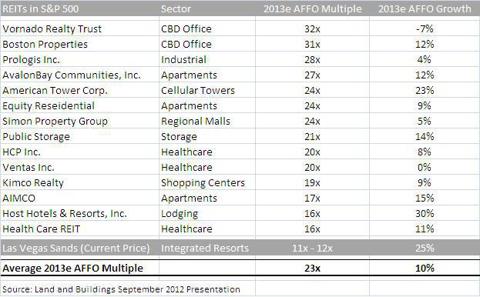 LVS is known for its exceptional gaming and lodging brand, but the company's value proposition is centered on three different (and integrated) business models: Malls, Lodging, and Gaming. Collectively, the company's three platforms provide tremendous value, and individually, the pieces appear to be worth more than the whole (or $44.18 per share of LVS).
As mentioned in the outset, I am not a fan of Gaming REITs; however, LVS's Malls and Lodging units appear to be REIT-able. Accordingly, let's take a look at the operating platforms and determine whether there is substance to the potential for REIT spin-offs. Jonathan Litt, Founder and CEO of hedge fund, Land and Buildings (and investor in LVS) explains,
Las Vegas Sands integrated resort developments would be ideally suited and financed through the separate mall, lodging and casino companies as each entity will have the most cheapest cost of capital for their respective property types as investors interested in each individually would bid the shares to the private market value or beyond.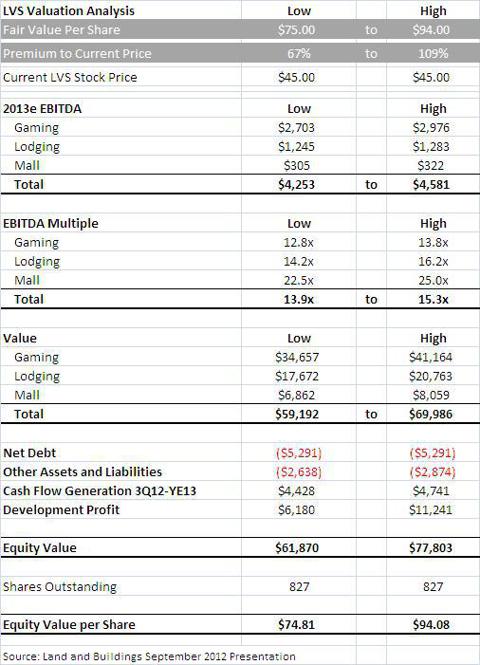 Las Vegas Sands: Malls
Malls: LVS Mall REIT would be the highest quality, most productive public portfolio of mall assets in the world with sales of approximately $1,600 per square foot (double that of its peer group) and revenues growing at 15% annually. LVS Malls enjoy a list of some of the most enviable retailers including HERMES, CANALI, BOSS, De Beers, kate spade, Dior, GUCCI, LACOSTE, TUMI, Cartier, Calvin Klein, Louis Vuitton, Coach, BURBERRY, and BVLGARI.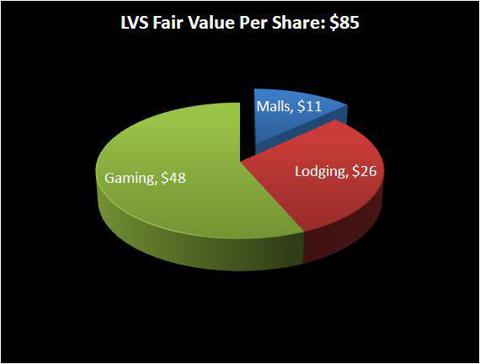 $11 Mall Value per Share - Private and public market comps support that these assets should be valued at 4% to 4.5% cap rates; using the current share price, the implied cap rate is 10% - a 50% discount. Sands Mall REIT would have no leverage post spin-out, which would allow for substantially accretive external development and acquisition activities.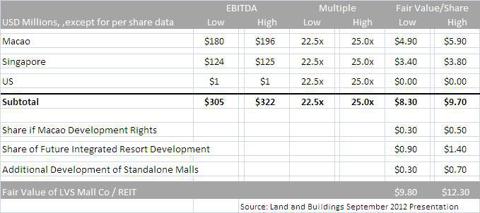 Las Vegas Sands: Lodging
Lodging: LVS Lodging REIT would have the highest occupancy public portfolio in the hotel industry at approximately 90% - 15% growth - and located in markets with demand growth far outpacing supply.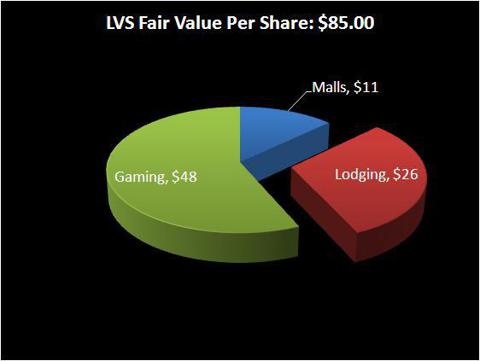 LVS Lodging has stronger growth prospects given rapid growth of gaming revenues, higher occupancy (90%), higher margins and less cyclical characteristics. LVS will be the leading owner of 4 and 5 star hotels with 40% of the Macao room supply by 2013.

$25 lodging value per share - Given strong 15% growth prospects of Singapore/Macao, limited supply, less cyclicality and the substantial discount to replacement cost, these assets should be valued at EBITDA multiples of 14x - 16x based in private and public market comps, yet trade at a 40% discount.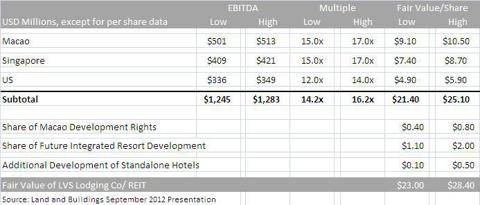 Las Vegas Sands: Gaming
Gaming: LVS Gaming Co. would be the most profitable casino company in the world with internal and external growth likely to exceed 20% per year.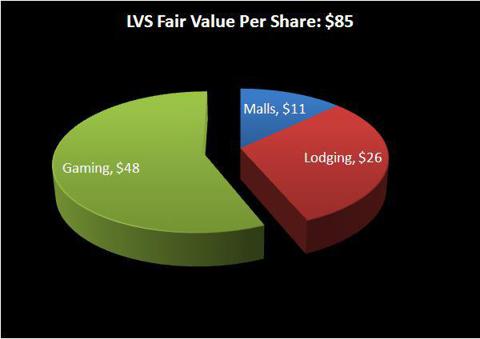 $48 Gaming Value per Share: Implied value at approximately 2x 2013 EBITDA ($8 per share), after adjusting for the fair value of the malls and lodging, is severely penalizing what will likely be a 20% plus growth company that has traded on average since 2004 IPO at 18x forward EBITDA.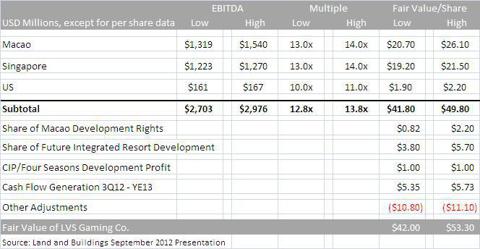 A Winning Hand: Three-of-a-Kind
As outlined above, the spin-out of the Mall and Lodging assets into REIT entities will allow LVS to realize around $85 of Intrinsic Value. Accordingly, three separate real estate companies should be created - each maximizing value while investors enjoy integrated growth opportunities. Several other benefits include:
Multiple expansion of 50% to 100% likely as LVS mall and lodging businesses trade at discount to private and public market values
Debt free Mall and Lodging companies unprecedented and would have exceptional external growth opportunities through development and acquisition in Asia and around the world.
Mall and Lodging companies would be highly sought after by dedicated global property investors as companies generate above average growth and are included in property indices.
Sheldon Adelson, who with his family owns 52% (valued at $19.057 billion) of common shares, has done a good job at scaling the globally recognized Las Vegas Sands brand. By spinning out into multiple REIT platforms, Adelson and the LVS shareholders should be better equipped to boost their stock market valuation.
Investors considering a Sands REIT should pay special attention to the underlying business model and determine whether the REIT entity makes sense as an investment - focusing on the company's long-term value proposition. At the end of the day, qualifying as a REIT isn't going to magically transform a weak business model into a strong one.
LVS has built a solid foundation in Singapore and the company remains incredibly well positioned in Asia (the fastest growing gambling market in the world). Sands has four hotel casinos in Macao (three of which are on the land created on Cotai) and the company's Singapore Marina Bay hotel has set all sorts of records for gambling revenues, and destroyed even the most optimistic expectations.
Since the end of the Great Recession, LVS has performed better than the gaming peers: Wynn Resorts (NASDAQ:WYNN), MGM Resorts (NYSE:MGM), and Caesars Entertainment (NASDAQ:CZR). LVS has returned over 175.44% over the last three years.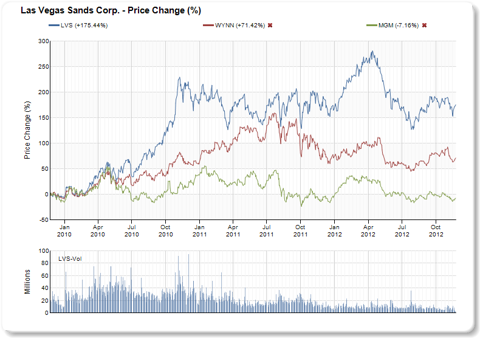 However, all gaming stocks have underperformed this year and LVS is the only company to report a positive total return, year-to-date (3.39%).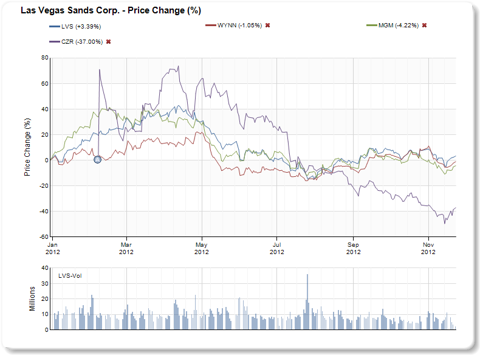 I believe Las Vegas Sands should pursue a spin-off strategy that will, in turn, provide maximum value (around $85.00 per share) for the spin-out of all (and integrated) businesses. Accordingly, investors will be able to tap into the Chinese growth engine and decide how to gain exposure to all or part of the Sands' differentiated high-quality real estate platforms. As summarized by Land and Building's Founder and CEO, Jonathan Litt:
Having three public companies each focused on its own business, Malls, Hotels, and Casino will create the most value for shareholders as each company will be able to drive growth well beyond that of the individual assets they could otherwise sell.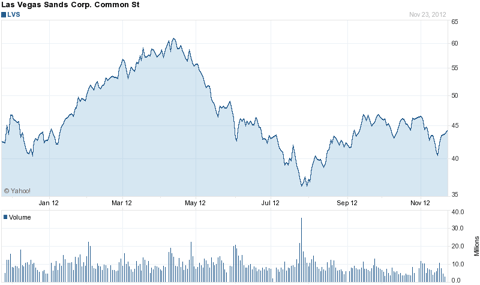 Source: Land and Building Presentation, SNL Financial

Disclosure: I have no positions in any stocks mentioned, and no plans to initiate any positions within the next 72 hours. I wrote this article myself, and it expresses my own opinions. I am not receiving compensation for it (other than from Seeking Alpha). I have no business relationship with any company whose stock is mentioned in this article.