NVIDIA (NASDAQ:NVDA) is a leading technology company in graphics and processors for computers and mobile devices. The company was founded in 1993 and already has 5,000 patents issued or filed. NVIDIA is one of the most innovative tech companies and invented both the GPU and virtual GPU. NVIDIA will need to continue to reinvent itself if it will survive for another ten years as the PC market is clearly contracting. Most tech users remember Nvidia as the company responsible for the GeForce personal computer ("PC") video cards but the company has diversified greatly. Nvidia has three primary operating segments (further details are available in the 10K):
Graphics Processing Unit (GPU): Desktops, notebooks, and memory chipsets
Professional Solutions Business (PSB): Quadro and Tesla high-performance products
Consumer Products Business (CPB): Entertainment (Tegra), automotive, and game consoles (licenses and royalties)
The stock recently appeared on a screen when it touched its 52-week low of $11.08 last week. The stock has rebounded to near $12 and there was very bullish option activity for the stock last week. Despite the stock's slide, I still believe there is value for investors. I will review the company's financial position as well as recent operating results to explain why NVIDIA is worth considering at this price.
click to enlarge image

Cash Rich and Debt Free
NVIDIA has one of the stronger financial positions of the companies I follow and is very similar to Western Digital (NYSE:WDC). The balance sheet is extremely clean with $3.4B in cash, cash equivalents, and marketable securities (hereto referred to as "cash"). The bulk of the "cash" is US and corporate debt maturing in the next five years. This comes out to approximately $5.54 per share in "cash" or approximately 45.6% of the company. The company continues to produce strong cash flows from operations that totaled $375M in the past nine months. Overall cash flows were negative due solely to purchases of marketable securities (essentially a cash equivalent given NVIDIA's policies). The current price-to-cash ratio is 2.15 thus a cheap stock gets even cheaper. The already reasonable forward P/E of 12.27 falls to approximately 6.6 after excluding "cash".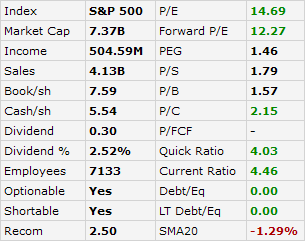 (Source: Finviz)
The $1B in goodwill and intangible assets is initially troubling but almost one quarter relates to patents and licensed technology. Another 25% relates to the 2011 acquisition of Icera, Inc., a company that develops processors for advanced mobile devices. It appears that NVIDIA overpaid for Icera but that is an acceptable premium given the popularity of mobile processor companies. NVIDIA still only has $1B in total liabilities and is extremely liquid: both the current and quick ratios are above four. In 2007 the Board authorized the repurchase of $2.7B in stock through May 2013 and the plan was extended thought 2014. To date NVIDIA has repurchased $1.46B worth of stock indicating that NVIDIA can repurchase up to $1.24B in stock in the next two years. No repurchases have been made in calendar year 2012 and I would be surprised if NVIDIA does not buyback stock this quarter given the stock's depressed valuation. NVIDIA announced earlier this month that it will start paying a quarterly dividend that is currently yielding approximately 2.5%. The payout ratio is less than ten percent which leaves sufficient coverage for dividend increases or additional buybacks in the future.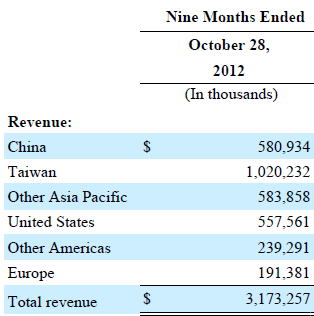 The GPU, PSB, and CPB represent 63%, 20%, and 17% of nine month 2012 revenue, respectively. Unless otherwise noted in this article all operating and cash flow metrics are for the nine months ended October 28, 2012. The GPU and PSB segments have been profitable while CPB continues to report notable operating losses ($234M) for the period. The CPB segment was allocated the expenses related to the Icera acquisition so the ongoing performance should improve somewhat. The CPB should be boosted by high profile victories as its Tegra-3 chips are in the Microsoft (NASDAQ:MSFT) Surface RT, Google (NASDAQ:GOOG) Nexus 7, and HTC One X.
Gross margins have been slightly over fifty percent recently and are forecasted to remain consistent in 2013. Operating expenses have been steadily rising between ten and fifteen percent as compensation has been rising due to an increased headcount. NVIDIA forecasted increasing operating expenses in 2013 but did not dive into the margin forecasts. As indicated in the global revenue chart, NVIDIA is very diverse in sales and is not overly dependent on any one country. One notable risk for NVIDIA relates to revenue and accounts receivable concentration is that significant customers account for approximately 12% of total revenues and 19% of accounts receivable for the nine months ended in October.
You may be wondering why I am bullish on NVIDIA but have negative views of both Intel and AMD (NYSE:AMD) because they all operate in similar spaces; furthermore, all three are trading near their lows of the year. I am willing to give NVIDIA more rope because it has been diversifying its operations towards mobile and has a tremendous financial position. One of NVIDIA's most valuable segments is the PSB where they enjoy an 80% market share. The professional graphics market has been contracting due to macro trends but NVIDIA is the industry leader with its Tesla platform that NVIDIA is already poised to improve upon. One analyst believes that Intel will steal market share from NVIDIA with its Xeon Phi chipset but such a shift is years away at best given NVIDIA's position. Make no mistake; NIVIDIA is still a risk investment that can decline further given the weakness in the PC market. that I am long Western Digital and the company declines precipitously on any negative PC news despite being more reliant on cloud computing and enterprise spending. Headline risk is very real and PC partners such as Hewlett-Packard (NYSE:HPQ) and Dell (NASDAQ:DELL) have been ripe with bad news recently.
Summary
$5.54 per share in "cash"; approximately 45.6% of the company
Forward P/E of 12.3; 6.6 ex-"cash"
2.5% Dividend recently initiated with 9.2% payout ratio
51.6% Gross Margins and Leader in Key Markets
Tegra-3 Processor featured in Surface and Nexus 7 tablets
With almost fifty percent of the current market capitalization in "cash" and potential buybacks of twenty percent of the market cap possible in the next two years I am more than willing to assume the risk of buying NVIDIA. To gain a conservative entry point I suggest utilizing either a covered call or put:
Long NVDA at $11.90; Short NVDA Jan 2013 $12.50 Calls at $.41
Short NVDA Mar 2013 $12 Puts at $1.10
The covered call approach grants sixty cents of potential upside with the guaranteed 3.36% in the form of the call premium for holding the stock less than sixty days. The breakeven of $11.49 is a solid entry point for the stock when utilizing the covered call. On the other hand, going short the put is profitable as long as the stock stays above $10.90 by March. This is a more conservative choice but offers less profit potential.
Please refer to profile page for disclaimers.
Disclosure: I am long GOOG and WDC and may initiate a position in NVDA in the next 72 hours. Please refer to profile page for disclaimers. I wrote this article myself, and it expresses my own opinions. I am not receiving compensation for it (other than from Seeking Alpha). I have no business relationship with any company whose stock is mentioned in this article.