Caterpillar Inc. (NYSE:CAT) is the world's largest manufacturer of heavy construction machinery, operating in two segments: machinery and power systems, and financial products. The segment of the machinery and power systems mainly covers construction industry, resource industries, and power systems. The financial products segment includes Cat Financial and Caterpillar Insurance Holdings Inc. CAT holds a dominant share in the U.S. market and will continue to maintain its competitive edge with its rebounding North American end markets. As CAT approaches 52 week lows, it is time to put CAT on the watch list due to the cyclical nature of the stock in the farm & construction equipment industry.
Recent Calls and EPS Trend
On Nov. 23, 2012, The Street Ratings had reiterated its buy rating on CAT with a ratings score of B. The ratings indicated,
The company's strengths can be seen in multiple areas, such as its revenue growth, notable return on equity, impressive record of earnings per share growth and compelling growth in net income. We feel these strengths outweigh the fact that the company has had generally high debt management risk by most measures that we evaluated.
On Nov. 12, 2012, J. P. Morgan Chase & Co. downgraded CAT from overweight to neutral and cut the company's share price target to $90 from 109 and stated, "We cannot overlook the continued pressure the mining sector is facing to reduce capex, as well as the re-election of President Obama and the impact this could have on the U.S. coal and energy sectors." An insightful analysis can be read here for this J. P. Morgan downgrade. Prior to this downgrade, Longbow had downgraded CAT from Buy to Neutral and RBC Capital Markets had also downgraded from Outperform to Sector Perform.
As seen from the graph below, the current quarter EPS estimate had been lowered from 2.44 to the current 1.73 in the past 90 days. The next quarter estimate had also been lowered from 2.37 to 1.84. The full year estimate for 2012 and 2013 had also been lowered to 9.10 and 8.69 as compared to the 9.62 and 10.55, as estimated 90 days ago. Analysts' sentiment for CAT's EPS had been growing more bearish in the past quarter.

Source: Yahoo! Finance
Fundamentals Overview and Technical Analysis
With the data obtained from Morningstar, CAT's key stats will be compared to its competitors in the farm & construction equipment industry under the industrials sector. The competitors include Deere & Co (NYSE:DE), CNH Global NV (NYSE:CNH), and Terex Corp (NYSE:TEX). CAT had been showing a stronger revenue growth (3 year average) of 5.4 as compared to the industry average of 0.9. CAT also demonstrated stronger operation efficiency with the operating margin of 14.2%, ttm, and net margin of 9.7%, ttm, as compared to the averages of 13.3% and 7.7%, ttm. Despite the higher debt-to-equity of 1.5, CAT's ROE of 40.8 is much higher than the average of 26.2. With CAT's strong earnings and positive earnings per share growth over the past two years, CAT's high debt risks are well managed. CAT is currently under-valued with a P/E of 8.6, as compared to the average of 9.7.
CAT closed at $84.16 with a 1.34% gain on November 23. The volume of 2.66M is 62.95% less than the 30 day average volume of 7.18, mainly due to shortened holiday trading hours. CAT had been trading in the range of $78.25-$116.95 in the past 52 weeks. The trend indicator, MACD (12, 26, 9) is currently showing a bearish sign; however, the MACD difference continued to converge and could reverse its sign soon if the share price continues to go up in the next few days. CAT is currently trading below its 50-day MV of $85.69, which will be the next major resistance, and 200-day MV of $92.69. The next support for CAT is $81.77, S1 pivot point, followed by $78.73, S2 pivot point, as seen from the chart below. The momentum indicator, RSI (14), is currently neutral at 49.85.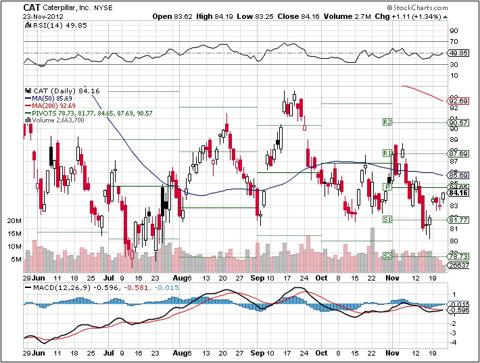 Source: StockCharts.com
Options Play
With the cyclical nature of the farm & construction equipment industry, it is a good time to watch CAT as it approaches 52-week lows and play the cycle. A credit put spread options play will be reviewed for investors who would like to purchase CAT at its 52-week low price while capturing some upside potential.
Short 1x Feb. 16, 2013 Put at the strike price of $80.00 for the credit of $2.89
Buy 1x Feb. 16, 2013 Put at the strike price of $75.00 for the cost of $1.53
The maximum profit is $1.36, and the maximum risk is $3.64 ($5 dollar loss - $1.36 credit received). If CAT closes above $80 on Feb. 16, 2013, 37.36% return on margin will be gained. If CAT trades below $80 upon options expiration, the short put contracts will be exercised, and the acquisition cost for CAT stock will be $78.64, which is 6.56% lower than the current trading price and very close to the 52-week low price of $78.25. For more cautious and patient investors, it will be safer to establish the long-term position after the concern for the U.S. Fiscal Cliff is cleared out of the way.
Note: All the prices are quoted from the closing of November 23, 2012 and all calculations are before fees and expenses. Investors and traders are recommended to do their own due diligence and research before making any trading/investing decisions.
Disclosure: I have no positions in any stocks mentioned, but may initiate a long position in CAT over the next 72 hours. I wrote this article myself, and it expresses my own opinions. I am not receiving compensation for it (other than from Seeking Alpha). I have no business relationship with any company whose stock is mentioned in this article.