We have maintained our view since we last covered Silver Wheaton (NYSE:SLW). We believe the company is the best play on silver and presents a good opportunity for long term investors. SLW has a great growth potential, a strong balance sheet and liquidity position, excellent margins, sustainable dividends, and a strong upside potential.
Third Quarter Results
Silver Wheaton Corporation, the largest precious metal royalty/streaming company in the world, reported third quarter adjusted earnings per share of $0.34 on November 5, missing analysts' estimates by 15 percent as profits dipped 11 percent. Sales volume ending up being lower than production and lower silver prices resulted in a dip in revenues. The timing of the concentrate shipments was such that it resulted in 2 million ounces of produced silver not being shipped during the quarter.
Silver equivalent sales of 5.1 million ounces resulted in the inventory building up to 2 million ounces. The company's silver equivalent production of 7.7 million ounces reflected an increase of 26 percent from the same quarter of last year. Quarterly production results were better than what the sell side was expecting and we expect inventory to decrease through sales, in the next few quarters. Sales are only delayed and not destroyed.
Net profit for the quarter fell to $119.7 million from $135 million in the same quarter of last year. Both revenue and realized prices fell by 13 percent YoY.
Dividends
Since SLW's dividends are linked to its cash flows, lower cash flows for the third quarter resulted in a 30 percent reduction in the dividend to end up at $0.07 per share. Shareholders are expected to receive dividends in the first week of December. SLW has a policy of paying out 20 percent of the last quarter's cash flow from operations (NASDAQ:CFO) in dividends. However, we expect next quarter's CFO to be higher because of delayed sales, which will be realized in the next quarter, resulting in sequentially higher dividend.
Guidance:
SLW reiterated its earlier reported attributable silver-equivalent production guidance of approximately 28 million ounces, including 42,000 ounces of gold. The sell side is expecting next quarter's earnings to be 49 cents per share.
As we mentioned in our previous article , the company does not own or operate any mines; rather, it finances capital expenditure and then buys the precious metal at a low fixed cost through long term contracts with different mining companies. Silver Wheaton, with more silver reserves than any other company, is the largest silver streaming company in the world. Below is a chart showing the Attributable Silver Reserves and Resources of the company.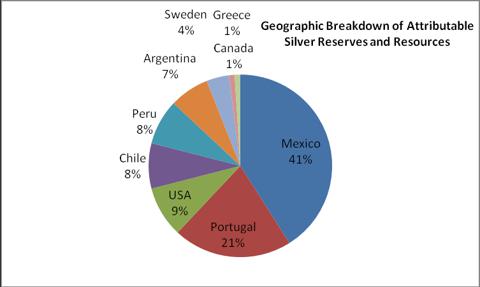 For a detailed analysis of the stock please refer to our previous article on SLW.
Financials:
SLW is trading at a forward P/E of 15.7. With long term earnings growth rate of 23 percent, the company is trading at a PEG ratio of 1.1. SLW's stock has gained 16 percent in value, whereas its peers, PAAS and SSRI, have lost 20 percent and 13 percent in stock value, respectively.
| | | | |
| --- | --- | --- | --- |
| Comp Sheet | SLW | Pan American Silver Corp. (NASDAQ:PAAS) | Silver Standard Resources, Inc. (NASDAQ:SSRI) |
| Forward P/E (1 year) | 15.7 | 9.9 | 31.4 |
| PEG ratio (5 year expected) | 1.1 | 1.6 | 0.18 |
| EV/EBITDA (TTM) | 19.8 | 6.4 | 34.7 |
| Dividend yield | 0.70% | 1.00% | N/A |
| Long-term earnings growth rate | 23.10% | 11.00% | N/A |
| Share price Performance (YTD) | 15.70% | -19.60% | -13.00% |
Source: Yahoo Finance
SLW also has a strong balance sheet. The company ended the third quarter with $500 million in cash and equivalents and $400 million in undrawn credit facility. SLW has a net profit margin of 73 percent and an operating profit margin of 74 percent. These are pretty high compared to the industry standards. The stock is down 9 percent since the company released its quarterly profits. This is a great entry point for long term investors.

Source: Yahoo Finance
Disclosure: I have no positions in any stocks mentioned, and no plans to initiate any positions within the next 72 hours.
Business relationship disclosure: The article has been written by Qineqt's Basic Material Analyst. Qineqt is not receiving compensation for it (other than from Seeking Alpha). Qineqt has no business relationship with any company whose stock is mentioned in this article.