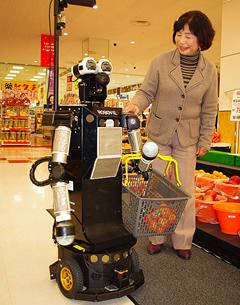 We shopped 'till we dropped this weekend.
Consumer spending over the four-day Thanksgiving weekend climbed 13% to $59.1B, although the growth was slower than the 16% last year. Average spending per customer rose 6.3% to $423. Online sales on Black Friday jumped 26% and topped $1B for the first time, says ComScore, which forecasts that Internet sales over the holiday season will grow 17% to a record $43.4B. Movie tickets also hit a record $290M for the weekend.
Congress returns to work this week and seems to have made no actual progress on a deal to avoid the fiscal cliff - just 5 weeks away from triggering now. Over in Europe, there's the imminent Greek Cliff, with the Troika making their 3rd attempt today to come up with an agreement to reduce Greece's debt burden so that Government can get a round of bailout money that must be on hand on Friday.
Over in Spain, pro-independence parties won Catalonia's elections as that country makes another step toward revolution and Egypt's markets fell 9.6% as President Morsi takes that country another step towards Dictatorship by granting himself "sweeping powers and judicial immunity." Who does that guy think he is - Hank Paulson?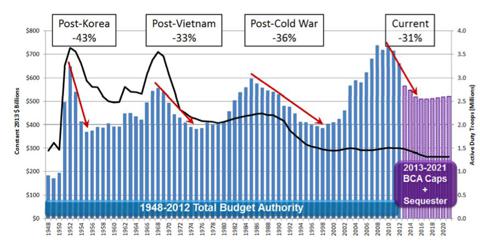 While all this geo-political nonsense may not bother the mighty US Consumer - investors sure are nervous about massive and sudden cuts like the cuts to Defense Spending illustrated in the chart.
As you can see, realistically, we've had military spending cuts before and survived - it's more the immediate and indiscriminate nature of forced sequestration that has market participants spooked.
Friday's low-volume rally already gave us crosses on our strong bounce lines (see Friday's post) at Dow 12,950, S&P 1,400, NYSE 8,100 and Russell 805 as we wait for the Nasdaq to confirm the move by taking out 3,000. Hopefully, the Nasdaq will get a little help from Apple (NASDAQ:AAPL) this week, thank's to Citigroup, which initiated them at a buy this morning with a target of $675. Also, Gene Munster's crew was at Mall of America for 2 hours on Friday: Shoppers bought 17.2 items/hour at the Apple store, 3.5/hour at Microsoft (mostly XBoxes). 22 iPads were sold. Zero Surfaces. If that's a trend - it's a very good one for AAPL.
UBS also came out for AAPL this weekend and set a $780 target on the stock asserting that a combination of valuation, earnings momentum and technical factors "suggest that it is a good time to be building positions into the new year."
After having very little data to discuss for the past couple of weeks, this week has plenty with the Chicago Fed already lame this morning (-.56%) and the Dallas Fed at 10:30. Tomorrow we have Durable Goods, Case Shiller, Consumer Confidence and the FHFA Housing Price Index and Wednesday brings us the MBA Mortgage Index and New Home Sales along with Oil Inventories and the Beige Book. Thursday is the usual 400,000 lost jobs along with the 2nd estimate of the Q3 GDP, which is expected to be a not-too-bad 2.8% and we wrap up all the housing data with Pending Home Sales at 10. Friday we finish off the week with Personal Income and Spending and then the Chicago PMI Report will take us into the weekend.
Our bullish premise is that housing is picking up steam and it's going to make or break this week so let's stay on our toes.
Disclosure: I am long AAPL, XLF, TZA, HPQ, HOV, BBY. I wrote this article myself, and it expresses my own opinions. I am not receiving compensation for it. I have no business relationship with any company whose stock is mentioned in this article.
Additional disclosure: Positions as indicated but subject to change (fairly bullish mix of long and short positions - see previous posts for other trade ideas).