Exposure To Multi-Hundred-Billion-Dollar Destruction Of Wealth
Cloud commoditization will prove "a trillion-dollar transfer of wealth" in the enterprise sector, says an early backer of Amazon (NASDAQ:AMZN) (Amazon led a comparable secular trend in the consumer sector).
Oracle (NASDAQ:ORCL), SAP (NYSE:SAP), Microsoft (NASDAQ:MSFT), Cisco (NASDAQ:CSCO) and so on [...] are about to get hit with a tsunami of competition as smaller, more nimble rivals rush into the market offering solutions that outperform the old guys at a fraction of the price.

Little by little, those upstarts will tear away market share held by the old guard and rob them of their market value [...]

Enterprise customers have been locked into overpriced, underperforming software and equipment for a decade or more, and the've been loath to spend money to change things. But now it seems a huge transformation is about to occur, driven by mobile devices, cloud platforms and the software-as-a-service business model.
"Trillion-dollar transfer of wealth" is unsurprising guidance from an early-stage cloud enterprise investor with capital riding on the new wave of potential transferees. In actuality, because SaaS saves money for clients, much of existing wealth will be destroyed, not transferred. Perhaps one day angel investors and venture capitalists who fund young companies will spin off hedge funds to short aging companies, and the overall market will price industry trends less schizophrenically. For now, an institutionalized disconnect between Silicon Valley and Wall Street has created epic inefficiency: both disrupted and disruptor enterprise software providers are priced for growth.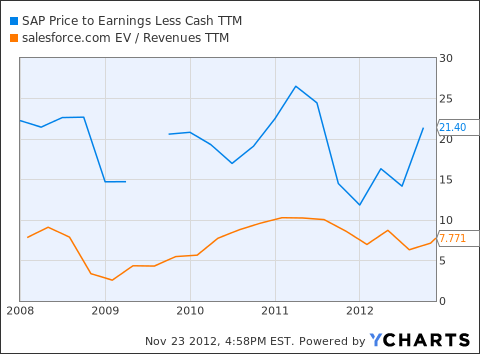 SAP Price to Earnings Less Cash TTM data by YCharts
Like Amazon, Salesforce (NYSE:CRM) has been shorted by otherwise-intelligent professionals betting that a low-margin market-share acquisition strategy would disenchant shareholder expectations. Smart people being proven wrong is an excellent signal which should raise alerts for alpha seekers; the alerted indication is to prospect in related stocks for market inefficiencies.
Context Of Disruption
Like Amazon has diluted retail, Salesforce and other cloud companies will dilute the pricing power of enterprise solutions. SAP is the leader in non-cloud enterprise applications and has billions in non-cloud cashflow to lose, not to mention the reversal of a growth valuation.
It's important to note that SAP's dethronement will not be symmetric with its decade-long ascent to power; the coup will be sudden and violent. The trade here is just a search for timing.
Perhaps the best signal of proximity in timing is the willful decision-making of SAP itself. You see, until recently, despite whatever they claimed to be doing, the company's leaders did very little to invest in cloud enterprise solutions. This was classic "innovator's dilemma" behavior. Why create an efficient enterprise software solution, when high-end customers are willing to pay more for maintenance of an inefficient one?
(Courtesy Profs. Mindell and Pratt, MIT, click to enlarge)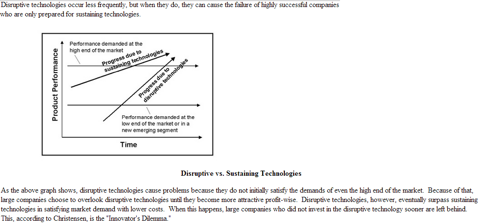 Following acquisitions such as a 50%-market-premium buyout of SaaS provider/potential SEC target SuccessFactors, SAP's story now convincingly stars cloud enterprise disruption. That they are disrupting themselves indicates the end is near.
With a P/E at double the stock market average, a market capitalization approaching $100BB, and a dividend-investor demographic lounging peacefully/bullishly on deck, I regard SAP as The Enterprise Titanic. SAP's last-minute self-disruption, an attempt to steer clear of the SaaS pricing iceberg, is an indicator of proximate timing. It is time to buy insurance on the soon-to-be-sinking investment vehicle.
A Catalyst
Further confirmation arises in last week's report of SAP handing out half-off discounts to large customers, revealing that a previously monopolized high-end bunker is being penetrated by low-priced competition (this high-end penetration correlates perfectly with the time axis on the innovator's dilemma diagram).
[When large clients] threatened to look elsewhere for their IT needs, SAP came back with whopping 50% discounts.[...] Maintenance contracts make up 50% of the company's total sales and roughly 85% of operating margins.

"It doesn't surprise me that SAP is denying it because the implications of opening this Pandora's Box are very big for the company." -Peter Goldmacher, Cowen & Co
Maintenance contracts are perhaps the dirtiest of secrets in the IT profession. Often the only way to get paid for a software product is to service it habitually (one might say it is "broken on purpose"). But SaaS drastically cuts the pricing for such maintenance--the servicing is built into the software.
Data Mining?
Now, some have said SaaS commoditization will be overcome through market growth in data mining and analytics. I find this big data thesis unconvincing: big data suppliers, like rare earths suppliers, find their market value in the expense of extraction, not the rarity of natural un-mined occurrence; as extraction becomes more efficient, the price of big data will fall -- like Molycorp's (MCP) share price, which shows 85% decline in one year.
In reality, Excel has been doing big data for a while; the actual opportunity for efficiency improvement these days is ease-of-use, and there are dozens of Facebook-like (NASDAQ:FB) startups working on this; comparing SAP to Myspace in this situation would insult Myspace, as SAP's sluggishness, maintenance costs, and contempt among captive participants are qualities far more deserving of a comparison to the glue-stick and scissors tedium of scrapbooking. To complete the anecdote: Facebook was founded in 2004, the same year we said goodbye to scrapbooking and Creative Memories.
A Billion Users?
Besides the big data bubble, CEO McDermott has thrown a Hail Mary investment thesis of growing customers to "a billion". So basically, SAP is going to have every user on Facebook as an enterprise customer! Watch out, LinkedIn (NYSE:LNKD)!
By the time Hail Marys get thrown, smart money has already taken the other side. Judge for yourself: how much smart-money is betting on a billion customers at SAP? The most detail McDermott can give in his thesis is the tautologous, circular, self-proving, redundant claim of "ecosystem" development. SAP says you should invest in it because it is going to have a lot of customers--customers who will come because they will be drawn to SAP's ecosystem of a lot of customers. Groupon (NASDAQ:GRPN) and Zynga (NASDAQ:ZNGA) investors understand the fragility of even a pre-established network-effects moat; McDermott wants you to trust a yet-established network-effects moat.
Betting Against The Cloud?
Amazon/Salesforce-type companies have implemented a strategy of long-term zero-profit-margin expansion in order to aggressively gain market share. Their share prices have responded optimistically, while shorts have bet cynically, thinking corrections would be inevitable. These shorts were betting against a paradigm change; so far they have been proven wrong.
Some would point to SAP's steady growth in earnings as evidence against my thesis of disruption.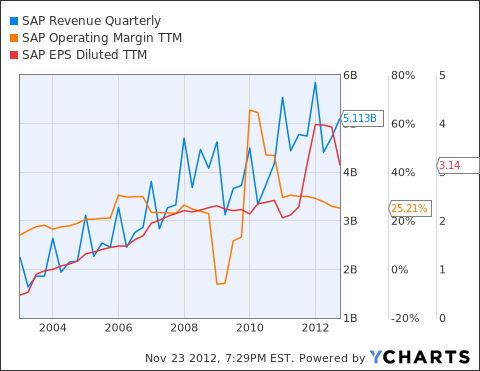 SAP Revenue Quarterly data by YCharts
However, historical cashflow growth smoothness is not at all divergent from an "innovator's dilemma" situation. In fact linear success prior to disruption is standard in the model. Abundantly evident "hockey-stick" accelerating market-share annexation by companies like Workday (NYSE:WDAY) indicates a low-end-pricing iceberg curvature; recent, reactionary change in course by The Enterprise Titanic confirms SAP's closeness to said shape in the fog.
Predicted-by-some tragedies like AMD (NYSE:AMD) in 2011 happen all the time in tech: out-maneuvered in pricing by mobile/cloud on the low end, brutalized by bigger R&D spenders like Intel (NASDAQ:INTC) on the high end...ahem, Oracle.
SAP: An Elegant Short
The elegance of an SAP short is: more than one way to win. SAP has double the market average in P/E multiple. So, multiple compression alone will make the SAP short profitable--whereas a falloff in earnings--a falloff in margins-- will make the short legendary.
But don't take my word for it. Just listen to VC Jason Green, who backed SuccessFactors and Salesforce. Here's what he has to say about a race to the bottom price-tag in enterprise efficiency:
The cloud titans are lining up for battle
Titanic's crew sees a zero-margin iceberg ahead: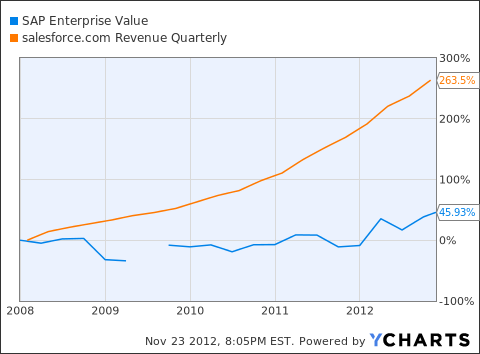 SAP Enterprise Value data by YCharts
Note: SAP downside exposure through share borrowing and/or put options is markedly cheap as a result of SAP's deceptively smooth share-price history.
Disclosure: I am short SAP, CRM. I wrote this article myself, and it expresses my own opinions. I am not receiving compensation for it (other than from Seeking Alpha). I have no business relationship with any company whose stock is mentioned in this article.