ConocoPhillips (NYSE:COP) on October 25, had its best quarter since its spin off of Phillips 66 (NYSE:PSX). ConocoPhillips Q3 earnings came in at $1.44 per share, beating estimates by $0.27. However the stock has barely moved since then. The stock since October 25 has only moved up by 1.3% to $56.67. With a current TTM PE of 7 ConocoPhillips is undervalued.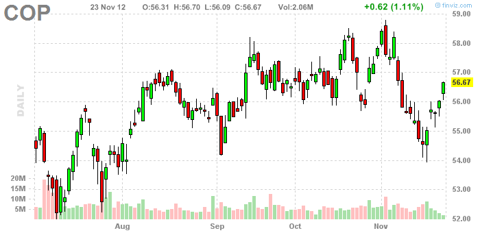 ConocoPhillips currently offers an industry leading 4.66% dividend yield. ConocoPhillips has stated that it will distribute 20-25% of its cash flow from operations to shareholders. The company has targeted its dividend as the primary way to increase shareholder returns. The remaining CFO will be allocated for sustainable and profitable growth. This growth entails growing its organic reserves above replacement levels and building inventory of future investment options. The company plans to increase margins include five high margin projects which are expected to account for 550+ mboe/d by 2016. Annual capex is expected to reach $15-16 billion, with the targeted CAGR reaching 3- 5% by 2016.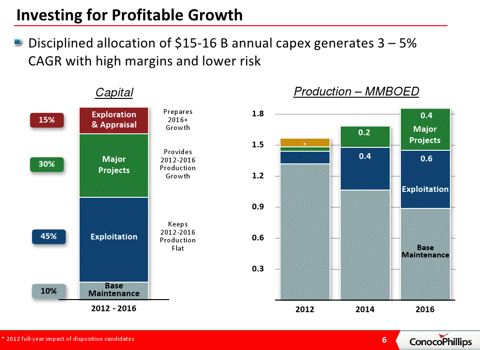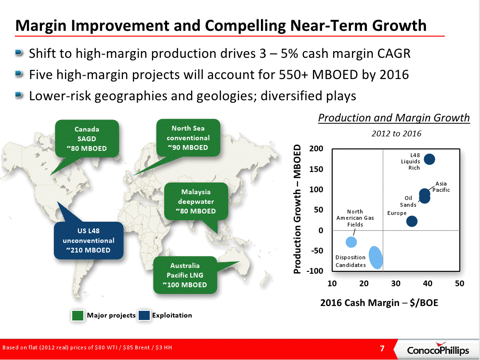 ConocoPhillips production mix for 2012 consisted of 55% liquids, 19% LNG and international natgas and 26% North American natgas. As of 2011, proved reserves stood at 8.4 bboe. 79% of reserves are currently in OECD countries. For 3Q 2012, ConocoPhillips sales volume included only 25% of the lower priced North American natgas.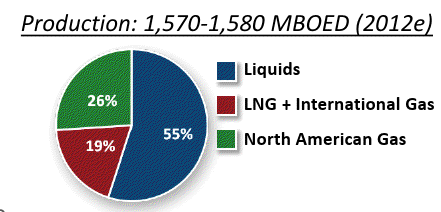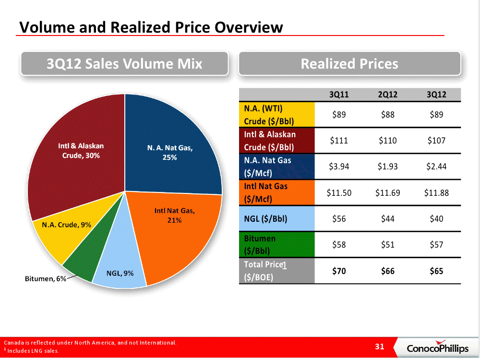 ConocoPhillips is the largest independent energy producer in North America. For FY 2012, North American production is expected to reach about 900 mboe/d. By 2016, production is expected to increase to nearly 1100 mboe/d. CAGR for North America is targeted at 3- 5%. The company plans to target unconventional and heavy oil in North America. ConocoPhillips has a large land position in North America with over 21MM net acres. The company has added over 700,000 acres of land in North America since 2011.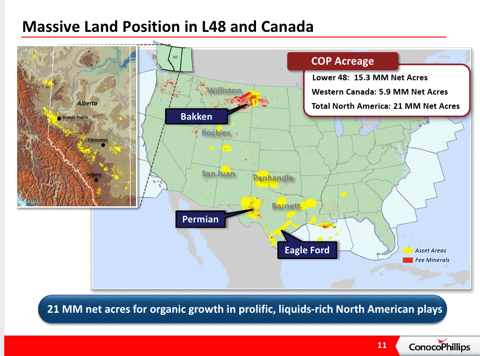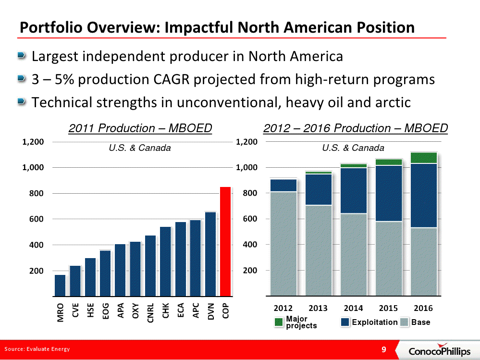 ConocoPhillips has the majority of its international production in long-lived assets in OECD countries. For FY 2012, international production is expected reach about 600 mboe/d. By 2016, production is expected to increase to over 700 mboe/d.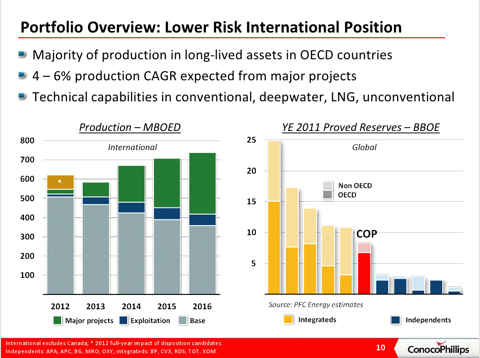 ConocoPhillips has major plans to increase future growth with unconventional oils and liquids. The company has numerous shale acreage throughout North America. The company also has shale acreage in Australia and Poland.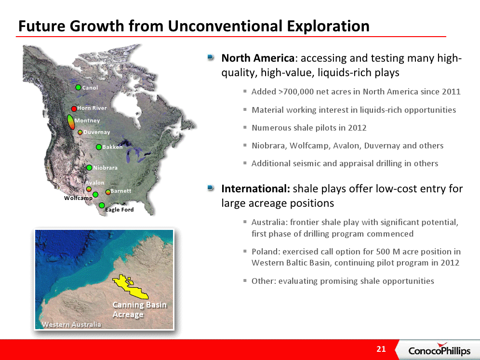 The market seems to have ignored ConocoPhillips's excellent Q3. The company's investments will also provide growing production, which in turn should lead to higher EPS. When you throw in the juicy 4.66% dividend, this stock is one worth owning. ConocoPhillips will pay you to wait for the market to figure out its value.
Disclosure: I am long COP, PSX. I wrote this article myself, and it expresses my own opinions. I am not receiving compensation for it (other than from Seeking Alpha). I have no business relationship with any company whose stock is mentioned in this article.