We will soon find out (probably by late December) if Annaly Capital (NYSE:NLY) will cut dividends in coming quarters. The question is not so much if they will cut dividends, but how much will they cut. There has been no question that lower spreads and a flatter yield curve has impacted Annaly's ability to profit enough to support their past dividends.
The company cut their dividend from $.55 to $.50/share last quarter, and with the Fed continuing to purchase $40 billion mortgage backed securities every month, I believe that a significant cut in the dividend again is at hand.
What Are We Looking At?
It is really interesting for me to read the plethora of positive articles that have cropped up recently, and to be candid, there are plenty of experts following this stock and this sector. That being said, it has been a rocky road since I first wrote why my opinion had changed towards Annaly. It became evident to me that with the Fed involved as a competitor of sorts, Annaly would have a tough row to hoe.
One simply has to take a look at the following chart:
It is pretty clear to me that the dividends have followed the spread basically straight up, and now straight down. An argument can be made that the spread has hit the bottom, but has it?
Annaly had a pretty ugly earnings report back on November 5th. Their net interest margin dropped by 52 basis points, from 154 to 102, and earnings per share came in at $.45, down from $.55/share. Does this seem to be a positive environment to maintain current dividend levels? We also know that the company has stated that up to 25% of their capital could be used outside of the agency backed MBS sector. To wit, the tender offer to buy CreXus (NYSE:CXS).
The company has also stated that they would take advantage of the low share price to book value to buy back shares. Thus far they have announced $1.5 billion over the next year. How much will be left to prop up the dividends?
Personally I would be surprised if the next dividend was more than $.40-.45/share. Will it cause another sell off in the stock? I have no idea, but the last month or so has not been pretty for shareholders.
Since mid-September the share price has dropped about $3.00/share. At the current dividend of $.50/share, an investor has basically given up 6 quarters of dividends, if the dividend stays the same.
I understand that there are many shareholders who have a very low cost basis on the shares they own, and that the dividend is more important than the share price. Sort of like a bond I suppose. Of course there have been times when Annaly had to cut their dividends down to near zero. (I believe it was about $.04/share)
To me, this chart shows some correlation to the share price as well as declining dividends. Am I missing something? I don't think so.
I am going to make a wild guess that NLY will announce a $.40/share dividend next quarter.
What About The Future Prospects?
I have stated before and I will state again; with the Fed involvement in the business of buying mortgage backed securities, the entire sector will face issues.
The Fed is attempting to drive longer term interest rates down in an effort to stimulate economic growth, most notably in the housing sector. I think they want everyone to refinance existing mortgages so that the housing sector can heal faster, which could lead to more employment, which might lead to economic expansion.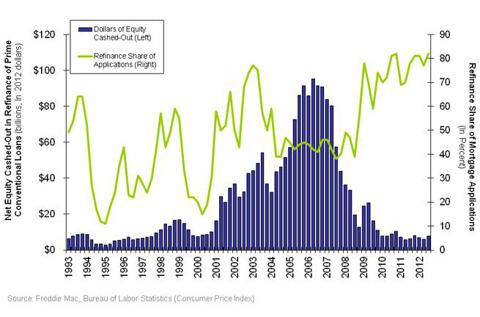 Click to enlarge
From the looks of the chart above, the effort to refinance is having an impact on mortgage applications. Even when reports of a slight dip in refinances are announced, this trend cannot be denied, just by looking at this particular chart. Refinance applications are now running at about 80% of all mortgage applications - the highest it has ever been.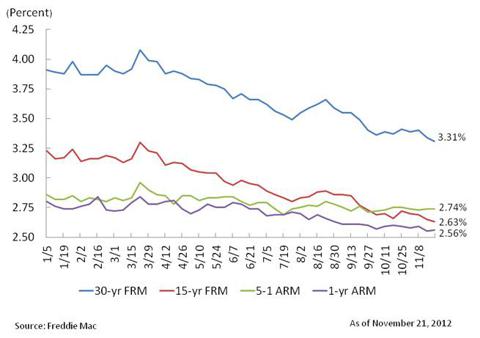 Click to enlarge
This chart shows how actual interest rates have dropped. With the Fed having used Operation Twist, as well as the $40 billion in MBS purchases, the trend continues to be down. There are no indications that the Fed will stop their spending spree. As a matter of fact, in the Annaly conference call on November 6th, Wellington Denahan-Norris - Vice Chairman, Co-CEO and Chief Investment Officer alluded to a scenario of the current administration being re-elected.
"Like I say, with the Fed being such a large and active player, we do have an election here that hopefully we'll get some clarity today. The way I see it is if Obama wins, that we potentially see more policy meddling, and there could be the point at some time where you actually see assumability in mortgages. There was a time in the past that mortgages were assumable, and if house prices don't allow for mobility in the system, I could see them instituting policy that would make it so that people could still move around and maintain the very low coupon mortgage." (Emphasis added by this author)
I do not interpret the word "meddling" in a positive light. More to the point, I believe that Denahan-Norris is more concerned today than she was when she made this comment. With all due respect, I also believe that anticipating the scenario actually was, and is, a good thing for investors. Shareholders know where they stand.
Whether or not the pre-emptive moves the company is taking, by buying shares back and potentially buying companies that are in the non-agency mREIT business, will be effective is an unknown right now. In my opinion, there is not an entity in existence that can compete with government policy. Especially when the policy comes with an open checkbook without limits.
Can Improving New And Existing Home Sales Help?
One other equation to be examined is if a recovery in home sales can turn things around for Annaly, and other stocks in this sector. I would say that if the Fed sees the economy healing, and the housing recovery truly take hold, with a significant decline in the unemployment rate combined with an increase in the number of people employed, they will then take steps to stop buying mortgage backed securities.
When that occurs, and rates on the long end are allowed to rise, while rates are kept low at the short term (the zero interest rate policy), then the fortunes of Annaly will once again be reversed. This time to the upside.
As of right now, that scenario is no more than in the embryonic stages. New homes are being built and there is some sort of recovery, but sales of existing homes are still near multi decade lows.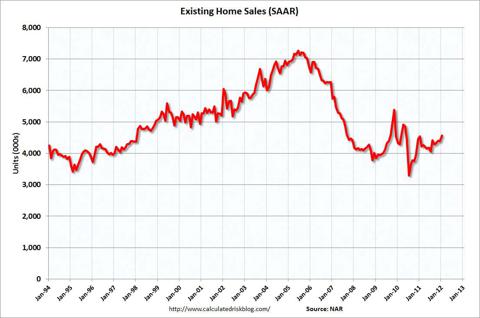 Click to enlarge
There is still a backlog of existing inventory of over 6 months, even though inventory has declined. Notice the uptick going into 2012 however.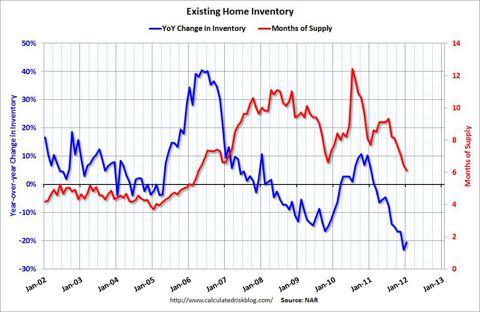 Click to enlarge
The uptick in inventory has continued at a slow pace, but as of September, actual sales of existing homes dropped as well. The first drop in 4 months.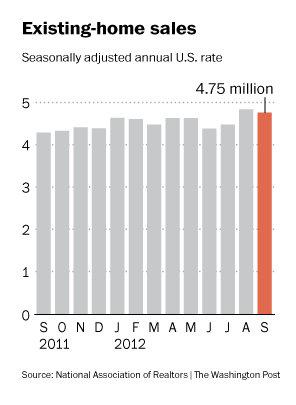 Lawrence Yun of the National Association of Realtors said recently:
"Despite occasional month-to-month setbacks, we're experiencing a genuine recovery," Yun said in a statement. "More people are attempting to buy homes than are able to qualify for mortgages, and recent price increases are not deterring buyer interest."
I read this comment and see the flip side of the coin however; Yun says there is a recovery but folks cannot qualify for mortgages. Didn't we just recover from a mortgage/housing bubble that almost destroyed our economy completely? Does this mean that banks should loosen up the requirements for mortgage approval?
In my opinion, by the Fed keeping the interest rates low, and trying to get them lower, the banks will just not want to lend at low rates. While more and more folks who own homes will be able to refinance, new mortgages to buy homes could flounder, further hurting Annaly and other companies in this sector.
In my very basic point of view, this could mean that pre-payments could increase significantly, and the market could be squeezed even more for Annaly.
The other "elephant in the room" is that of a rapid rise of all interest rates. While the Fed keeps ZIRP in place, it will not happen. When the foot is taken off of the brakes, I can see rates flying higher, and that will be yet one more issue for Annaly and others to navigate.
My Opinion
Keep in mind that I am NOT an expert in this business, and please do your own due diligence prior to either buying or selling this stock, or any other for that matter. I will, however, state my opinion that Annaly is not a good buy right now with the Fed being a major competitor. I will not fight the Fed.
Disclosure: I have no positions in any stocks mentioned, and no plans to initiate any positions within the next 72 hours. I wrote this article myself, and it expresses my own opinions. I am not receiving compensation for it (other than from Seeking Alpha). I have no business relationship with any company whose stock is mentioned in this article.