I give American Capital Agency's (NASDAQ:AGNC) stock a buy rating. Accelerated prepayments remain a risk under the QE3 environment for all mREITs, however, not for AGNC. The stock offers an unmatched sustainable dividend yield with potential for capital appreciation.
Today, I will dissect American Capital Agency to determine whether its unmatchable shareholder distribution is under any danger due to QE3. American Capital Agency stands to be the largest mortgage REIT that is a pure play in agency backed MBS. First we look at the impact of QE3 on prepayments and mortgage rates.
QE3 Follow-Up
Ben Bernanke pulled the trigger by announcing on September 13 this year the launch of QE3. Under this new round of easing, the US central bank seeks to purchase fixed rate agency mortgage backed securities worth $40 billion a month in order to bring down unemployment and support the recovery of the housing sector. The US unemployment rate, which remained over 8% pre-QE3 in 2012, is hovering around 7.9% currently. However, QE3 is supporting the recovery of the US housing sector well.
As a consequence of QE3, 30-year mortgage rates plunged from 3.55% (at the announcement date) to an all time low of 3.31%. The 15-year mortgage rates declined from 2.85% to 2.63% during the same time frame. QE3 drove mortgage rates to their lowest since their recorded history. The New York Times quoted the Mortgage Bankers Association saying that mortgage refinancing has jumped to a three-year high.
Where the decline in mortgage rates is making it cheaper for homeowners to borrow or refinance, it is also creating difficulty for the holders of mortgage backed securities to earn handsome yields. As a result of QE3, yields on fixed rate mortgage backed securities have deceased, increasing their prices. MBS holders have also faced acceleration in prepayments.
Asset Portfolio Composition
The company primarily invests in long-term fixed rate agency mortgage backed securities, while some of the investments are made in adjustable rate, CMOs and interest-only and principal-only strips. The graph below shows the percentage of each investment in the assets portfolio of the company. At the end of the third quarter of the current year, the company had $89.6 billion of Agency MBS in its entire asset portfolio. Around 98% of the entire asset are fixed rate agency MBS, while only 1% is adjustable-rate.
Past Performance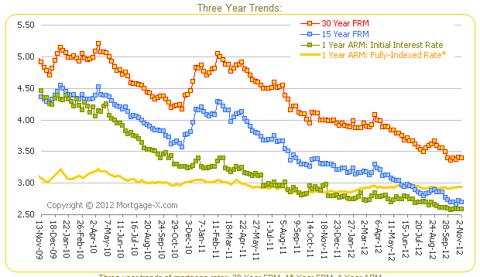 Click to enlarge
The above graph shows the historic trend for fixed rate mortgage for the past three years. 30-year and 15-year fixed mortgage rates have continued to decline except for the year 2011. Below is a comparison of the treasury yield curves from year 2009 and 2012. It is evident from the graph below that the yield curve was steep in 2009 than it is currently.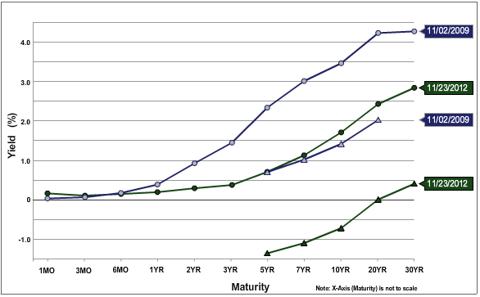 Click to enlarge
Next we look at the company's performance during time of decreasing long-term rates over the same time period.

Click to enlarge
The table above tabulates the continuous decline in the mortgage rates. However, the company has been able to sustain its annual dividend at $1.4 for much of the time being considered.
Prepayment Protection
The company has positioned its assets portfolio towards Agency MBS that have favorable prepayment attributes. At the end of the third quarter, approximately 71% of the fixed rate portfolio was composed of securities with lower loan balance mortgages and loans originated under HARP, which have a lower prepayment risk. The third quarter CPR rate of 9% remained below the 10% CPR rate of the second quarter for American Capital Agency. This is compared to a 20% CPR for Annaly Capital (NYSE:NLY) during the third quarter of the current year. American Capital has one of the lowest conditional prepayment rates.
Are the Elevated Shareholder Distributions in Danger?
American Capital offers the highest dividend yield in the mortgage REITs sector of the US. With an annual operating cash flow yield of 18.7% and an annual cash dividend coverage ratio of 3 times, the stock offers an unmatched dividend yield of 15.8%. The operating cash flow yield and cash dividend coverage ratios suggest the company generates enough cash to sustain its unmatched dividends in the coming future. American Capital is also one of the only mREITs that didn't slash its dividends in the current year.
Target Price
American Capital's shares are up 12.7% year to date and trade at a book value multiple of 0.97 times. This is against a book value multiple of 0.89 times for Annaly Capital. Using a price to book value multiple of 1.25 times and a book value of $27, I arrive at a target price of $33.7 for the stock that is currently exchanging hands at $31.66 per share. This represents an upside of 6.4%.
Investment Strategy
I rate the shares of American Capital a buy. The company offers a combination of capital appreciation and high dividend yield post QE3. The unparalleled dividend yield will remain attractive, given the Fed's intent to keep interest rates at the current level until 2015, though the risk of accelerated prepayments and compression in net interest spread prevails. Besides, I continue to favor Invesco Mortgage Capital (NYSE:IVR) as it has a portfolio that is protected, and PennyMac Mortgage Investment Trust (NYSE:PMT) and Annaly Capital.
Disclosure: I have no positions in any stocks mentioned, and no plans to initiate any positions within the next 72 hours. I wrote this article myself, and it expresses my own opinions. I am not receiving compensation for it (other than from Seeking Alpha). I have no business relationship with any company whose stock is mentioned in this article.