Shares of Flowers Foods (NYSE:FLO) have seen a lot of action over the last two weeks. Shares have been in the spotlight because of rival company Hostess closing the doors of its factories and entering bankruptcy. Flowers, which competes with Hostess in bread and snacks, is seen as the biggest winner from a Hostess bankruptcy.
Flowers shares have shot up from $19.50 to $22.53 on the news of Hostess's struggles. A 16% gain is nothing spectacular, but could be just the beginning for a company expanding market share and entering new territories. Flowers has existed for over 90 years. The company has fought off competition for decades with success. A new owner of Hostess could hurt market share for Flowers. However, I believe Flowers has the brands and the five year plan to fight off a new owner. I also think Flowers will do best if they stay out of the bidding race for Hostess as a company, as many potential buyers are lining up to buy key brands from the bankrupt company.
Here is a look at some familiar and popular brands owned by Flowers:
Nature's Own
Cobblestone Mill
Sunbeam
Bunny
Blue Bird
Tastykake
Mrs. Freshley's
Flowers Foods has the number one loaf bread brand in the United States in Nature's Owns. Flowers holds the number two position for baking companies in the United States. In 2011, the company had a 10% market share, compared to that of rivals Bimbo/Sara Lee 32.7%, and Hostess 7.1%. In the Southern region, where Flowers began and has much stronger distribution, Flowers holds a 25.2% market share.
Flowers Foods 2011 sales broke down as:
Fresh Bread/Buns/Rolls: 78%
Fresh Snack Cakes/Pastries: 13%
Frozen Bread, Rolls: 8%
Mixes: 1%
Flowers Foods key growth initiatives are:
Sales growth in core markets
Expansion markets
Acquisitions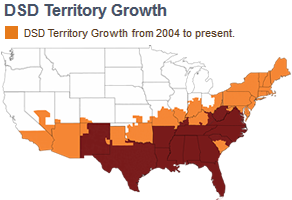 *Image from Flowers Investor Presentation
In the above picture, you can see that Flowers still has large areas to grow in. The red represents "Core Markets," where Flowers has had sales in for quite some time. The orange areas are geographic regions that have been expanded into through acquisitions and new factories. Most recently, Flowers Foods expanded its presence in California through the acquisition of Sara Lee/Earthgrains. California is home to over 38 million consumers, increasing Flowers' reach even further. The company paid $50 million for its acquisition, which will be accretive to 2014 earnings. Last year, Sara Lee/Earthgrains California had sales of $134 million. The company has 4,850 DSD territories, which provide access to 70% of the United States population. The Earthgrains California acquisition will take Flowers to their goal of 75%.
The 2011 acquisition of Tastykake is the reason I think Flowers should pass on Hostess and its brands. Tastykake gave Flowers new regional territories that it is still entering. The acquisition also gave Flowers new brands that compete directly with Twinkies, Ding Dongs, and other Hostess brands. Flowers Foods has made 10 acquisitions since 2004, which have increased sales by $737 million. A total of 100 acquisitions have been made since 1968.
A growing dividend is a nice reward for patient shareholders. Flowers currently pays out a dividend yield of 2.8%, based on a quarterly dividend of $0.16. Flowers has been increasing this amount annually and continues to raise its payout ratio and quarterly payout. Shareholders of Flowers Foods have also been rewarded with stock splits. When shares of Flowers reach a mark around $32, the company normally declares a 3:2 stock split. This has happened seven times since 1995 (1995, 1997, 2002, 2003, 2005, 2007, 2011).
Flowers Foods has strong insider and institutional ownership. Insider and large 5% owners currently own over 12% of outstanding shares. Institutional ownership makes up 61% of outstanding shares. T. Rowe Price is the largest owner with over 8.7% of shares, while Vanguard also owns 4.5%.
Analysts on Yahoo Finance are predicting the company will earn $0.24 in the current December quarter. For the fiscal year, analysts see earnings per share of $0.99, a 3% increase over last year's $0.96. In the next fiscal year, analysts see the company earning $1.14 per share.
Shares of Flowers are approaching new 52 week highs. Flowers has seen its shares trade between $18.39 and $24.20 over the last year. The company's five year plan is to grow annual sales by 5-10%, and increase earnings per share at a double digit rate. Both of these can be accomplished through new territories and acquisitions. While I believe Flowers should pass on the Hostess asset sale, I think the company can fight off competition from the new owner.
Disclosure: I have no positions in any stocks mentioned, but may initiate a long position in FLO over the next 72 hours. I wrote this article myself, and it expresses my own opinions. I am not receiving compensation for it (other than from Seeking Alpha). I have no business relationship with any company whose stock is mentioned in this article.