This is the time to buy.  There's blood in the streets, panic has gripped the market, people are wailing about a Depression, and market volatility is setting records.  I've spent every day looking for the best bargains, and I've found a monster.
Wall Street has never understood Ashford Hospitality Trust (NYSE: AHT), and consequently, the market has never properly valued this hotel REIT.  This has never been more true as the stock was taken down indiscriminately, along with far more inferior real estate companies.  Ashford was down to $0.89 per share recently, and as of this writing, is trading at $1.35, giving it a market cap of only $161.65 million.
With Ashford's announcement of the sale of three hotels last week for $148 million, for 10.6x trailing EBITDA, the hotels in its portfolio could be conservatively valued at $6/share.
So it's time to take a comprehensive look at what I believe is one of the most compelling values in the market right now – one with substantial upside potential and a massive dividend that is likely to remain in place going forward.
CEO Monty Bennett came out of Cornell University's prestigious School of Hotel Administration, obtained his M.B.A. at the University's Johnson School of Business and segued into the hotel business with his father, Archie Bennett.  Their company, Remington Hotel Corporation, was formed during the S&L crisis.  Back then, they scooped up valuable hotels from the Resolution Trust Corporation after it had seized various S&L's that held mortgages on these properties.  Remington renovated and flipped some hotels, while turning others around. 
Unlike other hotel companies, however, Remington didn't want to hold onto properties during bad economic times.  So they became a net seller during those periods, and became a net hotel buyer when things improved.  As this chart demonstrates, they developed a strong track record – buying as hotel supply increased and vice-versa.   Although they were caught somewhat by surprise by this economic downturn following a huge portfolio purchase in 2007, they have made several dispositions already and more are on the way.
When Ashford went public a few years ago, the Bennetts augmented their strategy by taking capital from dispositions and putting it to work via mezzanine loans.  As hotel experts, they knew which properties they felt secure enough to loan to – never loaning to one they also wouldn't want to own should the present owner default.  Whereas a first lineholder might otherwise be out of luck, Ashford gives them a second bite at the apple.  They can take over the property and turn it around, or even buy it themselves at a distressed price.  
In the meantime, they'd earn a return in the mid-teens for their mezzanine position.  Even better, with credit frozen around the world, hotels will be falling over themselves to get a mezzanine loan, putting Ashford in the catbird seat.  In addition, depending on their capital position and their stock price, they could also use sale capital to buy back stock.
What shape is the company in?  They own 102 hotels consisting of all the major brands across the country and across multiple markets. Of the $2.49 billion of debt they carry, only $30 million is due next year and barely $100 million in 2010.  They recently completed a debt swap that lowered their fixed-rate debt from a weighted average of 5.84% to 4.99%.   This swap is linked to LIBOR, and the company wisely purchased caps, which means their rate will top out at 6.39%.  At the moment, LIBOR is artificially high because of the financial crisis.  In due time, it should return to a more reasonable level.  Operational cash flow has historically exceeded the total of expenses, all interest payments, all preferred dividends, and all common dividends on an annual basis.  Dividend coverage this year has been 106% (Q1) and 156% (Q2), respectively.  Management has always communicated exactly what its strategy is and successfully executed on it.  Most importantly, they have carefully deployed their capital between stock buybacks and mezzanine loans.
My conclusion is that, at the present time, the company balance sheet is healthy and management is trustworthy and honest.  I don't see any major mis-steps.
Now for the big question: how will Ashford do in this challenging economic environment?  For that, we must begin with RevPAR (Revenue per Available Room). The worst time for the hotel industry in modern history was after the tragedy of 9/11.  Demand cratered.  I'm going to take that scenario, in which RevPAR declined 3.5% throughout the industry, and apply an apocalyptic scenario of a 9% decline, to the second half of this year for Ashford.  This will take into account revenue lost from the recent property sales on top of economic factors.  The company has told its property managers to have contingency plans to reduce expenses to correlate with a decrease in revenue.  Again, to be conservative, I'm only going to permit a 2.7% savings.  I'm also going to assume that LIBOR does not retreat to its previous level, and that they don't buyback any stock at all.
Conservative enough estimate?  I sure think so.
On the other side, Ashford initiated a $100 million mezzanine loan to Extended Stay America, yielding a whopping 23.9% IRR, so that should generate about $10 million in additional interest income.  Also note that the company includes Capital Expenditures as an expense in the calculation of Cash Available for Dividend, and therefore I will also.
The questions we need to answer are, for the second half of this year:  1) Can AHT make its interest payments, 2) can they pay on their preferred dividends, and 3) can they pay their common dividend, currently at $0.84 per share annually (a yield of 60% as of today's price of $1.35)?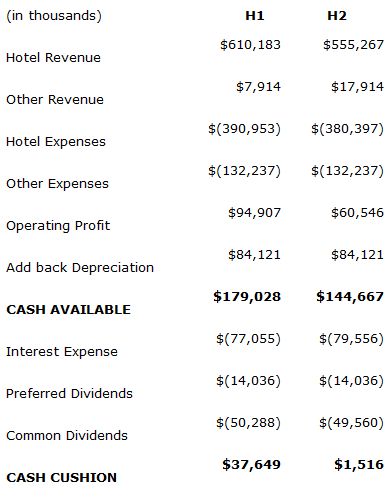 Despite all of my conservative assumptions, Ashford still has a surplus even after meeting these three critical expenses.  This doesn't even include the fact that they have a $75 Million buyback authorization in place, one that permits them to buy during the blackout period, at the irrational fire-sale prices we see right now.  By generating cash from hotel sales – this latest sale netted a $42 million profit -- you can bet they are buying their own stock with both hands.  And why not?  They may take back as many as 25 million shares, which would further decrease dividend payments by $10.5 million in the second half.
As Mr. Bennett told me in a phone conversation,
Many hotel companies are in a blackout period and/or do not have a stock repurchase program in place. A company like iStar Financial (NYSE: SFI) has a market cap of only $195 million and they have $225 million in cash.  They could go into the market and take the company private.  So ask yourself, why wouldn't they?   This isn't to say we're going private.  We aren't.  But it sure seems like a great time to buy back stock if you're iStar.
And if you're Ashford.
That's my analysis.  Now I own stock in Ashford  and I make no bones about it.  I believe I'm on target here, but I want to open this up to any challenges.  If you think I'm off the mark, then write to me.  I want to hear your thoughts and whether or not I've missed the boat.  If so, I'll put up another article to air your concerns. In the meantime, I see a stock trading at one-third of intrinsic value (at a minimum), with a 60% yield that I believe is not going to be cut (and even if it were, so what?  I'll take 7% in this environment!).
Full Disclosure:   Long AHT; no position in SFI at time of writing.