The expansion of the Fed's balance sheet remains uneven despite the launch of QE3 over two months ago. The Fed's latest weekly data for November 21, 2012 shows the total assets on the Fed's balance sheet at $2.872 trillion. This represents a -$6 billion decrease in the Fed's balance sheet from the previous reading of $2.878 trillion for November 14, 2012. In addition, this latest dip is a partial give back for the +$46 billion increase seen during the prior week. The persistent choppiness of the Fed's balance sheet since the start of QE3 raises an important question - when exactly will we finally see the Fed's balance sheet start to expand in a consistent way?
The steady expansion of the Fed's balance sheet is a critical factor in supporting a sustained rally in stock prices, for the weakening global economy and deteriorating corporate outlook provide little if any fundamental support otherwise. For example, during the 34 weeks of QE2 from mid-November 2010 to June 2011, the Fed's balance sheet expanded in 32 out of these 34 weeks by an average of +$17 billion per week. During this time, the stock market as measured by the S&P 500 Index (NYSEARCA:SPY) rallied by +12% despite the fact that the economic and market environment was sluggish at best. But the moment the Fed's balance sheet stopped expanding and began gradually contracting during the week of July 20, 2011, a sharp -19% correction in stocks quickly followed as the realities of the global economy set in. Examining QE3 in contrast to QE2, the Fed's balance sheet has expanded in as many weeks as it has contracted at 5 weeks each over the 10 weeks since the launch of QE3 for an average balance sheet expansion of less than +$5 billion. And if the weeks of October 17 and November 14 are removed from the mix, the Fed's balance sheet would be contracting at a rate of -$5 billion per week. This uneven balance sheet expansion coupled with the generally poor global economic outlook help to explain the languid stock performance over the last two months. In fact, were it not for the prospects of further aggressive balance sheet expansion by the Fed going forward, it would be reasonable to expect that stocks would be priced at levels considerably below where they are trading today.
Knowing that the expansion of the Fed's balance sheet is so important for stocks that it can enable them to defy fundamentals and melt higher, watching the Fed's balance sheet trends remains critically important. And identifying exactly where the funds are flowing within the balance sheet is a vital part of this effort.
So where exactly is the money flowing on Fed's balance sheet to this point?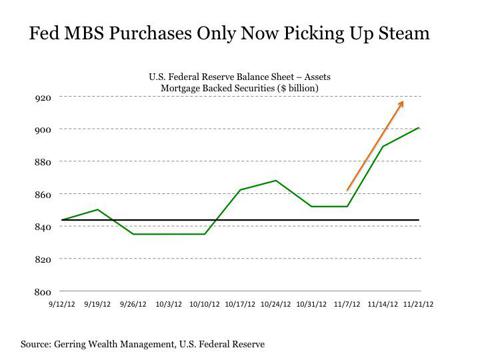 The first key item to monitor is tied to the composition of QE3, which at present involves the purchase of mortgage-backed securities (MBS). At the start of QE3 in mid-September, the Fed held $844 billion in MBS on its balance sheet. And although they indicated that they would be purchasing MBS at a rate of $40 billion each month, the Fed held only $852 billion in MBS on its balance sheet nearly two months later on November 7, an increase of only +$8 billion. This discrepancy was not due to a lack of Fed MBS purchases over this time period. Instead, it has to do with the fact that it can take several weeks to a few months for MBS purchases to settle. This helps explain why we have seen the Fed add nearly +$49 billion in MBS to their balance sheet over the last two weeks including nearly +$37 billion for the week of November 14 and another +$12 billion for the week of November 21 as these purchases are now beginning to settle. We should expect to see this MBS number on the Fed's balance sheet increase at a steadier rate going forward.
The second key to watch on the Fed's balance sheet is the movement of assets other than MBS on its balance sheet. For example, the Fed holds $1.7 trillion in U.S. Treasury and U.S. Agency securities on its balance sheet. And over the last ten weeks since the start of QE3, the Fed's holdings in these securities have contracted by over -$8 billion. This is an important point, for if the Fed announces in December that they will begin outright purchases of up to $40 billion to $45 billion in U.S. Treasury securities following the conclusion of Operation Twist at the end of the year, this will replace an item that is currently contracting the balance sheet with one that will be providing an additional tailwind to balance sheet expansion. It is worth noting that other areas of balance sheet shrinkage over the last ten weeks have included a -$7 billion decrease in central bank liquidity swaps (a past expansion in this category is part of what helped spark the rally from the November 2011 bottom) and a -$2 billion decrease in the Maiden Lane portfolio. Both of these are current headwinds to Fed balance sheet expansion that are at the advanced stage of their life cycle at this point.
Thus, while the expansion of the Fed's balance sheet that is so important to investment markets has yet to truly get underway, the momentum is building with each passing week. And if recent history is any guide, once the full force of QE takes hold, particularly if the Fed piles on with Treasury purchases in the coming weeks, we could see risk assets including the stock market begin a bold advance higher in the face of any and all rationale amid a deteriorating global economy.
For these reasons, maintaining exposure to positions that should benefit from sustained balance sheet expansion from the U.S. Federal Reserve in an overall hedged strategy remains a prudent approach. Leading among these are precious metals including gold (NYSEARCA:GLD) and silver (NYSEARCA:SLV). While holding the physical is ideal, owning securities such as the Central GoldTrust (NYSEMKT:GTU), the Central Fund of Canada (NYSEMKT:CEF) that has a 55% to 45% gold to silver mix and the Sprott Physical Silver Trust (NYSEARCA:PSLV) are all suitable vehicles to establish exposures to these metals. Stocks also provide an attractive way to capitalize on further Fed balance sheet expansion. This includes the higher growth S&P Mid-Cap 400 (NYSEARCA:MDY) and the lower beta S&P 500 Low Volatility (NYSEARCA:SPLV) as well as individual commodities names that stand to benefit most from Fed balance sheet expansion including Occidental Petroleum (NYSE:OXY) in energy, BHP Billiton (NYSE:BHP) in mining and Potash Corporation (NYSE:POT) in agriculture. Selected non-U.S. markets should also thrive in this same context including China (NYSEARCA:FXI) that has the scope to apply its own stimulus program in the coming months under new leadership and Brazil (NYSEARCA:EWZ). The fixed income market also offers the opportunity to benefit from Fed stimulus with less volatility including High Yield Bonds (NYSEARCA:HYG), High Yield Municipal Bonds (NYSEARCA:HYD) and Senior Loans (NYSEARCA:BKLN), the latter of which also provides protection against the potential for a sudden rise in interest rates. And more conservative accounts may favor Agency MBS (NYSEARCA:MBB) and U.S. TIPS (NYSEARCA:TIP), both of which have shown the ability to rise whether the Fed is applying stimulus or not.
This post is for information purposes only. There are risks involved with investing including loss of principal. Gerring Wealth Management (GWM) makes no explicit or implicit guarantee with respect to performance or the outcome of any investment or projections made by GWM. There is no guarantee that the goals of the strategies discussed by GWM will be met.
Disclosure: I am long FXI, EWZ, OXY, BHP, POT, MDY, SPLV, GTU, CEF, PSLV, MBB, TIP, HYG, HYD, BKLN. I wrote this article myself, and it expresses my own opinions. I am not receiving compensation for it (other than from Seeking Alpha). I have no business relationship with any company whose stock is mentioned in this article.