Investment advice often ignores material facts in order to explain momentum-based share price movement. Rather than focusing on undervaluation or excessively optimistic pricing, many services assign ratings tailored to validate what's already happened.
Comparing the current advice from major research providers Value Line, Morningstar and Standard & Poor's on large-cap software providers Oracle (NASDAQ:ORCL) and SAP AG (NYSE:SAP) will serve to illustrate the illogical nature of their conclusions.
Both ORCL and SAP are fine companies. Each showed very nice five- and 10-year growth in both revenue and EPS. From 2002 through 2007, SAP was the superior company. Over the more recent half-decade, however, Oracle has been the better performer.
Based strictly on the information above, you'd expect ORCL to be priced at a premium valuation compared to its own normalized levels. It would also seem appropriate for ORCL to command a higher multiple than SAP.
Here are their historical and present P/Es as of Friday, Nov. 23, 2012:
Investors want to know more than simply P/Es. Here are four other metrics for each company. Both companies rate highly, but Oracle displays a clear overall advantage.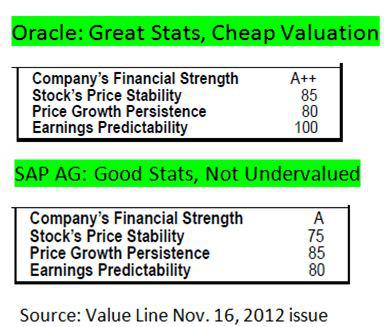 Better stats along with lower relative and absolute valuations would seem to make the recommendation of ORCL an easy one. Surprisingly, Value Line rated Oracle only as neutral while listing SAP as a buy in their most recent full-page write-ups.
Value Line was not alone in their assessment. Here are current views from Standard & Poor's on these two companies.
S&P assigned a 4-star (out of five) buy rating to SAP with the shares at $77.21. They called present-day "fair value" as $70.90. Standard & Poor's 12-month price target? $78, a whopping 1.02% above the current quote. If they are correct, you'd see only a 2.23% total return over the coming year.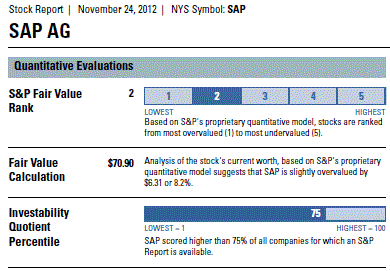 S&P puts ORCL's quality ranking in the top 1% of their entire research universe. They see "fair value" as $39. That figure is 26.1% above last week's closing price. They inexplicably carry a 12-month target price of just $34.
S&P rates Oracle only as a "hold." Achieving even their lower, very modest, $34 goal would bring investors just shy of 10% from the present price, plus a yield of 0.8%. Many people would be quite satisfied with about 11% on a high-quality stock in our ZIRP world.
Well-respected stock research firm Morningstar likes ORCL. They go with a 4-star, buy rating, while seconding S&P's fair value at an identical $39 mark.
A change in Morningstar's analyst coverage leaves SAP temporarily unrated (for stars). They do indicate that SAP looks overpriced based on a fair value that has been cut to 23.6% below the present price.
My own preference for predicting future price action is to assume a regression to the mean on various metrics for the same company's shares. Note the valuations for ORCL at its previous "best buying opportunities" of the previous decade.
Oracle's P/E is now lower than any time in the previous 18 years, excepting the exact bottom in 2008-09. Those lucky/smart enough to have caught that low had the chance at 164% gains over the following 25 months. ORCL shares look extremely cheap based on P/BV and P/CF as well.
Perform the same exercise with SAP. Today's price does not jump out at you as a particular bargain compared with its valuations at the three most recent cyclical bottoms.
Oracle's outstanding results are not being reflected in its share price, which remains 15.3% under its 2011 peak. Meanwhile, SAP trades just pennies below last week's all-time high of $77.38.
Swapping out of SAP and into ORCL makes sense.
Why pay MSRP for SAP when you can own Oracle at Black Friday pricing?
Disclosure: I am long ORCL. I wrote this article myself, and it expresses my own opinions. I am not receiving compensation for it (other than from Seeking Alpha). I have no business relationship with any company whose stock is mentioned in this article.