Normally, food companies are hostage to commodity costs. Increasing input costs can crush them. Witness Pilgrim's Pride: Sky-rocketing feed costs bankrupted this chicken grower in 2009. However, plummeting commodity costs can also drive the bottom line higher. J.M. Smucker (NYSE:SJM) is such a company. Smucker is entering a sweet spot - the Orrville, Ohio company will experience lower coffee bean prices for the next 9 months, providing a nice tailwind that will propel earnings higher.
Although Smucker sells peanut butter, cooking oils, spreads and baking flour, coffee has become the critical element of its business, now contributing 38% of revenue and 48% of profits. Smucker has been adding coffee assets since acquiring Folgers from Procter & Gamble (NYSE:PG) in 2008, bringing in Millstone Coffee Company, Rowland Coffee Roasters, and Sara Lee North American food service coffee and tea operations. Some of its lines are particularly strong: Its K-cup sales have nearly doubled year over year. Its Dunkin' Donuts packaged coffee has achieved superb growth.
As Smucker bet big on coffee, green coffee commodity prices rose, hitting a 34-year high in May 2011, "a level approximately 50 percent higher than they were eight months earlier and over 125 percent higher than they were a year earlier" due to a disappointing harvest. Smucker managed the rising costs by hiking coffee prices across the board. Green coffee prices peaked in July 2011 and have since dramatically declined.
Smucker uses both Arabica and Robusta beans. The more expensive Arabica is now the worst performing commodity of 24 raw materials. Robusta prices have fallen as well.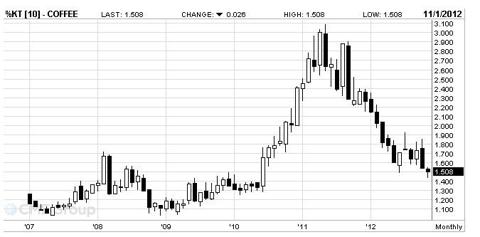 The spread between the price Smucker sells its coffee and the price it pays for its beans can drive earnings in a big way. It's really a bit of a dance - as bean prices rise, the company raises coffee prices. As input costs decline, the company lowers prices.
The dance is rarely in synch. There is usually a delay in matching prices. It's a difficult two-step: incorrect pricing turns off consumers, risking weak volume sales. When it's done right, coffee segment operating margins climb to 31% (late 2010) or they can plummet to 22% (late 2011). Smucker has been adjusting pricing, attempting to maximize volume and unit profit. The food company has been largely successful, driving sufficient volume and pricing to make up for commodity fluctuations.
Coffee Beans: Timing Is Everything
Just because coffee futures have dropped doesn't mean that Smucker is already benefiting from that commodity's decline.
Current coffee bean prices don't show up in Smucker's bottom line for 18 to 22 weeks due to timing of purchases and hedging. Moreover, Smucker changed its accounting from LIFO to FIFO for commodity input which "by definition that puts you at a longer position relative to your hedging strategy." Smucker must deplete all its inventory before new beans reach the P&L.
For instance, despite bean prices falling since July 2011, Smucker only noted the benefit of that decline in its last quarter ending October 31, 2012:
Overall commodity costs were slightly lower during the second quarter of 2013, compared to the second quarter of 2012, as lower green coffee costs offset higher costs for peanuts and certain other commodities.
Its earlier quarter ending July 31, 2012 recorded higher coffee bean costs:
Additionally, in the current quarter, the timing of price decreases and higher green coffee costs realized impacted results unfavorably.
Through a comparison of these two quarters, we know that bean prices have gone from being a negative to a positive. Coffee bean prices have been declining for 3 quarters. With this information in hand, Smucker will likely record at least 3 quarters of improving coffee input costs y-o-y regardless of future coffee commodity price movement. Smucker will gain on lower input costs coupled with already raised coffee prices.
The margins will result in better earnings than analyst consensus. Consensus expects $1.39 for Q4 and $5.19 for FY 2013 but this doesn't factor in dropping coffee input costs. Declining input costs will help Smucker beat estimates over the next 3 quarters.
The chart below plots U.S. coffee retail segment operating profits. Note coffee profits increased last quarter. The upcoming quarter should continue that salutary trend as declining bean prices become realized.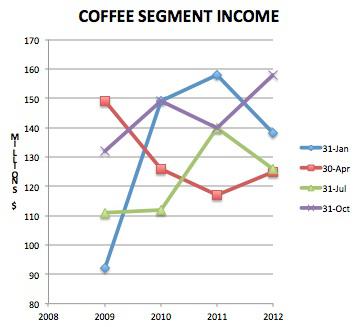 (Sourced from quarterly reports.)
The Added Kicker: Smucker's Restructuring Has Been Completed
Last quarter, Smucker completed its coffee restructuring initiative, including the expansion of 2 facilities in New Orleans, expected to save $60 million annually, or $0.36 EPS a year. Workforce will decrease by 700 positions, or by 15%.
Peanuts
The other key commodity - peanuts - has far less significance now that Smucker has piled on the coffee. Peanut prices have climbed over a 3-year period. Smucker has put in place price increases that have had a chance to stick. Peanut butter sales volume rose last quarter. This season's peanut harvest is considered to be a record one and will likely reverse current higher raw costs. There will be a lag before the more favorable peanut input costs are seen. Future peanut margins look more optimistic in view of improving harvests.
What Can Go Wrong
Smucker has been very involved in M&A activity. It's no secret Smucker would like to continue making acquisitions. Since its Folgers purchase, the company has made small tuck-in acquisitions that have been accretive to earnings. There's always the chance Smucker may overreach.
Disclosure: I am long SJM. I wrote this article myself, and it expresses my own opinions. I am not receiving compensation for it (other than from Seeking Alpha). I have no business relationship with any company whose stock is mentioned in this article.
Additional disclosure: Disclaimer: The opinions in this document are for informational and educational purposes only and should not be construed as a recommendation to buy or sell the stocks mentioned. Past performance of the companies discussed may not continue and the companies may not achieve the earnings growth as predicted. The information in this document is believed to be accurate, but under no circumstances should a person act upon the information contained within. We do not recommend that anyone act upon any investment information without first consulting an investment advisor as to the suitability of such investments for his specific situation.