Shares of Procter & Gamble (NYSE:PG) have returned 14.0% over the past 12 months. At $69.59 per share, the stock is trading very close to its 52-week high of $70.83 attained recently, and the dividend yield is now at 3.3%. The company recently hosted its annual analyst meeting. According to JPMorgan's research analyst, John Faucher, the company delivered the following message (Source: Thomson One, Equity Research):
"Procter hosted its analyst meeting yesterday, which showed that they are moving in the right direction with improving market shares in challenged categories, instilling a cost savings-oriented culture, and increasing the profitability of emerging markets. They are, however, still in the early innings."
The analyst then elaborated on his opinion:
"Although they did not raise their savings target, we still believe there is upside there. We came away feeling more confident that the organization is more thoroughly embracing a cost saving mentality, which is not an insignificant accomplishment given PG's history."
I tend to agree with the analyst's view on PG's prospects. To capitalize on the story, investors should consider buying the shares as PG is now reasonably valued and the share price appears to have a solid upside potential. In this article, I will walk you through the value analysis that supports my bullish view.
Relative Valuation
PG's valuations are reasonable based on the company's solid financial performance relative to its peers' (see comparable analysis table below). Analysts on average predict PG's revenue, EBITDA and EPS to grow at 2-year CAGRs of 2.3%, 3.4%, and 8.4%, respectively, over the current and next fiscal years. The estimates are below the averages of 4.8%, 7.4%, and 11.4%, respectively, for a peer group consisting of PG's primary competitors such as Kimberly-Clark (NYSE:KMB), Colgate-Palmolive (NYSE:CL), and Johnson & Johnson (NYSE:JNJ). In addition, PG's EBITDA margin is forecasted to expand by just 0.5% over the same period, compared to the peer average of 1.3%. On the profit side, all of PG's profitability margins are above the par, but the firm's ROE and ROIC metrics are below the peer averages. In terms of leverage and liquidity, PG's debt level is fairly in line with the peers' as reflected by the firm's lower debt to capitalization ratio, but higher debt to EBITDA rate. PG has a free cash flow margin at 12.0%, considerably higher than the group average of 9.3%. Although the firm's interest coverage ratio, current ratio, and quick ratio are below the par, their absolute levels are still within a healthy zone.

Click to enlarge
To summarize the financial comparisons, PG's relatively weak growth potential appears to be the primary drag on the stock's valuation. However, given the firm's healthy performance in profitability and cash flow generation as well as its solid market share in the global consumer staple sector, I expect the stock's fair valuation to be in line with the peer-average level. PG's current valuations at 11.2x trailing EV/EBITDA and 22.1 trailing P/E are very comparable to the peer-average EV/EBITDA and P/E multiples of 11.1x and 20.5x, respectively, suggesting that the stock is reasonably valued.
Based on the 20.5x peer-average P/E, which is also very consistent with PG's 10-year historical average P/E of 20.3x (see chart below), and assuming that the analysts' estimated FY2013 (ended June 30, 2013) EPS of $3.96 can be sustained, the assumptions would imply a 6-month target price of $81.18, approximately 16.7% above the current market price.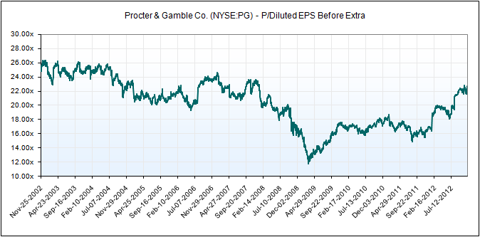 Click to enlarge
Dividend Valuation
PG's annual dividend per share has been raised by a 10-year CAGR of 10.9% from $0.76 in FY2002 to $2.14 in FY2012 (see chart below). Given the company's robust free cash flow margin at 12.0%, I expect PG to be able to sustain the current pace of the dividend growth at least in the near term. Additionally, due to the strong demand for high-yield assets under the current low-interest market environment, I believe the upside for PG's dividend yield is somewhat limited.
As such, assuming a dividend yield range between 3.0% and 3.8% (PG's yield has never exceeded that level), and supposing that the annualized dividend per share would be raised by 8% from the current level at $2.25 to $2.43 in the April 2013 payment period, this scenario suggests a stock value range between $63.89 and $80.93, which represents a return range from -8.2% to 16.3% without even considering the 3.3% dividend yield.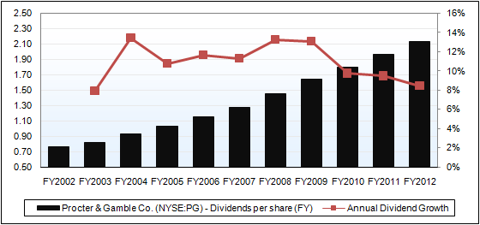 Click to enlarge
DCF Valuation
My DCF analysis incorporates the market's consensus estimates for revenue and EBITDA from 2013 to 2017. To account for the financial projection risk, a 4.5% company-specific risk premium is added to the WACC calculation. To be conservative, a normalized risk-free rate of 2.3% is used instead of the current 10-year US Treasury yield. The company's cost of debt is assumed to be 6.0%, which is higher than PG's existing debt yields with a 10-year maturity (see DCF chart below).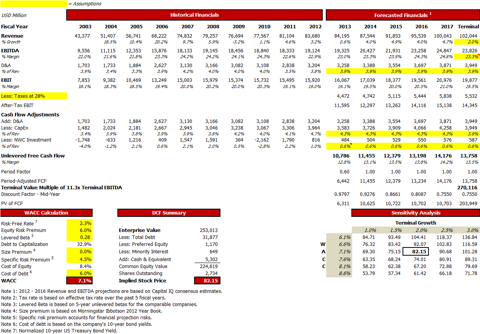 Click to enlarge
The DCF model yields an estimated stock value of $82.15, which supports the aforementioned relative and dividend valuations. It should be noted that the current market price likely implies a 1.0% terminal growth rate (see sensitivity analysis in the DCF chart above), which is a very conservative assumption.
Bottom line, in the light of the potential valuation upside and the attractive 3.3% dividend yield, PG should provide investors a solid margin of safety. As such, I recommend acquiring the shares now.
The comparable analysis and DCF charts are created by the author, all other charts are sourced from Capital IQ, and all the financial data in the article as well as the 2013 - 2017 revenue and EBITDA projections are sourced from Capital IQ.
Disclosure: I have no positions in any stocks mentioned, but may initiate a long position in PG over the next 72 hours. I wrote this article myself, and it expresses my own opinions. I am not receiving compensation for it (other than from Seeking Alpha). I have no business relationship with any company whose stock is mentioned in this article.