While having a conservation with another Apple (NASDAQ:AAPL) investor recently it came to my attention there is some confusion about Apple's products and how they are distributed.
Here are a few definitions to get started with.
Channel Inventory: Products on the shelves of channel partners like Best Buy, Verizon, Sprint, and AT&T.
Sell-through: Products that are being sold to channel partners, which immediately go to actual customers.
Sell-in: Products that are sold to channel partners to increase stock.
Apple is the most valuable company in the world. It has a huge channel to manage and it is growing rapidly. See the chart below: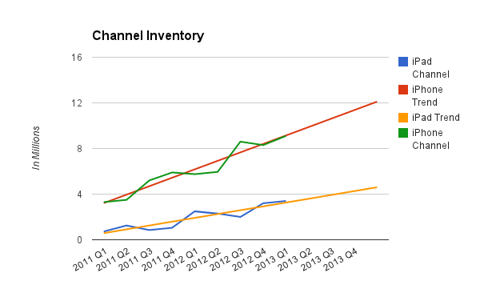 Every product goes through a channel inventory cycle.
Sell-through -> Sell-in -> Draw-down -> Repeat with upgraded product
This has cyclical impacts on sales/earnings and it also has a long term trend.
The cyclical impacts are caused by low channel inventory growth in the quarters surrounding a product launch, much higher channel growth after product roll outs but before new product introductions. The overall long term is continued strong channel growth.
A table of iPhone channel growth rates:
| Quarter | % Growth | Notes |
| --- | --- | --- |
| 2010 Q4 | 25.00 | iPhone 4 Released 2 quarters ago |
| 2011 Q1 | 7.14 |   |
| 2011 Q2 | 32.69 | iPhone 4 release on CDMA network, Verizon |
| 2011 Q3 | 11.86 |   |
| 2011 Q4 | 3.13 |   |
| 2012 Q1 | 3.36 | iPhone 4s released at beginning of quarter |
| 2012 Q2 | 30.23 |   |
| 2012 Q3 | -3.61 |   |
| 2012 Q4 | 8.79 | iPhone 5 released at end of quarter. |
| AVG | 13.2 |   |
This change in channel inventory has a major impact on the earnings in any particular quarter (remember that channel inventory is booked as sales in the quarter it goes into the channel). Inventory growth also gives a glimpse into a few very important factors in iPhone distribution: supply, demand, and market expansion.
After a new release of a product there is an extremely limited supply. This makes maintaining a desired level of channel inventory very difficult or impossible. This is the point the iPhone 5 is at currently, which has caused shortages and limited selection. While there is a limited supply channel, inventory will grow very little. Apple will also artificially limit supply leading up to a new version.
Demand can be seen in the growth in channel inventory once the sell-through phase of a product is complete (remember, this growth reflects demand from channel partners (Best Buy, VZ, AT&T, etc)). This growth implies that the channel partners see growth in the future from end users.
The other factor that can cause a large growth in channel inventory is the adding of markets. In this context, markets are countries and, more specifically, carrier partners in those countries. A great example of this is in Q2 2011, when the iPhone was brought to Verizon. All Verizon stores needed to be stocked with iPhones and small carriers are usually added around new iPhone launches. The iPhone is available over most of the world now, but there is one carrier that could cause a huge growth in channel inventory: China Mobile.
China Mobile, would mean a significant increase in channel inventory to fill. It is not known if or when China Mobile will get the iPhone but if it does look for a massive spike in channel inventory growth.
Effect of channel inventory on expected sales
The way most analysts come up with earnings estimates for Apple is through the following process.
Estimate how many of each product will be sold
Estimate the Average Sale Price
Estimate the margins
Earnings = Multiply the above
When not considering channel inventory, step 1 will be distorted to either an over estimate or under estimate. This tends to produce cases where Apple misses or blows out estimates.
Apple missed average estimates in
Q4 2012 (2% miss) 8.79% iPhone channel growth
Q3 2012 (10% miss) -3.6% iPhone channel growth
Q4 2011 (4% miss) 3.13% iPhone channel growth
It beat on
Q1 2012 (38% beat) 3.36% iPhone channel growth
Q2 2012 (23% beat) 30.23% iPhone channel growth
It's important to remember that the iPhone has an average channel growth rate of about 13%. All of the misses occurred when channel inventory grew significantly slower than the average. Q1 2012 actually managed to beat even with small channel inventory growth. Q2 2012 was another beat. This one did show much larger than average channel growth.
Forecasting is no science and there are some analysts who do try and take channel changes into account. The bigger problem is that the channel inventory has so many contributing factors it can be very hard to come up with a reasonable number.
Channel levels for the next couple quarters.
I'd expect to see channel growth levels for Q1 2013 to be below 3% or about 400 thousand additional iPhones in inventory; 9.5 million total in channel inventory. The iPhone is likely to experience serious supply constraints in Q1 making it very difficult to create enough phones to fill inventory. Another contributing factor is the very quick global roll out, which will cause non-iPhone 5 units to be drawn down in preparation for the iPhone 5 release in the new markets. I actually wouldn't be surprised to see negative channel growth in Q1.
I'd expect to see channel growth levels for Q2 2013 to be above 25% or about 3 million additional iPhones in inventory; 12.5 million total in channel inventory. Most of the carriers should have the iPhone 5 on their networks by the start of Q2. This will leave an entire quarter to get inventory to desired levels.
If a China Mobile Deal comes in Q2+ whichever quarter that falls in will see an additional 1 Million+ units of channel inventory.
I have concentrated on the iPhone because it represents the majority of Apple's profits but a similar analysis applies to the iPad.
All the data for this article comes from Apple earnings call transcripts.
Disclosure: I am long AAPL. I wrote this article myself, and it expresses my own opinions. I am not receiving compensation for it (other than from Seeking Alpha). I have no business relationship with any company whose stock is mentioned in this article.