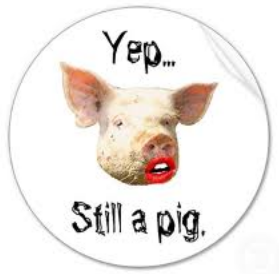 The new week begins with more late-night negotiations in the eurozone for the umpteenth iteration of a Greek fix. Most of the deal choices finance ministers have considered appear unsubstantial, like accepting Greek bonds as collateral for aid or lowering interest repayments and etc. But no matter -- ministers will spin whatever they do as successful. They may even launch more meetings with some bridge loan to buy time.
Meanwhile in the U.S., politicians are digging in for some tough negotiations on the fiscal cliff. Even if there's a brief trip over the cliff, something will be done to "save the day" before we splat. Taxes will go up, perhaps second home deductions will disappear, and some token cuts (mostly to defense) will appear.
In Japan, there's a spirited battle taking place about Bank of Japan policies regarding easing, including QE. To quell the dispute, the current head asserted easing alone won't solve the problems facing the economy.
And in more debt- related news, Argentina continues to saying no to honoring its debts. This is an easy sell to the populace in many South American countries.
Taken together, these should remind everyone of the debt pickle the world is in.
Lastly from overseas, the Bank of England announced a successor to Merwyn King by naming former, wait for it… Goldman Sachs honcho Mark Carney as its new head. At one point during his tenure with GS, Carney was advising Russia on its debt situation during its financial crisis while at the same time, the company was shorting Russian debt. So I guess he's qualified to deal with sovereign debt issues as GS starts to take over most of Europe and other central banks.
The post mortem (beyond those shoppers getting maimed, maced or killed) on Black Friday shopping remains mixed. Some believe the week's total sales overall were very good when including Thursday and online sales.
Economic data in the U.S. showed a shockingly poor Dallas Fed Survey (-2.8 vs, 4.7 expected, and prior 1.8), meaning economic growth was in decline. And the Fed is busy with bond buying QE now, which you can view here.
In hedge fund follies, Mathew Martoma is either going to jail or will make a deal with authorities to give up a higher-up at SAC for his record insider trading activities. That could get very interesting.
The dollar (NYSEARCA:UUP) was flat, while gold (NYSEARCA:GLD) also did little. Bonds (NYSEARCA:IEF) and (NYSEARCA:TLT) recovered from the previous week's losses. Commodities (NYSEARCA:DBC) were modestly lower, taken down mostly by energy and oil (NYSEARCA:USO), while base metals (NYSEARCA:JJC) were unchanged. Stocks were led higher by tech (NYSEARCA:XLK), while retail (NYSEARCA:XRT) and (NYSEARCA:XLY) were weaker.
Volume didn't improve significantly after the ridiculously light affair from the holiday week. Breadth per the WSJ was mixed.
(click image to enlarge)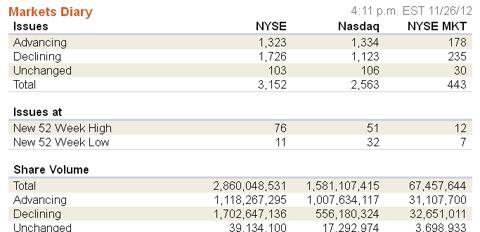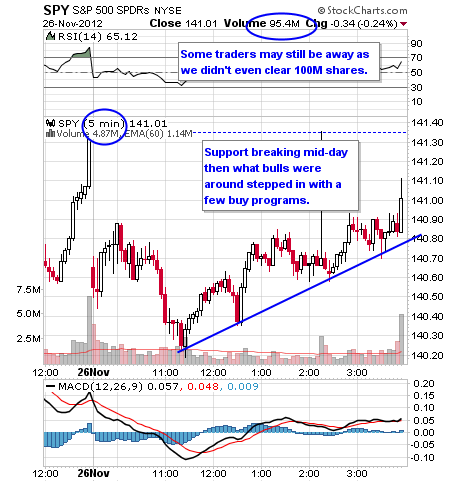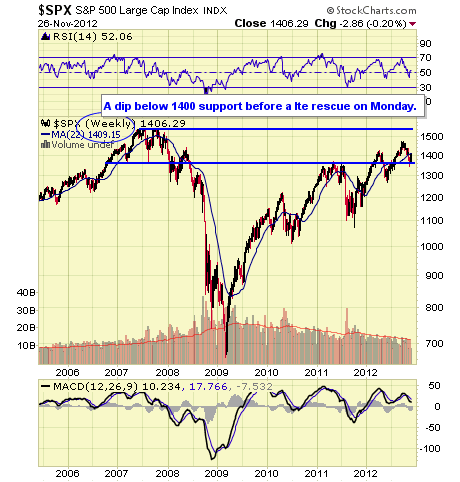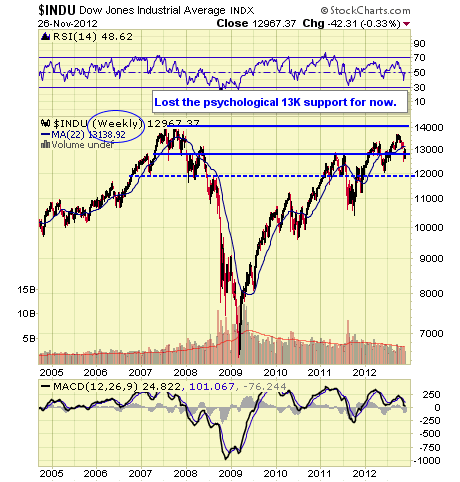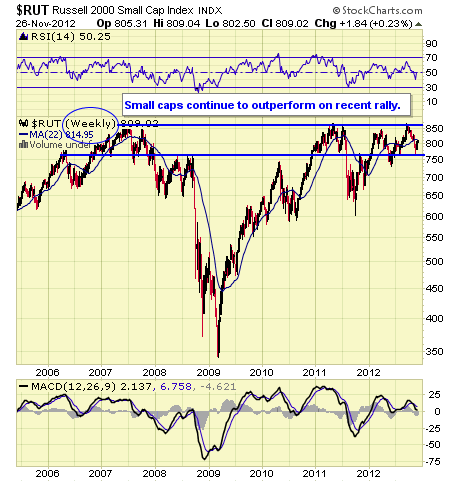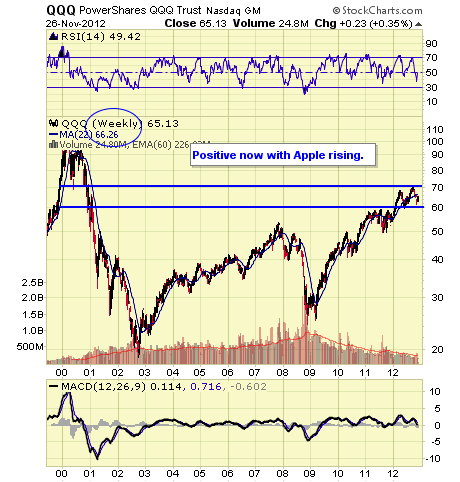 Continue to U.S. Sector, Stocks & Bond ETFs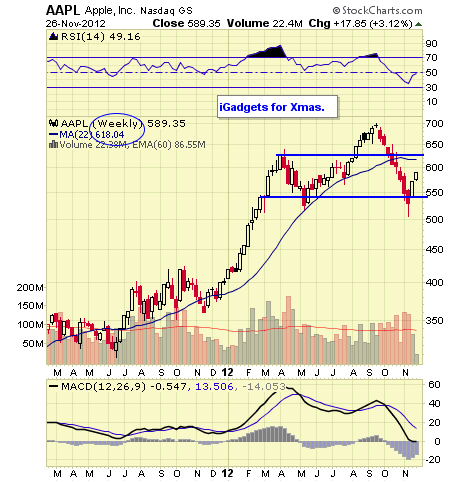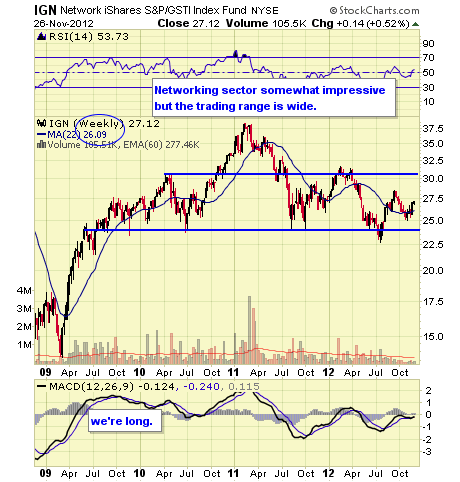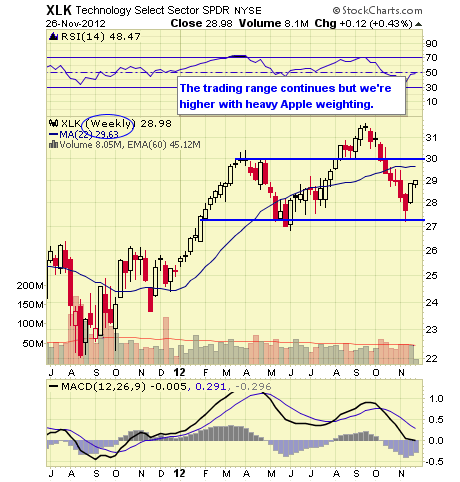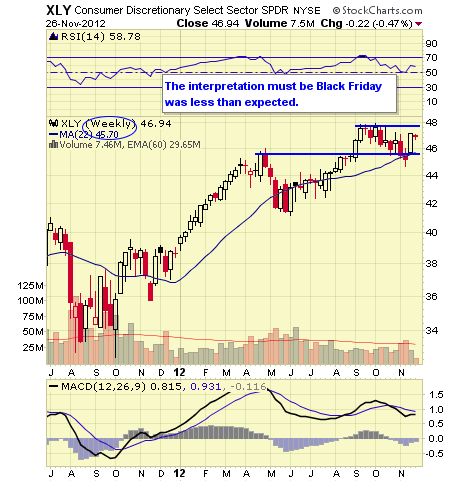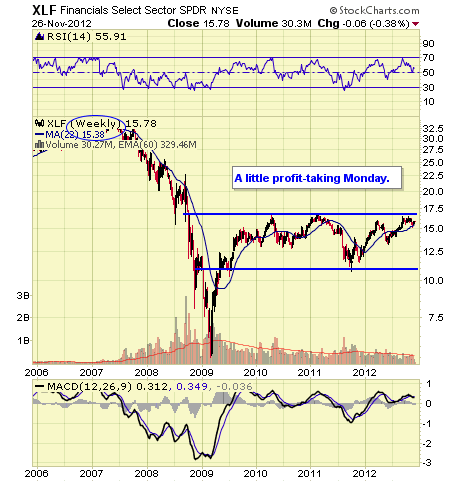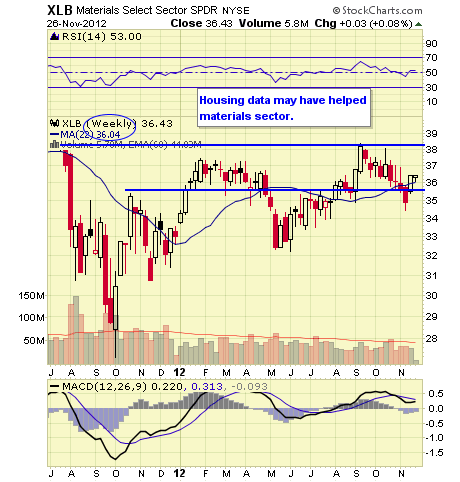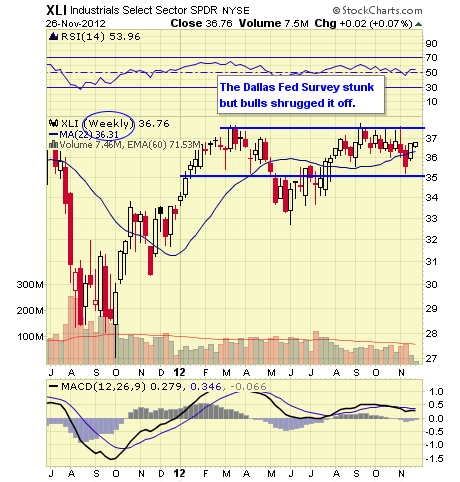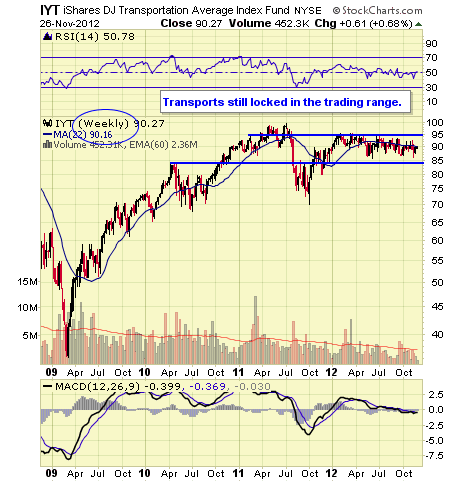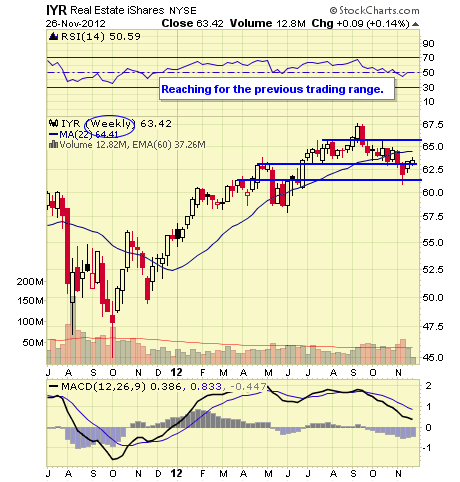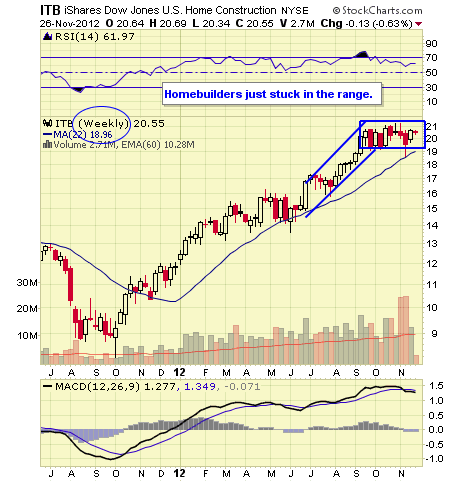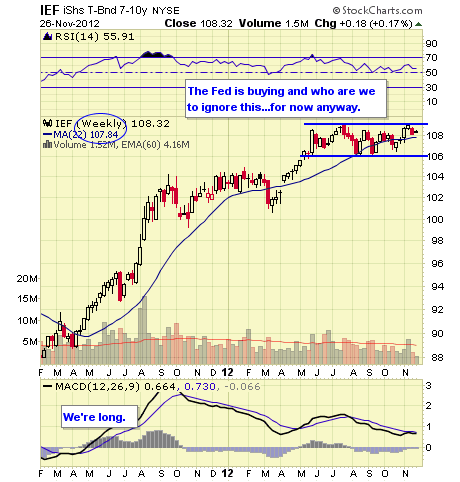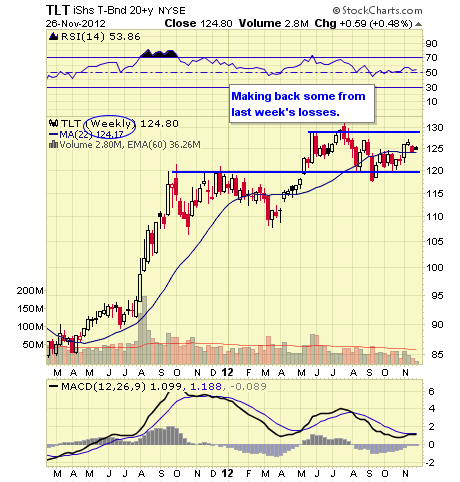 Continue to Currency & Commodity Market ETFs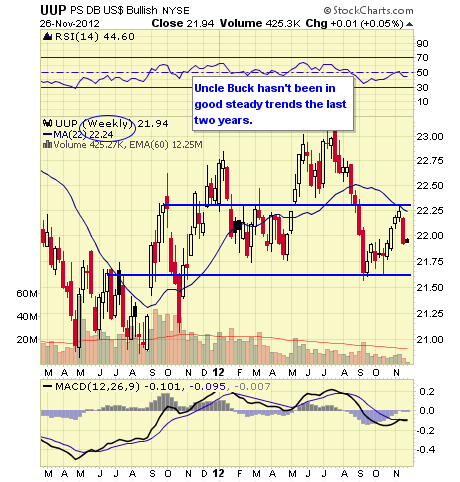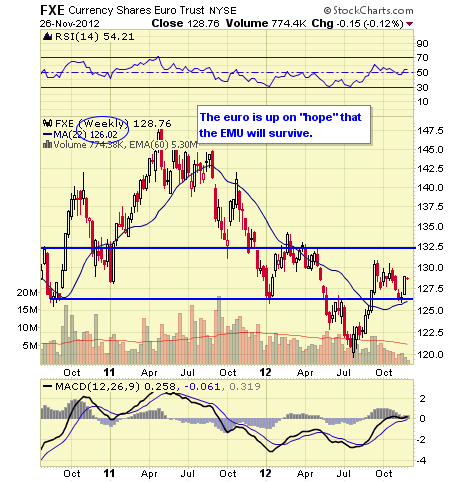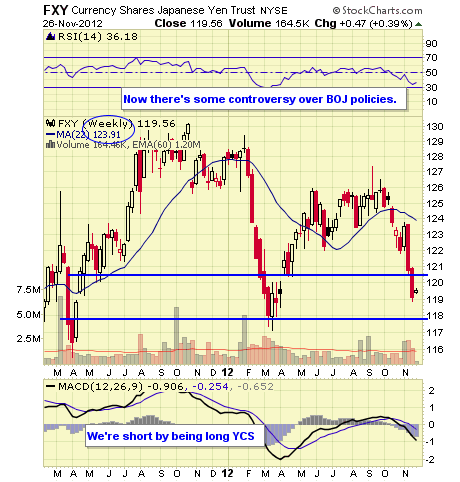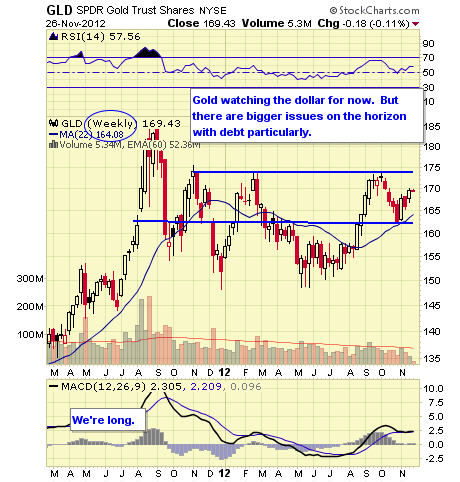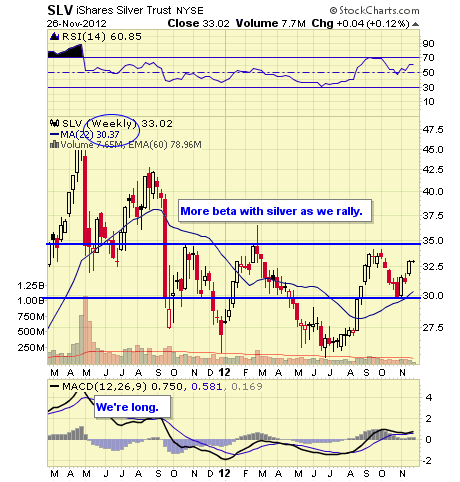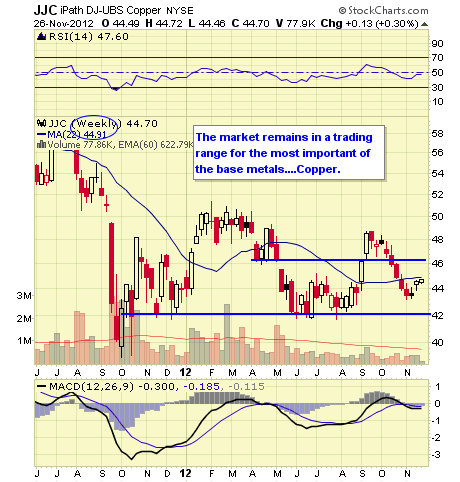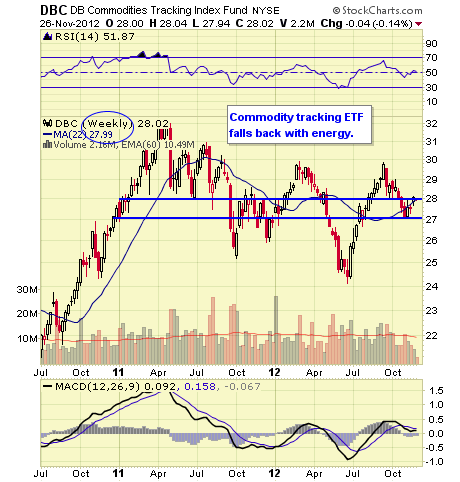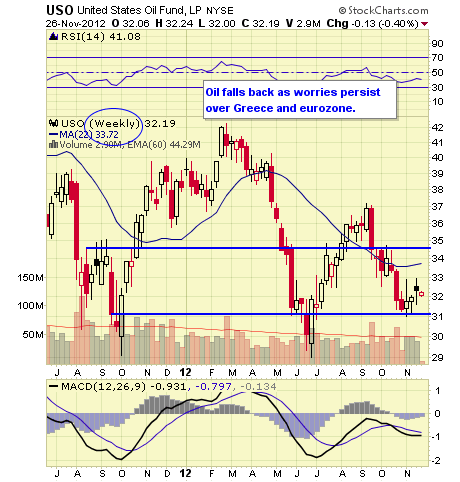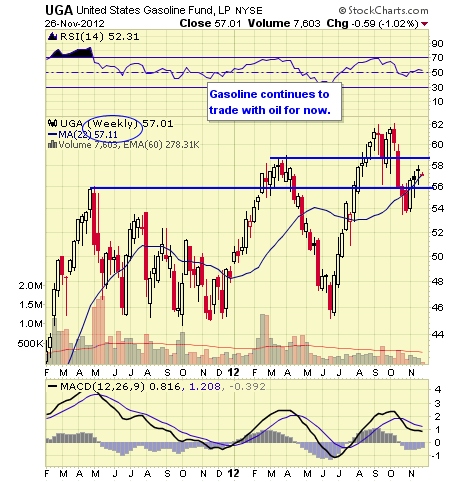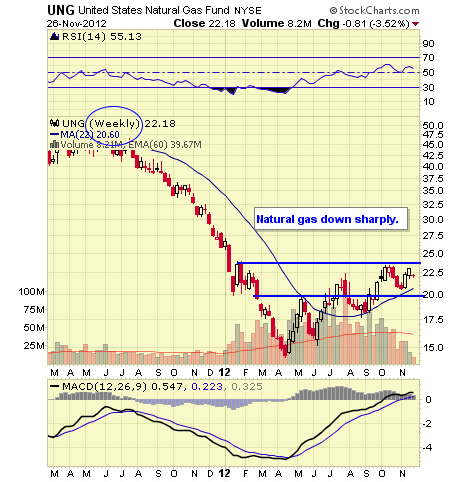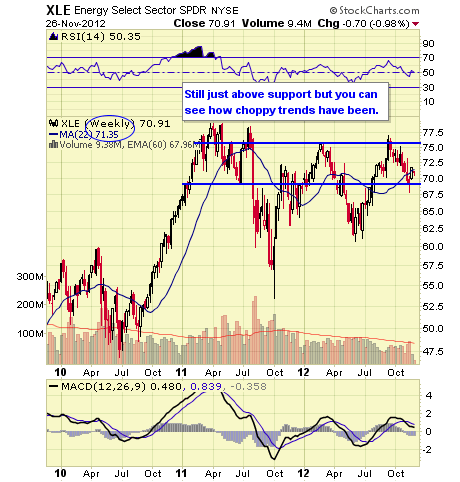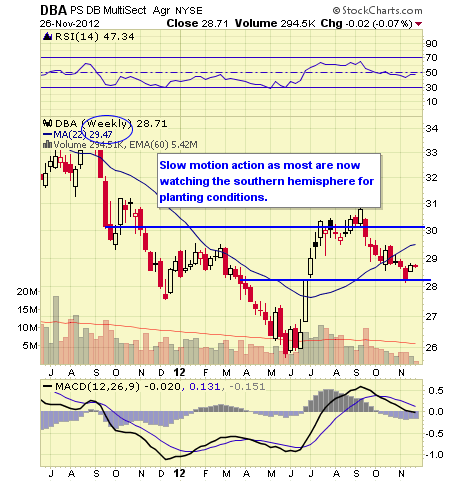 Continue to Overseas Sectors & ETFs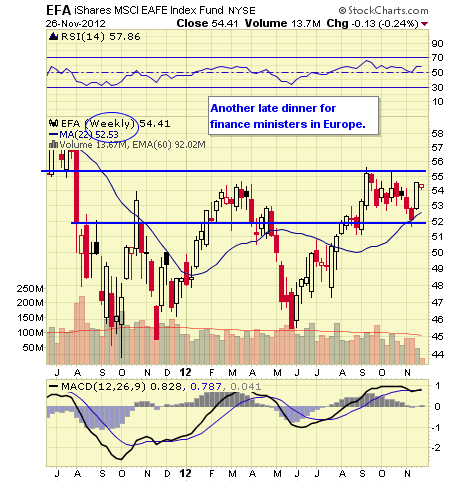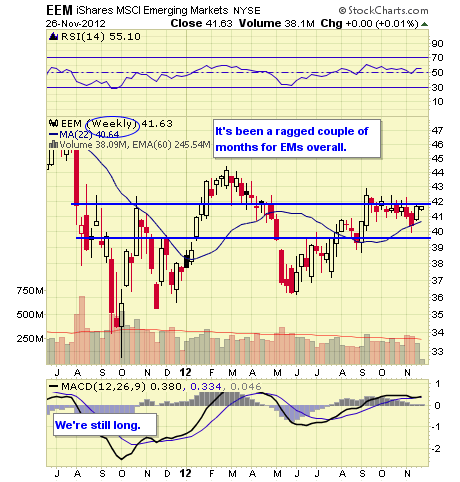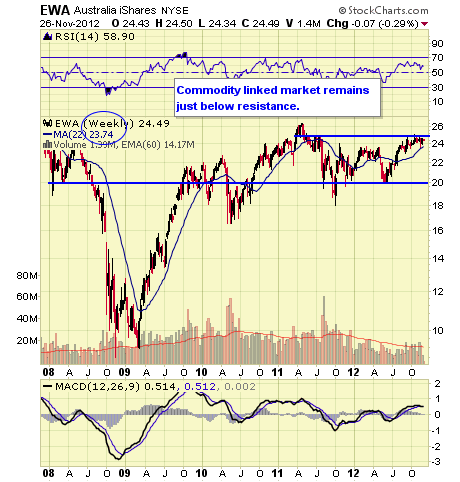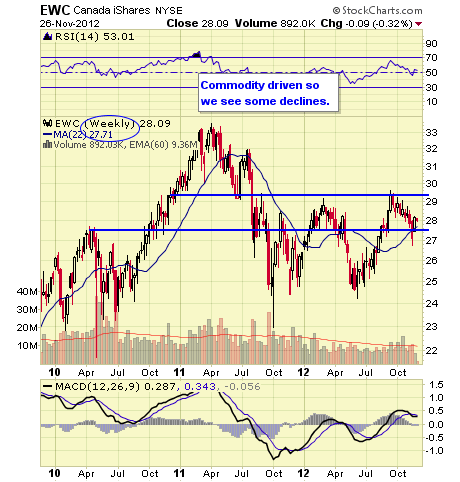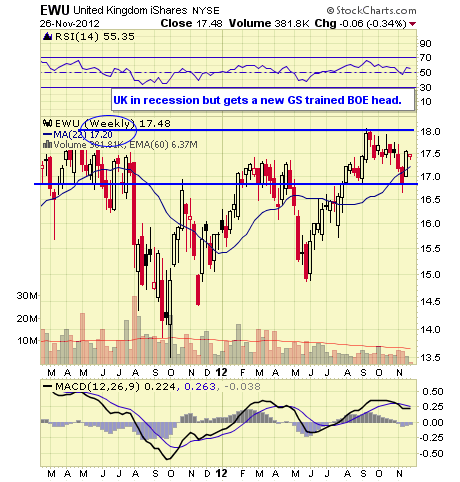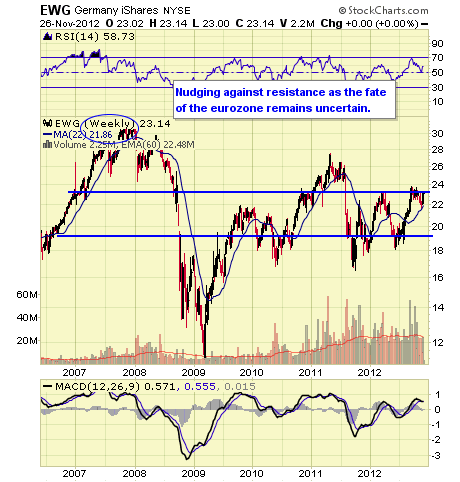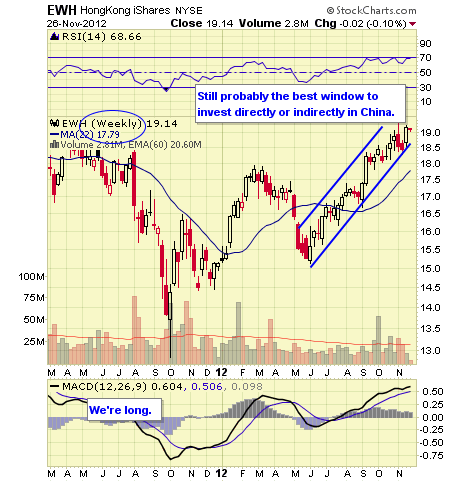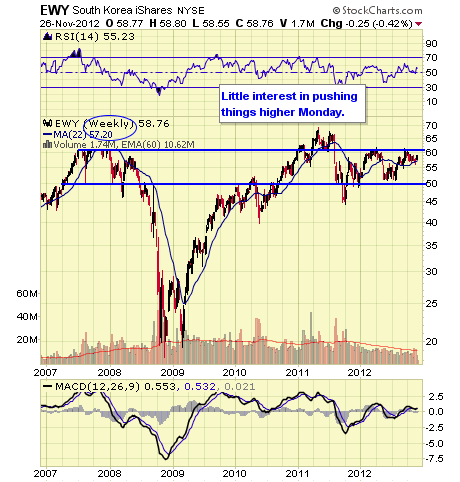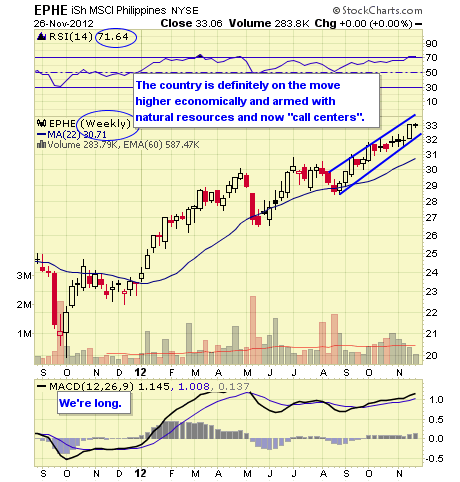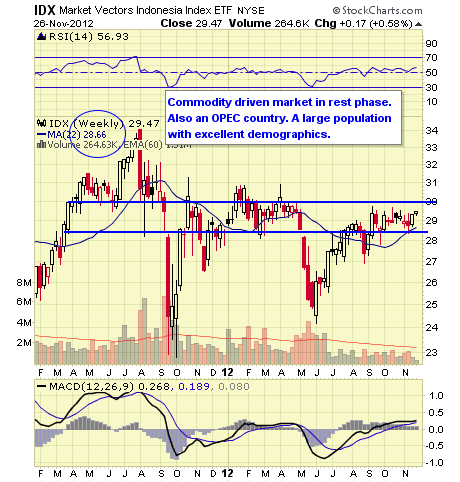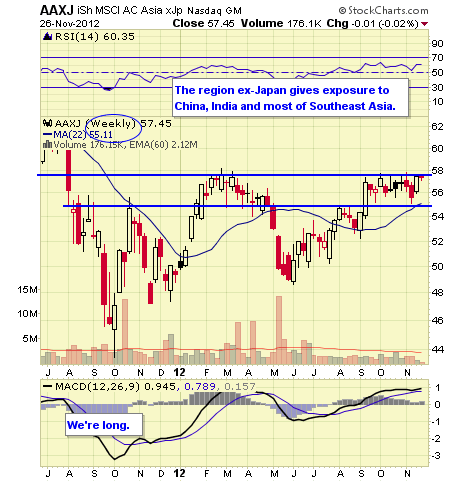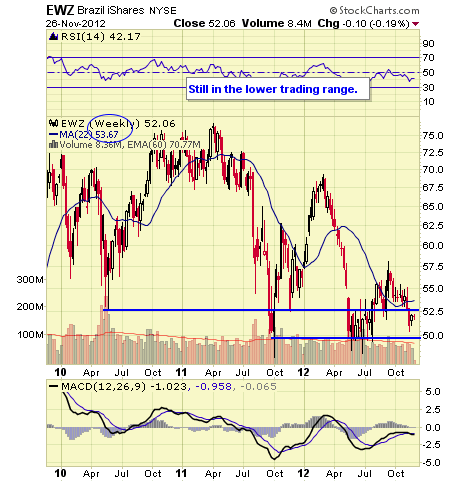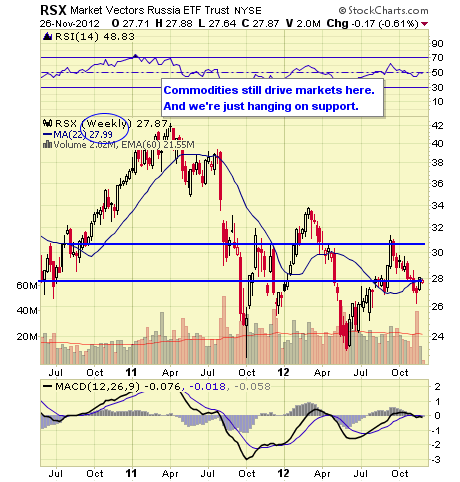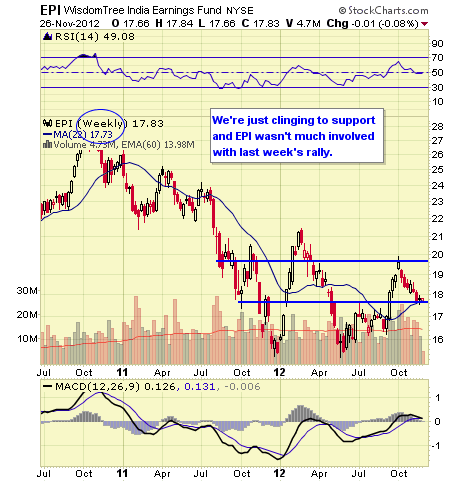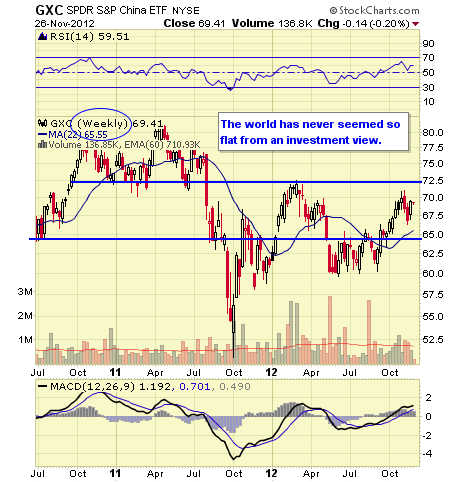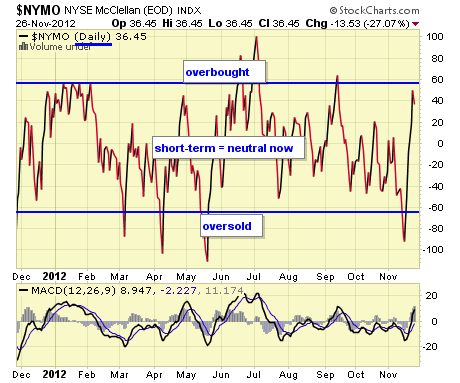 The NYMO is a market breadth indicator that is based on the difference between the number of advancing and declining issues on the NYSE. When readings are +60/-60, markets are extended short term.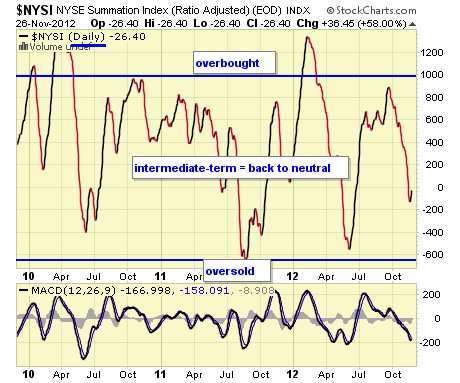 The McClellan Summation Index is a long-term version of the McClellan Oscillator. It is a market breadth indicator, and interpretation is similar to that of the McClellan Oscillator, except that it is more suited to major trends. I believe readings of +1000/-1000 reveal markets as much extended.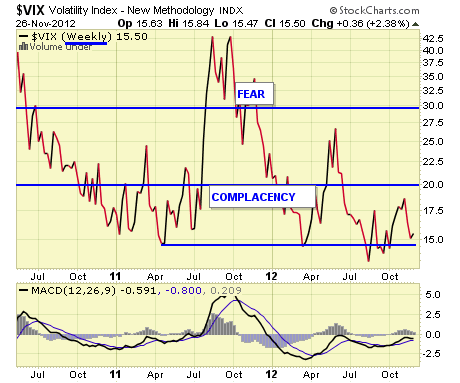 The VIX is a widely used measure of market risk, and is often referred to as the "investor fear gauge." Our own interpretation is highlighted in the chart above. The VIX measures the level of put option activity over a 30-day period. Greater buying of put options (protection) causes the index to rise.
Concluding Remarks
Very few traders seemed to be manning their positions, given how light the action was Monday.
As this is being written, it appears there's a deal in the eurozone (the umpteenth) to fix Greece. All Greece has to do is grow its GDP by €50 billion by 2020 and another €20 billion in the next two years. This is quite bullish superficially, although Greece reaching these targets is unlikely and perhaps laughable. So making numbers up that will appease markets while ministers are still in office kicks the can.
The euro will trade higher on the news posted and theoretically, so too will gold.
Tuesday brings Durable Goods Orders, Case Shiller HPI, FHFA House Price Index, Richmond Fed Mfg Index and Consumer Confidence.
Disclaimer: The ETF Digest maintains an active ETF trading portfolio and a wide selection of ETFs away from portfolios in an independent listing. Current "trading" positions in active portfolios, if any, are embedded within charts: Lazy & Hedged Lazy Portfolios maintain the follow positions: VT, MGV, BND, BSV, VGT, VWO, VNO, IAU, DJCI, DJP, VMBS, VIG, ILF, EWA, IEV, EWC, EWJ, EWG, & EWU.
The charts and comments are only the author's view of market activity and aren't recommendations to buy or sell any security. Market sectors and related ETFs are selected based on his opinion as to their importance in providing the viewer a comprehensive summary of market conditions for the featured period. Chart annotations aren't predictive of any future market action rather, they only demonstrate the author's opinion as to a range of possibilities going forward.
Disclosure: I have no positions in any stocks mentioned, and no plans to initiate any positions within the next 72 hours. I wrote this article myself, and it expresses my own opinions. I am not receiving compensation for it. I have no business relationship with any company whose stock is mentioned in this article.