Financial and banking ETFs are among the best-performing sector funds this year despite persistent worries over the health of the U.S. economy and Europe's debt crisis. Regional bank ETFs have trailed their large-cap peers, but that trend could reverse if the economy gets better.
Banking stocks and ETFs beat the odds in 2012, amid European debt woes and a slowdown in the credit markets. The industry has rebounded as firms have been able to replenish top line revenues and boost margins, giving hope for the sector into the new year, reports Eric Dutram for Zacks.
One of the best-performing and top ranked funds is the PowerShares KBW Regional Banking ETF (NASDAQ:KBWR), which is about one year old. The index tracks all U.S. listed regional banks. The fund is up 12.5% year-to-date and 18.6% on a one-year basis to the same date. KBR does well at eliminating concentration risk and overall, the ETF is considered low-risk.
SPDR S&P Regional Banking (NYSEARCA:KRE) is another ETF to consider here.
Banking profits appear to be on the road to recovery because given the current economy, low valuations, and "right-sized" balance sheets, banks have more incentive to invest in themselves than invest in new loans. For this reason, many banks are buying back stock and bolstering their balance sheets.
In general, banks are in a good position to initiate share repurchase programs. Buybacks give banks a better known revenue stream as they repurchase part of a known lending portfolio as well as a portion of the fee revenues, which are less risky than lending revenues. Also, banks are better capitalized now, and are trading for less than their price-to-book ratios, reports Everyday Finance on Seeking Alpha.
Another banking ETF to consider is the PowerShares KBW Bank Portfolio ETF (NASDAQ:KBWB) which has returned 35% over a one-year basis. Despite a slow recovery in the U.S. and abroad, banking stocks are cheap, and this is a solid signal that downside risk is low. KBWB is affordable at 0.35%, with exposure to 24 regional banks. Also, KBWB avoids some of the mega banks, which makes it a safer play for the long term.
PowerShares KBW Regional Banking ETF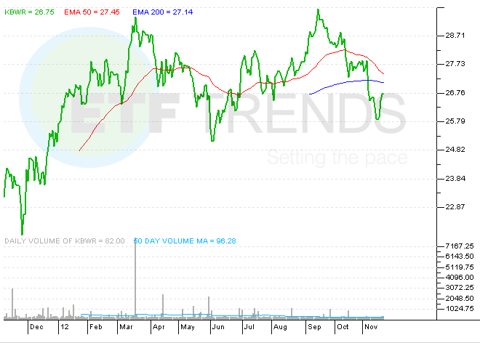 Tisha Guerrero contributed to this article.
Disclosure: I have no positions in any stocks mentioned, and no plans to initiate any positions within the next 72 hours. I wrote this article myself, and it expresses my own opinions. I am not receiving compensation for it. I have no business relationship with any company whose stock is mentioned in this article.