It was not that long ago that investors were writing McDonald's (NYSE:MCD) off, as just another monster company that had seen its best days. Between the fatty food issue and the competitive environment, it caused enough angst for shareholders to bail, sending the share price down into the mid teens between 2003-2004. More than a 50% haircut at the time.
Obviously the stock has recovered as the company began to realize that if they wanted to survive, they needed to change. The changes they made were and are quintessential to the future of the stock and the company even today.
Forget about fluctuating same store sales for a moment, and let's turn our attention on how McDonald's can become a growth stock again, while maintaining its status as a dividend winner.
2 All Beef Patties, Special Sauce, Lettuce, Cheese, Pickles, On A Sesame Seed Bun
This mantra was memorized by millions of folks around the world, and games were played to see who could say it faster and faster. Indeed, McDonald's was part of our lives and rapid growth in the USA ensued. McDonald's tried to replicate the success in the US around the globe, and westernized nations embraced the company almost as fervently as did the USA.
The company soon realized that the real growth was outside of the US, and into untapped emerging markets as well as markets it was reluctant to enter.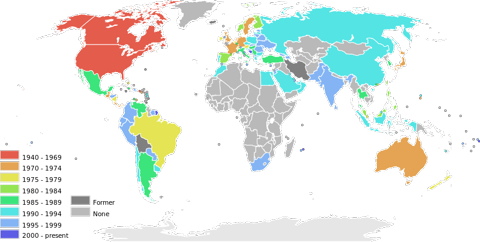 From this map, we can clearly see where the strength of MCD has been (in terms of locations), as well as were the company does not currently have a foothold.
There are about 19,000 locations in the USA, with a population of roughly 350 million. There are about 33,000 locations worldwide. To me, the growth of this company is directly related to the number of locations it has. That being said, just throwing together a location does not guarantee success. The other ingredient (special sauce?) in my opinion is the company being flexible enough in the new markets it enters, to give the population what it wants!
There are many areas on that map above that MCD has yet to scratch the surface to gain momentum. Actually, the company just replaced the President of its US business, Jan Fields, a 35 year veteran of the company. Global declines in sales, for the first time in almost a decade, obviously precipitated this move. The share price dropped also at that time to a 52 week low, of roughly $84.00.
Even with the dip in sales, MCD has a wonderful balance sheet.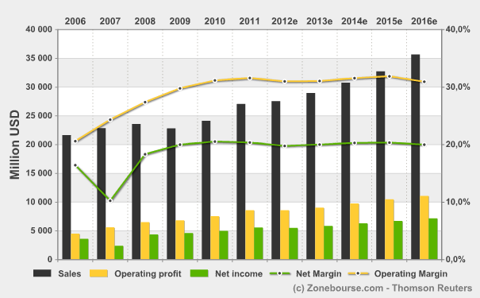 All basic metrics continue to grow, even with some dips here and there. Overall sales have grown, margins, profits and income as well. There is no denying that this company is a powerhouse.
Even the P/E ratio is projected to decline: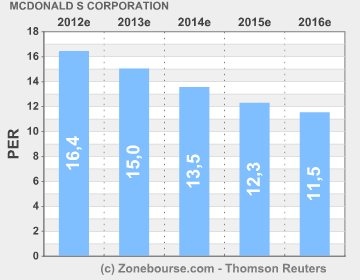 So why has the stock dropped recently as the company has become less appealing? Taking on about 10% more debt could be looked at, but by all measures, the company can mange their $13.5 billion debt load quite easily, even with their reduced cash position.
The dividend yield is now at about 3.60% and that too has a manageable payout ratio of 53% (down from 54%). So where is the beef?
I believe that given the balance sheet and the history of the company, the current stock is undervalued by roughly 15-20%. I believe that the market has given investors an opportunity to pick up a dividend winning stock, on sale.
Where Will Future Growth Come From?
Taking a quick look at the map above, the grey areas are areas with no significant MCD footprints, yet. I believe that those areas will be a growth engine in 2013. The most obvious markets are in the Middle East. Up until now, there simply has not been a strong foothold in that part of the world. I see that as a dietary issue. One could also argue that the countries there, are not exactly warm towards anything that the West has to offer.
I believe both of those issues will be resolved.
The "menu" issue has been addressed in the past. As this case study properly notes;
"McDonald's, the fast-food retailing giant has a proven formula for doing well in a recession - courting consumers globally by targeting local tastes with global menus. McDonald's has expanded its global appeal which has resulted in good results, even though almost every type of industry is seeing widespread sales dips and tougher times."
Growth in the Middle East will possibly be more challenging given the political issues, but when we take that out of the equation, once the "menu" issue is addressed there, McDonald's could grow significantly. The population of the entire region there is 4-6 times the population of the US. It makes sense that as people from those nations see familiar faces working there, selling familiar dishes at affordable prices, that consumers will buy from them, just as they have in other challenging global regions such as China.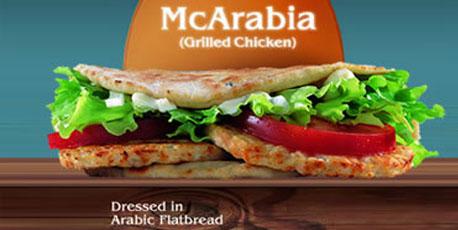 The above photo is not a fake. It is for real, and it exists in Saudi Arabia. True, that nation is a "friend" of the West, but even in Indonesia these signs are popping up. I would venture a guess that even in Iran there are signs such as this showing up more and more.
The densely populated Muslim Nations are slowly coming into focus, and more folks from those nations are embracing McDonald's.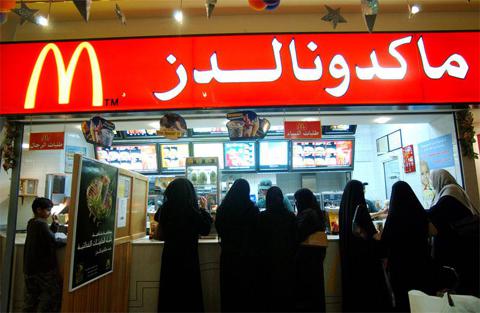 It might not be the number of stores that will make an immediate impact, but as this report states, the company is expanding. The company is not holding back on advertising local cuisine either: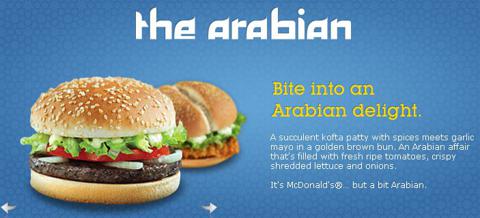 This was not a sign as the other photo was, this is part of an advertising campaign.
Is it any wonder why the Chief Global Restaurant Officer, Jeff Stratton, was named to replace Fields? Suffice it to say that new markets and untapped regions will be the growth engine, and if Stratton can implement the ideas he brought to those areas, one can assume that the US could see some improved focus as well.
My Opinion
At current share prices, investors can add to, or open a position in McDonald's and enjoy a very solid dividend yield of 3.60%. Given my opinion of where this great company can go, I believe the share price is undervalued by 15-20%.
Please do your own due diligence and remember that this article is based solely on my opinion and not a suggestion to either buy or sell this stock.
Disclosure: I am long MCD. I wrote this article myself, and it expresses my own opinions. I am not receiving compensation for it (other than from Seeking Alpha). I have no business relationship with any company whose stock is mentioned in this article.