Public Storage (NYSE:PSA) is the largest self-storage real estate investment trust (REIT) in the world. PSA holds ownership interests in about 2,250 self-storage properties across 38 U.S. States and seven countries in Western Europe, which collectively encompass around 140 million square feet. PSA's main activities include the acquisition, development, ownership and operation of self-storage facilities which offer storage spaces for lease, generally on a month-to-month basis for personal and business use. PSA is best of bread in the self-storage industry due to its geographic diversification and efficient operation, allowing PSA to leverage its economies of scale. Long-term investors should take a look at PSA which consistently generates strong cash flow and is currently distributing 3.03 percent annual dividend yield.
Recent Developments
On Nov. 9, PSA reported Q3, 2012 FFO (funds from operations) of $1.73 per share compared with $1.29 in the year-earlier quarter, with 34.1% year-over-year increase. The surge was primarily due to improved property operations and impact of foreign currency translations. PSA recorded a 5.8% increase in total revenue to $472.9 million from $445.6 million in the year-earlier quarter, beating the Zacks consensus estimate of $450 million. A full earnings call transcript for Q3, 2012 management discusses from Seeking Alpha can be read here.
On Nov. 23, JP Morgan reiterated its "Overweight" rating on PSA and lifted its price target from $154 to $157. As commented by JP Morgan analyst, "We rate shares of PSA Overweight, largely based on its balance sheet strength, acquisition potential, and the property type's leverage to an economic rebound." Continuing, "We are updating our model and estimates post 3Q earnings. We are increasing our 2012 'core' FFO from $6.54 to $6.61. Also note that our reported 2012 FFO estimate is $6.19. In addition, we are increasing our 2013 'core' FFO from $7.05 to $7.19. Finally, we are introducing our 2014 'core' FFO estimate of $7.62."
According to the Q3, 2012 report, PSA also made a few acquisitions recently,
"During third quarter 2012, the company acquired four self-storage properties for $56 million cash. Spanning 300,000 net rentable square feet, two of the acquired properties are located in Hawaii, and one each in California and New Jersey. Subsequent to the quarter-end, Public Storage acquired four additional self-storage facilities (409,000 net rentable square feet) in Texas, New York, Georgia, and Arizona for $43 million in cash. The company is currently under contract to acquire two additional properties in Georgia and California for $21 million."
With the consistent earnings, PSA is able to continue to acquire and expand while the self-storage industry is under-going consolidation. As quoted from David Doll, senior vice president and president real estate group of Public Storage Inc., "Good or bad-consolidation is accelerating. The economies of scale, the impact of the Internet and the marketing channels for customer acquisition justify increased scale. It's an evolution." This trend was also indicated by Clint Halverson, vice president, corporate communication and investor relations of Extra Space Storage Inc., "We're seeing the larger operators, meaning the national and publicly traded REITs, taking the marketshare from smaller, less sophisticated operators. So that, combined with virtually no new supply coming into market, bodes well for a larger, more sophisticated platform. You'll continue to see increased consolidation in the months and years to come."
Fundamentals Overview and Technical Analysis
With the data gathered from MorningStar, PSA's key stats will be compared to the peers in the REIT industrial industry within the real estate sector, including CubeSmart (NYSE:CUBE). Despite the trailing and negative EPS of -8.1 (3 year average), as compared to the industry average of -3.4, PSA achieved a positive average revenue growth of 0.6 as compared to the average of -4.1 in the past 3 year. PSA also demonstrated stronger operation efficiency with the operating margin of 46.6%, ttm, and net margin of 34.1%, ttm, as compared to the averages of 16.4 and 10.2. The ROE of 12.2 and debt-to-equity of zero are both stronger than the averages of 4.7 and 1.1. PSA is currently under-valued with P/E of 40.8, comparing to the average of 55.3. With PSA's economy of scale, consistent cash flow and efficient operation management, it is expected that PSA will gain from the market consolidation in the long-term.
PSA closed at $145.27 with 0.68% gain on Nov. 23, 2012. The volume of 183,438 was only 26.41% of the 30 day average volume of 694,451. In the past 52 weeks, PSA had been trading in the range of $121.68-$152.68. The MACD (12, 26, 9) indicator had started to show a bullish sign since Oct. 21; however, the MACD difference continued to converge. PSA is currently trading above its 50-day MV and 200-day MV of $141.13 and $138.76, as well as its R2 pivot point of $144.22, as seen from the chart below. The momentum indicator, RSI (14), is showing an increased buying momentum at 61.27. PSA is bullish in the near-term from the technical perspective.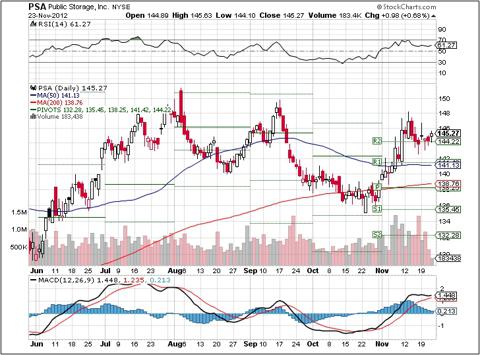 Source: StockCharts.com
Options Play
PSA is short-term bullish technically and long-term fundamentally sound. A bullish credit put spread will be reviewed for investors who are bullish on PSA and would like to acquire PSA stock at a discount price as the worst case scenario.
Short 1x March 16, 2013 Put at the strike price of $135 for the credit of $3.00
Buy 1x March 16, 2013 Put at the strike price of $125 for the cost of $1.50
The maximum profit is $1.50, and the maximum risk/margin requirement is $8.5 ($10 maximum loss - $1.50 credit received). If PSA closes above $135 on March 16, 2013, 17.65% return on margin will be kept as profit. If PSA falls below $135 upon options expiration, the acquisition cost for PSA will be $133.5 ($135 exercised price - $1.5 credit received), which is 8.1% lower than the current price of $145.27. $133.5 is a relatively safer entry price as it will generate around 3.3% annual dividend yield based on the current dividend projection of $1.1 per quarter.
Note: All the prices are quoted from the closing of November 23, 2012 and all calculations are before fees and expenses. Investors and traders are recommended to do their own due diligence and research before making any trading/investing decisions.
Disclosure: I have no positions in any stocks mentioned, but may initiate a long position in PSA over the next 72 hours. I wrote this article myself, and it expresses my own opinions. I am not receiving compensation for it (other than from Seeking Alpha). I have no business relationship with any company whose stock is mentioned in this article.