Investor actions regarding the recently announced partnership between Facebook (NASDAQ:FB) and Apple (NASDAQ:AAPL) was met with positive sentiment. Products must diverge with customer volume to increase market share and this is where both Apple and Facebook are experts. Facebook shares began gapping up on Monday and increased to end the day at $25.94 +1.94 (8.09%). Apple also gapped up, ending the day at $589.53 +18.03 (3.15%). However, another recent announcement failed to get equal attention-- Nokia's (NYSE:NOK) partnership with Facebook.
Nokia's emergence into the smartphone market has been met with much optimism. Lumia 920 sales are up, handsets are sold out in Germany, and are out of stock in the U.S. But, the Lumia 920 is only one egg in the basket; the recently released Nokia Asha 205 will be serving gaps in the market beyond the Lumia 920.
Over the past week, Nokia has seen an upward trend, indicating strength in a comeback, especially with the Schaeffer's Investment Research upgrade from $3.00 to $4.00 a share. Correlations can be observed by looking at Apple and Facebook (Figure 1), but not for Facebook and Nokia (Figure 2).
Figure 1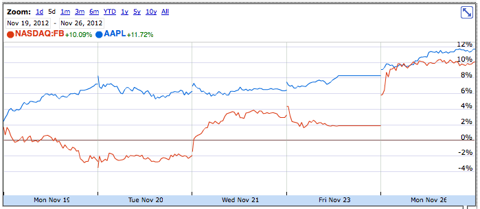 Figure 2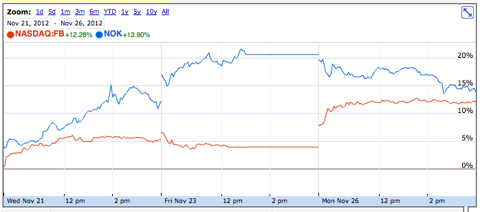 The recent partnership between Facebook and Nokia needs to be brought to light, because this partnership represents key elements to the future success of both companies, including new product development and increasing market volume in emerging markets. Nokia provides an affordable product, while Facebook provides the social media experience.
Nokia's news release said it best:
"People around the world use Facebook Mobile to connect and share with their friends," said Javier Olivan, head of growth, engagement and mobile for Facebook. "We are focused on delivering the best Facebook experience to as many people as possible and our partnership with Nokia perfectly complements our strategy of giving people around the world a rich Facebook experience for keeping in touch with their friends."

"Globally, young consumers have increasingly started using Facebook for socializing, keeping in touch and striking new friendships. The launch of the Nokia Asha 205 responds to this growing demand and gives them a unique option for accessing Facebook while on-the-go," said Timo Toikkanen, executive vice president, Mobile Phones, Nokia. "We have seen that many people who use Nokia Asha devices are hyper-social and we are proud to partner with Facebook to improve the user experience of those consumers further with the introduction of the Facebook button."

"The new Nokia Asha 205 enables people to easily access the Facebook for Every Phone app and use messaging, one of its most popular features. People using the new messaging feature, Facebook for Every Phone, can now:

See which of their friends are online to start chatting with them right away

Start messages and group chats fast

Reach more of the people they know, wherever they are, no matter what device they are using

People using the Nokia Asha 205 can also easily access other Facebook features, such as sharing photos and status updates with their friends, so they can stay close to the people around them with the touch of a button."
I continue to believe that Nokia's outlook is favorable and arguments to the contrary should stop relying on past results to predict future success. Lumia 920, Nokia Asha 205, 206, Nokia HERE maps and Earthmine Inc are new developments designed to move Nokia forward. While only time will tell, Nokia's recent partnership with Facebook is an indicator of future strength and movement in the right direction. I look forward to seeing a chart comparison between Nokia and Facebook in the near future.
Disclosure: I am long NOK. I wrote this article myself, and it expresses my own opinions. I am not receiving compensation for it (other than from Seeking Alpha). I have no business relationship with any company whose stock is mentioned in this article.