In Q3 2013 (the quarter ending October 31, 2012), Saleforce.com (NYSE:CRM) lost $220.3 million in net income. This is the GAAP income. It is the only valid long-term way of assessing a company's viability. CRM's trend in net income has been going consistently downward for years.
The net income for the last few years has been:
Jan. 30, 2010 full year net income was $80.719 million.
Jan. 30, 2011 full year net income was $64.474 million.
Jan. 30, 2012 full year net income was ($11.572 million) -- negative.
Q1 2013 net income was ($19.475million) -- negative.
Q2 2013 net income was ($9.829 million) -- negative.
Q3 2013 net income was ($220.3 million) -- negative.
The above is a clear and steady downtrend. Benioff's boasting about CRM's growth is questionable at best. In reality it seems a "growth" in losses. A pictorial approximation of the above data is below.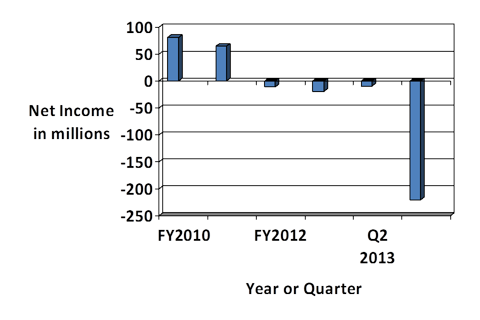 Another factor is expenses. Revenues grew to $788.0 million in Q3 2013 (+35% year over year). However, other expenses grew even faster. The chart below shows the quarterly R&D expense growth. This has grown approximately 100% over the past two years (FY2011 and FY2012). This is a faster growth rate than the above-mentioned revenue growth. It is showing no signs of abating.

If anything, the R&D expenses have been accelerating. When you consider that CRM's programs are almost all programs bought from other companies, it is easy to see how R&D expenses as a proportion of income almost have to grow quickly. Logically, programs without any overriding architectural guidance as they were being written should be harder, more expensive, and slower to maintain and/or expand. When many use different languages, etc., they are again more difficult, slower, and more expensive to maintain and expand.
R&D expense growth is likely to be a continuing problem for CRM. If you compare the quarterly R&D expense in the Q3 2012 quarter ($114.07 million) to the year earlier quarter's expense ($76.05 million), the growth rate is about +50%. This is far higher than the revenue growth of roughly +36% year over year for the same period. When cash from operating activities falls sequentially from $136.2 million in Q2 2013 to $105.9 million in Q3 2013, the fact that R&D expenses are growing so quickly is extremely disturbing.
Expenses in sales and marketing are going up quickly too. I have not looked up the figures for recent quarters, but they have risen faster than revenue in the recent past, and I expect more of the same with greater competition from major competitors such as Oracle (NASDAQ:ORCL), IBM (NYSE:IBM), Microsoft (NASDAQ:MSFT), and SAP (NYSE:SAP), who are putting increasing emphasis on cloud application sales.
Further, forensic accounting experts have voiced many complaints about the legitimacy of CRM's accounting practices. They generally assert that CRM's accounting is technically legal. However, they say it is far riskier than most comparable software companies. Mark Moerdler of Bernstein Research asserts that CRM's results would be much lower on both a GAAP and a non-GAAP basis if CRM used the more conservative accounting practices of the other software firms. Two items he seemed particularly disturbed about were that CRM capitalizes both sales commissions and software development expenses instead of expensing them as other companies do. Then too CRM adjusts out stock based compensation. Some say everyone does this. However, Moerdler indicated in 2011 that stock based compensation was slated to grow by 100% in 2012, while revenues were only slated to grow by 34%. It is easy to see how a company can get into significant financial trouble in this way; and CRM seems to be doing just that. CRM is a SELL.
The two year chart of CRM provides further guidance for a CRM trade.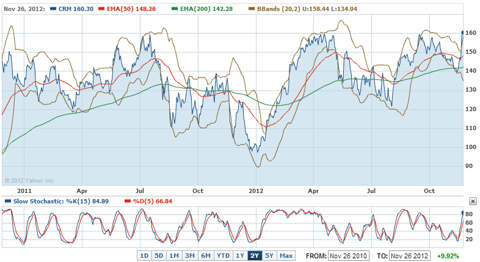 The slow stochastic sub chart shows that CRM is overbought. The main chart shows that CRM is far above both its 50-day SMA and its 200-day SMA. It is also above its upper Bollinger band. All of these things indicate that CRM is far overbought in the near term. Further CRM appears to be near a point at which it could (and most likely will) put in a triple top. This would be an extremely negative technical indicator.
If CRM's Q3 2013 had been great, you might say that there was good reason for the stock to continue upward. However, the reality is that CRM lost $220.3 million in net income for Q3 2013. It managed to adjust out just about everything as a one-time result. However, this just is not valid. Zacks asserts that if it adjusted out everything but the stock based compensation, which CRM uses as effective salary money, it would still have lost -$0.31 per share compared to a profit of +$0.19 per share in the year-ago quarter. By almost any measure CRM is doing badly. The recent rise is most likely a short squeeze of 14% shorted CRM during the recent rally by HFT/momentum traders. CRM has no fundamental impetus for a rise in stock price. Anyone who believes Benioff's "new accounting" malarkey deserves the losses they will most likely soon incur. CRM does not have a PE, as it has lost money over the last 12 months. The FPE is 80.11, which is far too high for the current fundamentals. Plus the FPE is probably a pipe dream. A year ago, CRM was claiming an even lower FPE, yet now it does not even have one. CRM is a SELL. If you are an aggressive investor, you may wish to short it.
Note: Some of the above fundamental data is from Yahoo Finance.
Good Luck Trading.
Disclosure: I am short CRM. I wrote this article myself, and it expresses my own opinions. I am not receiving compensation for it (other than from Seeking Alpha). I have no business relationship with any company whose stock is mentioned in this article.