Humana Inc (NYSE:HUM) provides health insurance benefits under health maintenance organization, or HMO, Private Fee-For-Service, or PFFS, and preferred provider organization, or PPO, plans. In addition, they provide other benefits with specialty products including dental, vision, and other supplementary benefits.
Humana's income stream can be divided into 3 segments: Health and Well-Being Services, Employer Group, and Retail.
Health and Well-Being Services include pharmacy solutions, primary care services, home care services and integrated wellness services. Pre-tax income for this segment increased substantially to $148 million from $83 million in the prior-year quarter, due to growth in the company's pharmacy solutions business.
The Employer Group segment includes employer group coverage and group Medicare Advantage and prescription drug plans. This segment reported slightly lower pre-tax income of $43 million in the reported quarter compared to $46 million in the prior-year quarter while premiums and services revenue increased 14% to $2.64 billion, primarily on the back of higher group Medicare Advantage membership.
The Retail Segment includes Medicare Advantage and prescription drug plans, and individual health insurance business lines. Despite the favorable impact of prior-year medical claims reserve development, this segment's pre-tax income plummeted to $424 million from $541 million in the prior-year quarter, on the heels of increased benefit ratio.
Humana is taking steps to counter this by incurring some capital expenditure to diversify within the health care industry. This is anticipated to be around $400 million in 2012 and between $425 million and $450 million in 2013. For example, Humana announced a definitive agreement to acquire a medical services organization - Metropolitan Health Networks Inc. - and purchased a non-controlling equity interest in another - MCCI Holdings LLC. Further, the company acquired Certify Data Systems, a company that facilitates exchange of health care data between healthcare providers and patients.
According to its interim reports, Humana raised its 2012 earnings forecast to a range of $7.25-$7.35 per share from its earlier forecast of $6.90-$7.10 per share, mainly due to favorable developments in the prior-year medical claims reserve and enhanced results in the stand-alone prescription drug plan business.
Readers should note that accounting statements do not reflect the true cost of insurance lines which may see an increase in claims ratios in the years ahead. Humana nevertheless recognizes this possible trend and is taking steps to counter it via diversification.
Portfolio Approach
While Humana's fundamentals appear sound in the long term, it's addition to our model portfolio universe is because it adds quantitative value.
In my search for stocks to add to our model portfolio (see Appendix at the bottom of this article), Humana adds value not just because it has a relatively low correlation with many of the stocks in the model portfolio, its also because of its particular risk/return profile. In other words, it provides advantage not just in terms of correlation but its contribution to overall portfolio volatility and return. See my article entitled Optimization Mechanics: It's Not Just Correlation.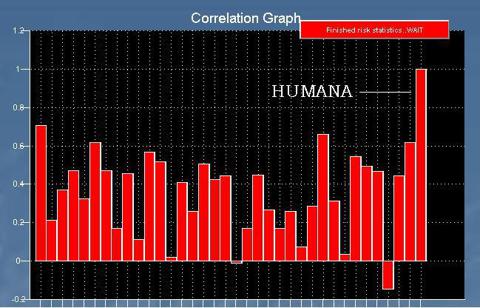 In the figure below, you can see that Humana has the highest expected return (defined as the average daily moving annualized returns) for its volatility level.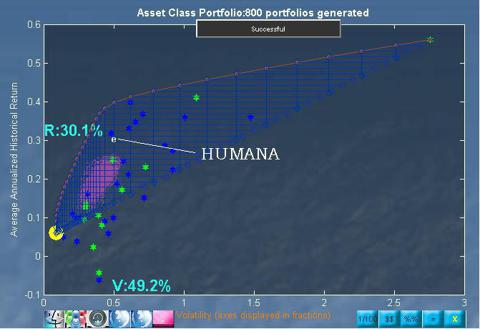 Impact of Humana
The hybrid rebalancing process that I use to test the impact of Humana on the model portfolio is designed to take advantage of upward movements in the market and reduce volatility in times when the market comes down.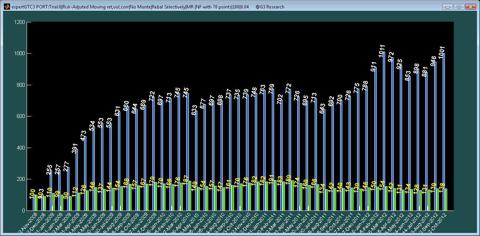 In the two figures immediately above (starting date 2 November 2008) and below (starting date 5 February 2008) we use starting portfolio values of $100 so it is easy to translate to percentage growth. The blue bars use the hybrid rebalancing process on an optimized portfolio, while the green bars use a buy-and-hold strategy on an equal-weights portfolio. Taxes, commissions, and the use of a risk-free proxy are not included in the calculations. Price data has been sourced from Seeking Alpha on a dividend-adjusted basis. The results are obtained by going back in time to use only the data available as at each review point, calculating the optimal weights, then going forward to compare the performance between the optimized and equal-weights portfolios. The portfolios are assumed to be 100% invested throughout.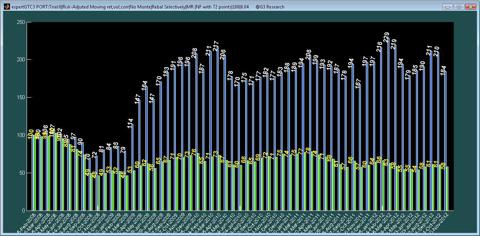 For the optimized portfolio that started from a low on 2 November 2008, the $100 starting value grew to $1001 by 12 October 2012 while the portfolio starting from a high on 5 February 2008 grew to $184 by 20 November 2012.
Contrast this with the equal-weights portfolio that grew to $138 and shrank to $58 over the same respective periods.
The two scenarios above (while not serving as a rigorous proof) suggest that the rebalancing procedure has once again performed in line with expectations.
Conclusion
Humana was not negatively correlated with the model portfolio to the extent that Wal-Mart and Western Refining were. But together with its risk-return profile, its correlation still added value to the overall portfolio and I have decided to place it in the universe of assets that constitute our model portfolio. While not currently allocated, it should be ready to contribute to the portfolio in the near future.
In the next few articles, I will continue to build on our existing high volatility model portfolio with the twin goals of taming volatility while achieving a superior return.
Appendix: Stocks in the High-Volatility Model Portfolio (stocks in Italics are sourced from the OxStones Investment Club:
Alumina Ltd (AWC), Aluminum Corp Of China Ltd (ACH), Arch Coal (ACI), Archer Daniels Midland Company (ADM), CEMEX, S.A.B. de C.V. (CX), CNH Global NV (CNH), Cameco Corp (CCJ), Central European Dist Corp (CEDC), Central European Media Ent Ltd (CETV), China Life Insurance Co. Ltd (LFC), Coeur d'Alene Mines Corp (CDE), Corning (GLW), DRDGOLD Ltd (DRD), Fibria Celulose SA (FBR), France Telecom (FTE), GOL Linhas Areas Inteligentes SA (GOL), Harmony Gold Mining Co. Ltd (HMY), Humana Inc , Impala Platinum Holdings Ltd (IMPUY.PK), Kinross Gold Corp (KGC), Net 1 Ueps Technologies (UEPS), Newmont Mining Corp (NEM), Nokia Corp (NOK), Oi SA (OIBR), Owens-Illinois (OI), Petroleo Brazileiro (PBR), Pilgrim's Pride Corp (PPC), Repsol Ypf SA (REPYY.PK), Telefonica SA (TEF),Teva Pharmaceutical Ind Ltd (TEVA), Total SA (TOT), Universal Corporation (UVV), Veolia Environnement SA (VE),Wal-Mart Stores (NYSE:WMT), Western Refining Inc. (NYSE:WNR), Yahoo! (YHOO)
Disclosure: I have no positions in any stocks mentioned, and no plans to initiate any positions within the next 72 hours. I wrote this article myself, and it expresses my own opinions. I am not receiving compensation for it (other than from Seeking Alpha). I have no business relationship with any company whose stock is mentioned in this article.