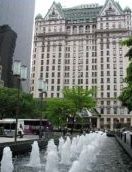 In real estate parlance, "highest and best use" is code for the most profitable, legal and feasible way of utilizing land. For the last couple of years, the highest and best use of land in most of Manhattan, and even parts of Brooklyn and Long Island City, has been hotels. This has literally been the driver of the land value bubble in many locations. Long time readers of Urban Digs will be familiar with the New York City hotel market and the unusual relationship between it and the high-end condo market from my prior piece, The Marriage of Lodging & Living in NYC. In the article, I took you through a stroll down memory lane, back to the early 2000s when the condo market was so hot and new product was so scarce that a passel of hotel owners decided to take their properties condo, including the Mayflower, the Essex House, 995 Fifth Avenue and of course The Plaza.
Ironically, just as these properties left the market, the moribund lodging market in New York City, which had seen demand squashed by 9-11, came roaring back to life on the back of the weak dollar (and perversely, the World Trade Center site becoming a huge tourist attraction). As a result, hotel occupancies went ballistic, followed by room rates that became all but unaffordable unless you were lousy with Euros, Pounds, Won, Dinars or other exotic currencies.
With hotel values following on the heels of the vastly improving fundamentals, developers moved quickly to accommodate demand for new hotels. In fact, as of today, there is a backlog of projects that will reportedly add 20 percent to the current room base of 77,000. The only problem is that by rushing out to buy sites for hotels, developers were jamming up prices of land in an already over-heated New York City land market. I commented on the land price bubble in a piece earlier this year entitled NY City Land: Will High prices Cure High Prices?
In my original piece on the lodging and residential market cross pollinization in New York City, I stated that:
The increased cost of land, construction and service worker wages needed to supply the luxury digs and over the top amenities in 5 Star Hotels is requiring the sale of condos to subsidize development. So despite the hot lodging market in the US, (its sizzling in New York) developers need to get some cash out up-front by selling condos. In fact Lodging Econometrics is cited in the article as estimating that 95% of luxury resorts in the U.S. are being built as part of bigger overall projects, vs.10% in the 90s, and essentially functioning as amenities.
So, as you can surmise, the seeds of destruction for hotel developers who were late to the party were already being planted. The cost of development sites were already so high that getting a decent IRR required not only building a hotel and getting great occupancy and room rates, but also monetizing something up front by selling off the top couple of floors as super amenitized condos or selling time shares.....if you could find enough dumb foreigners to buy them (no insult intended to our foreign friends in general, but if you bought one of these....).
One important thing to mention about hotels. Hotels by nature should be the highest and best use of land in almost any market that allows them, where lodging demand is high and supply is low - better than office buildings, better than retail, better even than condo (in some cases). Why are hotels the highest and best use of land bar none? It's a risk reward trade-off. Yes folks, listen carefully here because the concepts of risk and reward are coming back into favor. You will be tested on these concepts later....repeatedly.
In real estate lawyer-speak, a hotel room is a daily or short-term leased fee. It is leased to the customer daily or for some other short-period of time and that's the entire obligation. Office buildings, retail malls and apartment buildings are leased fee estates for years. Both landlord and tenant have security from the relationship. The former from knowing that the tenant will be there for a set period paying a known periodic rent, and the latter from knowing they have a place to live or conduct business at a known cost for the same period. The hotel owner, in contrast, literally has no idea who is going to be renting from him a week from now (or not much of an idea as reservations can be canceled) and what rents he can expect. By nature, a hotel is a much riskier asset - it has much higher volatility of returns - and therefore it must carry a higher return on investment to attract capital.....at least, if the capital is not being deployed by a bunch of dumb-asses (fill in name of your favorite investment bank, REIT, private equity firm here).
According to my sources, hotel bookings after the holiday season in New York are looking dismal. Rates are reportedly going to be down big time. Anyone surprised? If you are, you have not been reading the New York Times, Crain's or Urban Digs for the last few months, where reports about cracks in the foreign visitation boom and New York City lodging market have been percolating. The latest surge in the buck ain't helpin'. One minor consolation is that the credit crunch will stop some of the ridiculous backlog of planned hotel rooms from being built. But in my humble (but loudmouthed) opinion, it won't keep rates from getting ruined as demand slows and new supply comes on.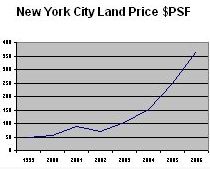 So here's the poetry of the universe in action again. The most volatile real estate asset class was actually the driver of the last surge in the bubble of New York City land prices charted at right. Data is from the New York Fed. Recall that when the boys downtown put these numbers out, they opined that the lovely trend was your friend and portended positive future developments for our great city.....oops!
P.S. This morning I got an e-mail regarding a failed condo project in midtown, where only 50% of the units had been sold out. The developer is looking to sell the project. They gave back the condo buyers' deposits so they could reposition the property as a high-end boutique hotel. Good luck with that!
Companies with significant exposure to New York City land and real estate and/or hotels, travel and shopping include Starwood Hotels and Resorts (HOT), Vornado Real Estate Trust (NYSE:VNO), SL Green Realty (NYSE:SLG), Acadia Realty Trust (NYSE:AKR) and Forest City Enterprises (NYSE:FCE.A). 
Disclosure: The author has no positions in these individual securities, but owns mutual funds that may.