I'm very confident about my call for a brief, mild recession to begin around the beginning of next year, regardless of the outcome of the "fiscal cliff" negotiations. I keep coming across indicators indicating contraction ahead.
The Chicago Fed National Activity Index (CFNAI), a broad measure of 85 subcomponents, is showing a trough. The economy doesn't fall into recession every time a trough develops in the CFNAI, but troughs are often indicative of recessions (click to enlarge images):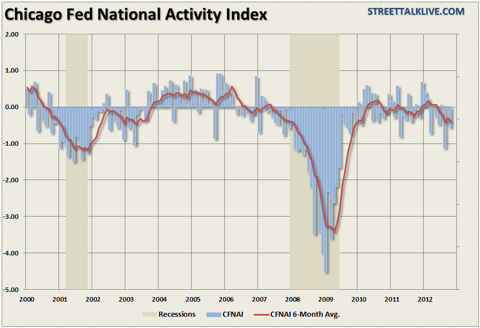 The diffusion index of the CFNAI deteriorated from -0.14 in September to -0.32 in October, the lowest level since July 2009. (The "Great Recession" ended in June 2009.) Here's an important point: in July 2009, the diffusion index was rising as the economy was surging due to massive fiscal stimulus. That's obviously not the case now: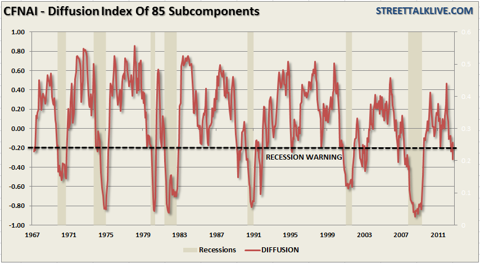 The Streettalk Economic Output Index, which is comprised of the aforementioned CFNAI, as well as the ISM, Chicago PMI, several Fed regional indexes, and the NFIB Small Business Index, is also indicating recession: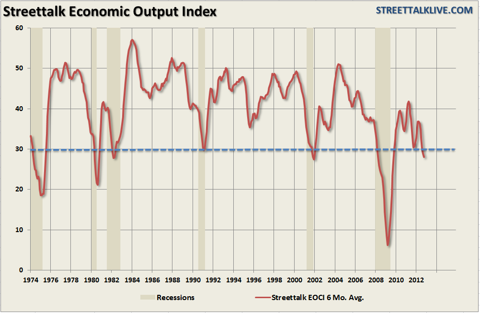 Disclosure: I have no positions in any stocks mentioned, and no plans to initiate any positions within the next 72 hours. I wrote this article myself, and it expresses my own opinions. I am not receiving compensation for it. I have no business relationship with any company whose stock is mentioned in this article.