Whether you think that gold is a bubble that is deflating or a monetary metal that is going higher you can still take advantage of short term profit potential from additional gold investing.
George Soros called gold the ultimate bubble and yet he (or his funds) are buying it today - Why? It's unlikely that he's changed the fact-based Keynesian economic theory (which concludes that gold in not money) that has made him a billionaire so what does Soros think is going to happen? Is there a fact-based model to support it?
I haven't talked to him lately - Ok, I've never talked to him but his investment fund files a 13F each quarter. In the second quarter, Soros' funds dumped $50 million in financials including JP Morgan (NYSE:JPM), Citigroup (NYSE:C) and Goldman Sachs (NYSE:GS) and bought $130 million of the SPDR gold EFT (NYSEARCA:GLD). Third quarter they upped gold exposure to $421 million (GLD: $227 million, $194 million gold mining stock EFT positions, including a $9 million call) but reversed course on financials by buying $50 million in Citigroup, $40 million in JPMorgan Chase, $1/2 billion in AIG plus other financial related stocks.
It appears to all be linked to the euro mess. Soros thinks the euro is flawed and, while he thinks it will ultimately survive, Germany will only agree to do the necessary in the midst of a crisis. As he stated in his recent essay, "Only something shocking would shake Germany out of its preconceived ideas and force it to face the consequences of its current policies."
"Something shocking" would be the ultimate battle to preserve the euro - euromageddon - when countries finally try to leave the eurozone and Germany realizes that no more euro means no locked-in prosperity for Germany.
Euromageddon will cause a (hopefully) short but sharp crash of the stock market, resulting in a safe-haven top for gold.
So, if you think the euro mess will not end smoothly, you should consider following George Soros' lead and buying gold.
Note: Buying financials is not so good idea as a currency crisis will depress financials big time. If the gold is a safe-haven play, the financial investments must be a short term play on an undervalued sector. Soros's use of gold as a safe-haven investment will be confirmed if his fourth-quarter 13F shows that his financial position was greatly reduced after its recent 20% run-up and his gold is maintained or increased.
So what is the proof that gold is a safe-haven asset and how do you trade it? While it's easy to look at a chart like the one below of the S&P 500 vs. gold and conclude that gold is a safe haven from stock dips, exactly when to buy and sell to take advantage of this behavior isn't well published.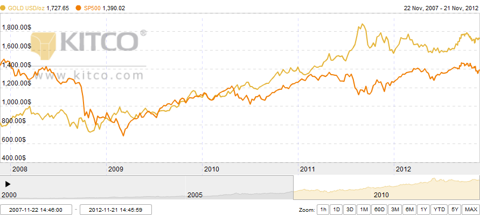 Most of the recently published analysis of gold as a safe haven has been done by Dirk Baur of Dublin City University and Brian Lucey of Trinity College Dublin. What's unique about their analysis is that it looks at the duration of the safe-haven boost after a stock shock in order to capture profits. There's only a short window to sell before the safe-haven boost evaporates, approximately 15 days, but closer to the crisis peak locks in more profit. Sell after this and you've missed your opportunity to take short-term profits.
In addition, buying at the right time is also important. If you purchase even one day after the shock, you lose money. According to Baur and Lucey's analysis, buying on extremely negative stock days is OK but don't buy even a day after the low.
The size of the potential gain depends on what you normally invest in and where you live. If you're a bond investor there is much less (if any) upside as bonds are also a safe haven from stock shocks. If you live in the USA and do dollar denominated investing then the safe-haven benefits of gold are reduced but still substantial (the dollar is a safe haven for currency crises). If you are in the eurozone - well, I imagine you already have some gold and dollar-denominated securities.
Selling immediately after a crisis event is mandatory to capture short-term profits according to the Baur/Lucey research. As long as the euro mess has not been fully resolved and leaders continue to kick the can down the road, rebuying on dips should be profitable.
However, make sure you have a real stock crisis before you sell or you'll just end up selling low and may not be able to rebuy at a lower price. Soros' funds appear to have been buying on dips and holding until euromageddon starts, the safest way to play a major breakdown.
Finally, some long-term forecasts indicate you should sell all of your gold after the euro breakdown spike. ScotiaMocatta, the gold bullion banking division of Scotiabank, has predicted that gold will reach new highs in 2013 on safe-haven investing followed by a decline to $1100-$1200 per ounce as the world economy improves and the need for safe havens is reduced.
ScotiaMocatta predicted that safe-haven investing would be alive for at least the next year so perhaps there is time to decide what your long-term outlook on gold is.
It's hard to imagine anything worse than a euro breakup -China's not going to attack the U.S. militarily or economically - so you should decide what to do with gold when the euro crisis peaks. Given the dropping demand for gold, euromageddon may be the high point for gold for the foreseeable future.
Disclosure: I have no positions in any stocks mentioned, and no plans to initiate any positions within the next 72 hours. I wrote this article myself, and it expresses my own opinions. I am not receiving compensation for it (other than from Seeking Alpha). I have no business relationship with any company whose stock is mentioned in this article.