Dolby laboratories (NYSE:DLB) is a pioneer in sound technology. The company makes products and technologies that allow recording and playback of high quality multi-channel sound. Dolby's playback technologies are embedded in most home theatre systems, DVD and Blu-Ray players, PCs, and set-top boxes. Dolby is also making inroads in mobile phones and tablets including new licensing deals for the Samsung Galaxy SIII and Amazon's Kindle Fire. In addition, Dolby's media servers, projectors, and audio products are installed in many theatres around the world.
Dolby's stock has had a wild ride in the past few years. The stock ran up from a low of $25/share set in the height of the financial crisis to almost $70 in November 2010. This strong performance was supported by strong revenue and earnings growth. Since then, however, the stock has declined to $32.25 at the time of this writing on the back of a small year-over-year revenue decrease and uncertainty about the business's future.
I will be discussing the bull and bear cases for Dolby, and presenting a discounted cash flow model that can help in pricing of uncertainties surrounding the stock.
The Good: Financial Strength, Profitability and Valuation
Dolby has a very solid balance sheet. The company has approximately $1.1B, or roughly 30% of its market cap of $3.3B, in excess cash and marketable securities. Furthermore, the company has no long-term debt or off-balance sheet liabilities.
Dolby's profitability and cash flow generation have also been impressive. Dolby's ROE and ROIC for FY2012 were 15% and 26% respectively. Dolby also generates massive cash flow from operations. Cash flow from operations was $390M in FY 2012. Free cash flow to firm was $190M. Excluding the purchase of a new headquarters building in San Francisco, free cash flow to firm would have been $300M.
Dolby trades at a P/E of 13 on a trailing twelve month basis, and a P/E of 16 based on next year's consensus estimate. On an ex-cash basis, TTM and forward P/Es are approximately 9 and 11 respectively.
P/FCF (adjusted) is approximately 11 on a TTM basis, and 12.7 based on my FY2013 cash flow forecast. Dolby is also returning some of its free cash flow to shareholders in the form of stock buybacks.
The valuation is compelling ASSUMING the company can grow or even maintain top and bottom line going forward.
The Bad: Declining Revenue
Dolby's revenue declined by 3% in FY 2012 compared with FY 2011. Net income fell more sharply, by 14.5% YoY mainly due to higher spending on sales and marketing and R&D.
Let's take a look at Dolby's revenue breakdown and growth and decline drivers.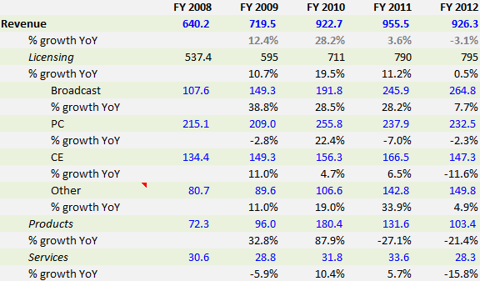 The decline in revenue in 2012 was due to significant drop in products and services revenue. This was not unexpected as a cinema upgrade cycle drew to a close.
Far more important than products and services revenue are the trends in licensing revenue. Licensing revenue relates to licensing of playback technologies to software makers, OEMs, and chip makers. Licensing accounted for 86% of revenue and 93.7% of gross profits to the company.
Within the licensing category, PC and CE (Consumer Electronics) revenue declined. The decline in the CE segment is to a large part due to a decline in DVD and Blu-ray players sales. With online streaming and video-on-demand services becoming more an more mainstream, this decline is expected to continue.
In the PC segment, Dolby is facing two challenges. Firstly, the PC industry is declining. Some people argue that this decline is only temporary, but most are of the opinion that PCs are in secular decline as a result of the proliferation of smartphones and tablets. To make matters worse for the company, revenue per PC will decline materially going forward, as licensing revenue from PCs without optical drives will be approximately 1/4 of PCs with optical drives.
According to consensus forecasts, growth in broadcast (TVs and set-top boxes) and "other" (mobile, gaming, etc) segments is not enough to grow the top line in FY 2013.
The Unknown: Uncertainties Surrounding Patents
Dolby's licensing revenue is built upon the company's large IP portfolio. To defend this revenue stream, the company has to continuously obtain new IP and file new patent applications.
Today, a large portion of the company's licensing revenue is derived from patents relating to its Dolby Digital technology. While the company does not disclose the exact percentage of revenue from Dolby Digital, it does say that its revenue is "principally" derived from this technology.
The patents on Dolby Digital will expire between now and 2017. If the company fails to replace these patents with new patents, the company's revenue can decline materially. Because Dolby does not disclose how much of its revenue comes from Dolby Digital, it is difficult to price in this "patent cliff." Having said that, this is perhaps the largest risk associated with investing in this stock. You can read more about this issue from a fellow SA contributor here.
Discounted Cash Flow Valuation
I have created a DCF valuation model for Dolby to come up with a fair value for the stock under different scenarios. This model uses many assumptions and as such should not be the sole factor in your investment decision making. It should be used as a complimentary tool to your own qualitative, and other quantitative research.
I will be presenting two scenarios under which I ran my DCF model.
1. Base Case Scenario
The main assumptions in the base-case scenario are:
Discount rate is 9%, and terminal cash flow growth rate is 2% (intentionally conservative figures)
PC and CE licensing revenue continues declining while broadcast and "other" revenue grows according to the figure below: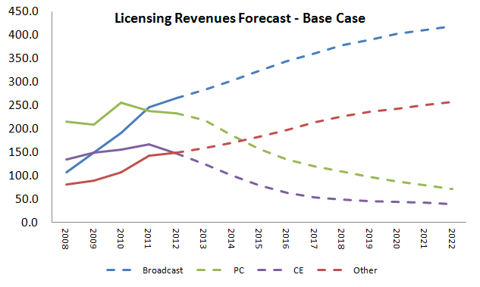 Products and services will grow at 2% per year.
Company will ramp up its R&D spending from 15% of revenue in FY 2012 to 20% in 2017. It is assumed that this increased R&D spending will pay off and the company will successfully replace expiring patents on Dolby Digital with new licensing revenue. The company will have to maintain this level of spending to defend its revenue after 2017.
Share buybacks are not modeled.
You can view the full model and assumptions here.
I come up with a DCF value for the stock of $39.05/share under my base-case scenario (my base-case scenario is probably more bearish than most).
2. Patent Cliff Scenario
In this case, I am assuming the company fails to effectively replace Dolby Digital with new patents. Therefore, licensing revenue declines rapidly from 2017, and stabilizes at roughly at 1/3 of current revenue in 2022. The graph below shows licensing revenue assumptions in this case.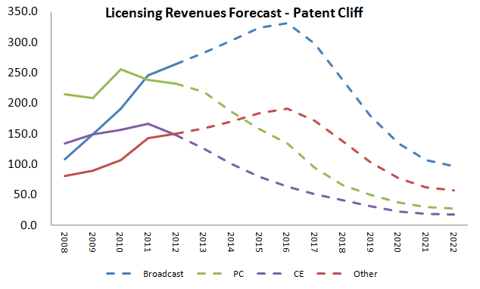 I am also assuming that the company maintains a higher R&D spending at about 25% of revenue in this case after 2017. Other assumptions are consistent with the base case.
Under these assumptions, I come up with a DCF fair value of $22.44/share for Dolby.
In a hypothetical world where the only two possible outcomes are the two scenarios that I have presented here, one could say that the market is pricing in a 42% chance of the company going over its patent cliff. In that world, investors who believe the probability of this event happening is less than 42% would be buyers of the stock, and others would be sellers or on the sidelines.
Finishing Thoughts
Dolby is in a strong financial position and trades at a reasonable valuation. However, there are concerns about declining PC and CE licensing revenue streams, and uncertainties about the future of patent licensing revenue. Based on my DCF analysis, there is significant potential downside from here if the company fails to replace its Dolby Digital patents with other strong revenue generators. As such I am not a buyer here, but I will keep DLB on my watch list. Should the shares drop below $25, in the absence of any major developments, I will start building a position.
If you are under-invested and are looking for a low-beta way to get some exposure to Dolby, I recommend selling cash covered June 2013 puts with a strike price of $25. The premium on the puts is approximately $0.95/share, which will be yours to keep if the stock does not get put to by the expiry date. In case the stock is put to you, your cost base will be $24.05/share (not including commissions). At this level - unless something has drastically changed - the downside should be fairly limited.
Disclosure: I have no positions in any stocks mentioned, and no plans to initiate any positions within the next 72 hours. I wrote this article myself, and it expresses my own opinions. I am not receiving compensation for it (other than from Seeking Alpha). I have no business relationship with any company whose stock is mentioned in this article.