Nu Skin Enterprises (NYSE:NUS) is an American company in the business of manufacturing and selling anti-aging personal care products and nutritional supplements worldwide. The personal care products are sold under the Nu Skin brand while the nutritional supplements under the Pharmanex brand and both lines equally contribute to revenue. It sells its products through a network of independent distributors worldwide (except Africa) and owns forty retail stores in China. It competes both with Avon Products (NYSE:AVP) and Herbalife (NYSE:HLF).
Interesting growth prospects
The company has shown impressive growth recently, with a projected 58% growth in China, a market where it is aggressively expanding, and 22% on a global basis; revenues are projected to surpass $2 Billion in 2012; it handily beat expected earnings in Q3 and raised its outlook, forecasting 2012 net income of $3.33 to $3.37 per share. Management is projecting a 2020 revenue target of $5 Billion and earnings per share of $10; while this may sound too optimistic, one cannot argue that they are indeed determined to reward long term investors. The growth plan targets Asia and Latin America, areas where the firm is actively investing in research and development and increasing its distribution network.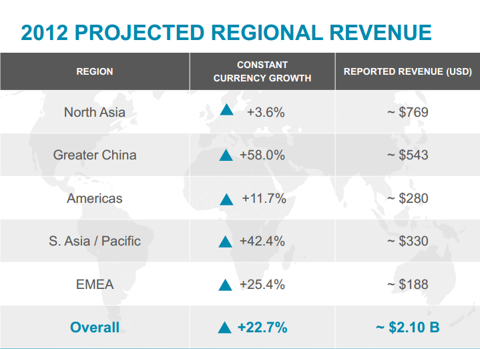 Attractive valuation
The company popped up on my radar last week when, after liberating some cash, I ran my value stock screener to find some buy opportunities.
The stock is, as of this writing, being traded for $44 and change, which translates into a Price/Earnings ratio of 13 on 2012 earnings, a figure that wets my appetite if we factor in the 22% growth rate in 2012 alone. The return on equity is also terrific: 38%, especially if we consider that the company is modestly leveraged with a debt to equity ratio of 35%. Return on equity is a key factor that Warren Buffett looks at when valuing an investment opportunity: a high ROE (usually over 30%) with low debt indicates that the company benefits from a good business moat, that is, it is able to fend off attacks from competitors and raise prices while not losing market share.
Other good figures on my screener comprise an interesting Price to Free Cash Flow ratio of just 12, and a Price to Sales ratio of 1.25.
Last but not least, the dividend. The current dividend is not high, but a yield of 1.8% is still nothing to spit at, and one you would not expect from a growth company; growth companies usually do not pay dividends. Most interestingly, the company has been paying and raising dividends every year since 2001, a feat which is usually associated with much more solid companies such as Coca Cola (NYSE:KO) and Johnson and Johnson (NYSE:JNJ) and that alone makes this mid-cap stand out from the crowd of similarly sized companies.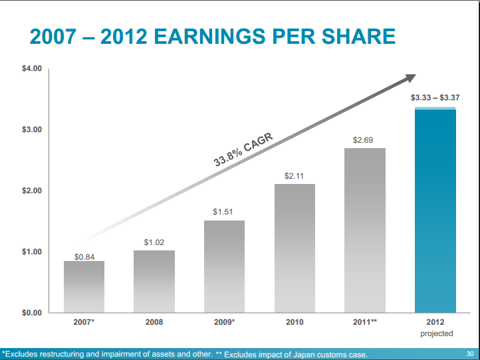 The cons
A professional short seller from Citron Research has been posting reports online to attack Nu Skin, denouncing its practices in China, where multilevel marketing is banned. He claims that the Chinese Government will crack down the company's business in China, where it owns 40 retail stores, on grounds that these stores are just recruit centers for illegal MLM activities. He also claimed that the company is in violation of FDA regulatory laws in the U.S.
Another attack has been launched by an ex husband of NuSkin founder Sandra Tillotson, Diederik van Nederveen, who was married to her from 1995 to 2000. On his website, van Nederveen pointed his finger at what he called the exploitation of rank-and-file Nu Skin distributors by those at the top of Nu Skin's structure.
Nu Skin's CEO, M. Truman Hunt, dismissed the criticisms of Nu Skin as a bunch of mudslinging by unreliable or self-interested parties.
Conclusion
While I don't think that multilevel marketing is a particularly reliable business model, it has proved to be successful for companies such as AmWay and Avon Products; Nu Skin may be able to replicate the model abroad, especially in Asia and Latin America where it is concentrating its growth efforts.
At these valuations I reckon Nu Skin is an interesting value and growth opportunity, but let's remember the company's business presents some risks that shouldn't be ignored. I bought in at around $45 and it makes up about 8% of my stock portfolio.
Disclosure: I am long NUS. I wrote this article myself, and it expresses my own opinions. I am not receiving compensation for it (other than from Seeking Alpha). I have no business relationship with any company whose stock is mentioned in this article.