Dean Foods (NYSE:DF) is one of the leading milk companies in the US. Its product portfolio spans the most of the milk spectrum, including fresh milk, ice cream and yogurt. It is not strongly represented in cheese. Market cap is about $3 billion.
Stockholders have had an unusual time investing in DF. In 2005 DF spun off its higher growth food products business as TreeHouse Foods (NYSE:THS). Since then DF's stock has fallen by almost half. THS however has more than made up the difference (assuming the stockholder kept both stocks). Milk is a mature market, and DF has attempted to consolidate the industry. Some of DF's acquisitions were ill considered, and forced subsequent write downs. In 2011 a huge goodwill write-down led to a loss of about $1.5 billion. Stockholders' equity is now slightly negative.
DF is also heavily indebted. Total debt is now about equal to total assets. The interest rate on DF's bonds ranges up to 9.75%. These are trading above par, so the company would probably like to call whatever debt it can.
Dean does have one big ace in the hole, its White Wave division (NYSE:WWAV). WW produces "healthy" milk products such as organic milk and plant-based milk substitutes. It is the US market leader in this category. This is a high growth and higher margin business. To better extract the value from this sector, DF has IPOed about 13% of the division under the symbol WWAV. The IPO was well received, and the stock is trading with a forward PE of about 22. DF will use the proceeds for debt reduction. It also intends to spin off the rest of WWAV next year, although this is not set in stone. DF is also shopping around its Morningstar division for further debt reduction. They claim to have interest in the > $1 billion range.
DF is a case where the first order numbers are terrible, but much better on a closer look. WWAV is priced at $15.23 (Nov 26). DF's 86.7% of the remaining shares in WWAV are worth about $2.280 billion. Thus the rest of DF is being priced at about $830 million. Let's see what you get for that value:
Stockholders equity is negative, so nothing there. However, the non-WWAV assets are still producing a substantial free cash flow. I like to look at "sustainable operating cash flow" which excludes transient fluctuations such as year-to-year changes in inventories, payables and income tax credits. I also exclude the non-cash goodwill write down in 2011. The following table is from DF's SEC submissions concerning the IPO. Of course, WWAV was not a separate company so income is pro forma or estimated.
All data in millions:
| | | | |
| --- | --- | --- | --- |
| | 2011 | 2010 | 2009 |
| DF Total Net Income | (1,592) | 83 | 228 |
| Minus: WWAV income | 97 | 87 est. | 81 est. |
| Plus: non-Transients | 322 | 312 | 293 |
| Plus: Goodwill Adj. | 2,075 | | |
| Minus Capital Invst. | 325 | 301 | 267 |
| Equals Sustainable FCF | 384 | 7 | 172 |
So the $830 million of non-WWAV market value has produced about $562 million in sustainable FCF in the last three years. This works out to 21% per year. In fact, the above table may even be conservative. I could not find a breakdown of capital investment. However it is likely that much of the capital investment goes to the growing WWAV, freeing more cash flow for the new DF.
This looks like a great value, but there are some major risks. First and foremost, the value of WWAV may be too high. The PE is generally in line with some other health food companies, but the whole sector may be expensive.
| | | |
| --- | --- | --- |
| | Forward P/E | Price to Book |
| White Wave | 21.8 | 4.0 |
| Hain Celestial | 21.1 | 2.8 |
| Smart Balance | 35.9 | 1.9 |
| Annie's Inc. | 33.0 | 8.2 |
Bear in mind that WWAV is a story stock and will have to grow into its valuation. Like all growth stocks, an earnings miss or a change in the story could ruin things very quickly. Also, for now the stock has a relatively small float. Once the full spinoff is made, the scarcity value will dissipate.
One way to play this would be to go long DF and short WWAV. I have traded this myself, but there are a few caveats worth mentioning. First is the issue of WWAV's small float. The borrow for shorting is available now, but it may well be sporadic. Second, there is already a fair sized short position considering that the stock recently listed (850,000 as of Nov 26). This can lead to some sharp squeezes. For example on Nov 23 the stock went up by 5.3% on no news. It is down about 4.0% today, also without news. For those of you who are willing to do this, here is a graph of the way I do the spread: long six DF for every 5 short WWAV. Note that the graph ends on Friday Nov 23.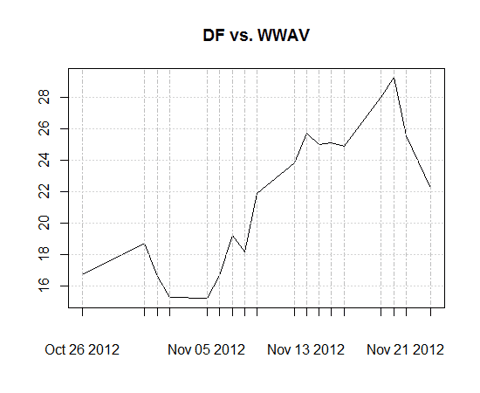 The probability of DF paying a dividend anytime soon is low. This is true even if it sells the Morningstar division for over a billion. The company needs the money to rebuild its balance sheet.
There is some commodity risk to DF as higher grain/oilseed prices would impact milk production costs. Since the current bad crop is on everyone's minds, I'm willing to take this risk. Note that if grain supplies get truly tight, the government could change the ethanol mandate.
Finally, DF has a pretty concentrated customer base, including powerful bigwigs such as Sysco (NYSE:SYY), Wal-Mart (NYSE:WMT) and Target (NYSE:TGT). They have been selling to them for many years, and presumably have developed an understanding on allowable profitability. However, this kind of concentration is always risky, so keep it in mind.
Even with these risks, this is an interesting play. The company is generating a lot of cash. This cash will have to stay in the company for a few years, but it still belongs to the stockholders. If this keeps up, there will eventually be a significant dividend. I have a small long position in DF and follow the company closely. After the WWAV spin, I might take a substantial position.
Disclosure: I am long DF. I wrote this article myself, and it expresses my own opinions. I am not receiving compensation for it (other than from Seeking Alpha). I have no business relationship with any company whose stock is mentioned in this article.
Additional disclosure: I have been short WWAV