Amazon's (AMZN) recent earnings release came as a shock because it reported a quarterly loss for the first time in nine years. Its share price went down 9% after the release. The main reason behind the dismal performance of the company was its heavy spending, which drove profits down and caused losses to the company. The sell side is bullish with price targets ranging from $220 to $275. However, we disagree with the consensus and are bearish on Amazon for this year.
Financial Analysis:
It was not its revenue base that caused Amazon to struggle. The company saw increases in revenues and cost of sales of 8% and 9%, respectively, as compared to Q22012. The hit has come from its Research and Development segment, where Amazon increased its expenses by 11%. Although Amazon has joined the league of the 50 highest R&D spenders, it has suffered a net loss and that too after 9 years.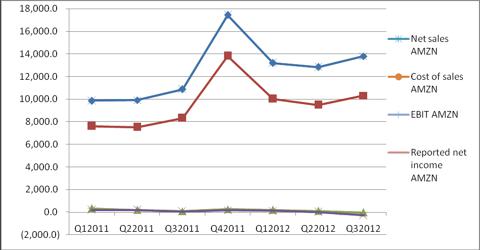 Apple Inc (NASDAQ:AAPL) and EBAY.com (NASDAQ:EBAY) also saw a decline in margins in the third quarter, but they have not reported losses, as shown in the following graph.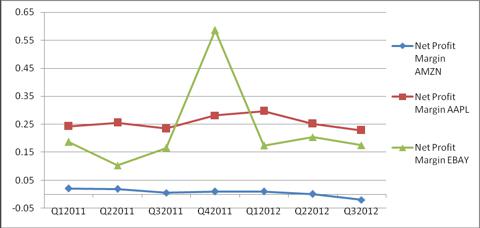 Relative Valuation:
Things are more interesting when one looks at Amazon's stock trading at very high multiples compared to its key competitors.
A Relative Analysis Based on Multiples (NYSE:X)

Company

Trailing P/E

Forward P/E

PEG

P/S

EV/EBITDA

Amazon

2738

132

1.82

48.18

eBay

16.48

17.68

1.43

4.61

14.59

Overstock.com
(NASDAQ:OSTK)

142.26

17.48

1.24

0.32

15.98

Liberty Interactive Corporation (LINTA)

18.02

14.87

1.51

1.05

8.83

Apple

12.70

9.63

0.51

3.40

8.52

Best Buy (NYSE:BBY)

4.56

-1.48

0.09

1.69

GameStop (NYSE:GME)

7.63

0.87

0.35

3.59

Competitor Average

47.37

12

0.68

1.64

8.87

Amazon Forward EPS

$1.76

Amazon P/E Historical Average

164

Amazon TARGET PRICE (Based on historical P/E)

$232.46
While its competitors are trading at an average P/E of 12x, Amazon is trading at a P/E of 132x. Same is the case with other key multiples, such as EV/EBITDA, where Amazon is trading at 48x while competitors are trading at an average of 8.8x. Such high valuations make us feel that Amazon's stock is over valued.
Strategic Challenges:
Is the stock worth investing at such high multiples? The answer would have been in the affirmative had we felt that Amazon would be able to monetize its high R&D spending in the coming quarters. The holiday season is just around the corner and would bring the highest sales for retailers in the year. So, can Amazon leverage the upcoming opportunity of improving sales and profits? Some analysts would say yes, based on the trend analysis, however, we feel that this year is going to be different because we do not see Amazon making record sales in the fourth quarter. The reasons for that are:
Amazon is gearing up for Christmas by improving its supply chain and efficiency. It hopes to generate high profits in the coming months due to its competitive advantage in the online market. However, things are going to be very different this year. Amazon is going to face increased competition from mass merchants and big-box retailers. Several big players have significantly improved their online presence. A good example is that of Wal-Mart,

which

has developed a very strong online forum. Such improvements made by

Amazon's competitors have increased competition significantly this year.

Amazon's competitors are spending heavily on dynamic pricing this year. Amazon's key competitors, such as Best Buy, Wal-Mart (NYSE:WMT), and Target Corp (NYSE:TGT), have reported that they would focus on matching each other's online prices. Although Amazon's spending on shipping and delivery could prove to be a fruitful counter strategy, 2012 could be the year in which

Amazon's competitors finally catch up with it.

Amazon is a company with global presence and coverage. Its revenue base is highly diverse with a high focus on Europe. However, because of the worsening economic conditions in Europe specifically and around the globe generally, sales and profits are expected to suffer.
We recognize the fact that the company has been recording a 68% boost, on average, in sales and profitability in the fourth quarters of the last 10 years. The following graph depicts this fact. The peaks in the graph show boosts in sales.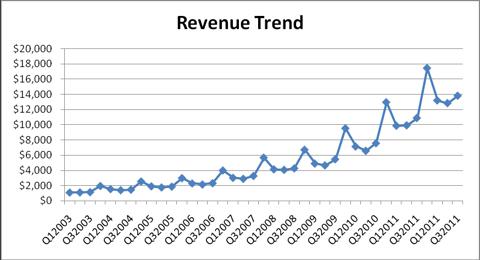 However, the important thing to note is that the company has been witnessing a declining trend in these boosts. With the passage of time, the company started observing a decline in the revenue-boost percentage, as shown in the following graph.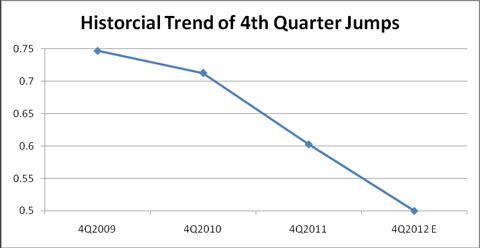 As evident from the graph, the company saw a 75% boost in the fourth quarter of 2009. However, it had to bear a 10% decline in 2011. So, would the company observe a bigger boost this year?
The answer would probably be in the negative, based on the guidelines of the company. It saw a 60% boost last year and has guided to a boost of approximately 50% for this year alone, as shown in the graph. Similarly, it has also given guidance of a wide profit margin range ($-490 M - $310 M), with a probability of a loss. In the last year, the company guided a narrower margin and outperformed this guidance.
Our Stance:
We are bearish on Amazon because:
Its revenue and profitability are not expected to grow as much as they did in the past. This is mainly because of the higher competition, along with a general economic slowdown.
The company is trading at a very high premium and we doubt that there will be a significant improvement in EPS in the coming quarter.
Disclosure: I have no positions in any stocks mentioned, and no plans to initiate any positions within the next 72 hours.
Business relationship disclosure: The article has been written by Qineqt's Retail Analyst. Qineqt is not receiving compensation for it (other than from Seeking Alpha). Qineqt has no business relationship with any company whose stock is mentioned in this article.