Up 13.22% year to date and outperforming the major indexes, Texas Roadhouse (NASDAQ:TXRH) looks delicious judging by all its merits. In addition, with only a market cap of $1.17B, there looks like there is more space for growth in the coming years. But, is it really worth a steak (stake)?
Introduction
Texas Roadhouse, Inc. operates a full-service casual dining restaurant chain. Founded in 1993 and based in Kentucky, it operates restaurants under the Texas Roadhouse and Aspen Creek names. As of November 1, 2012, it operated approximately 385 restaurants in 47 U.S. states and the United Arab Emirates.
Snapshot:
| | |
| --- | --- |
| Price (23.11.2012) | $16.59 |
| Market Cap | 1.17B |
| Income (Trailing 12-mths) | 69.54M (P/E: 16.92) |
| Sales (Trailing 12-mths) | 1.23B (P/S: 0.95) |
| Book Value Per Share (BVPS) | $7.78 (P/B: 2.13) |
| Return On Equity (ROE) | 13.31% |
| Debt/Equity Ratio | 0.09 |
| EPS Growth Past 5 Years | 14.77% |
| Current Ratio | 0.98 |
From the snapshot of some of Texas Roadhouse's fundamental numbers, it is evident that this is a healthy company, although there are some flaws.
Review Of Past Growth
Texas Roadhouse has delivered impressive earnings over the past 10 years, with EPS numbers increasing every year over the past 10 years, except 2004. EPS had grown 14.77% annually over the past five years, which is fabulous, although much of this growth could be attributed to the fact that the company was a small company, with less than $1B in revenue for most of the past 10 years.
| | | |
| --- | --- | --- |
| Year | EPS ($) | Growth |
| 2002 | 0.34 | - |
| 2003 | 0.47 | 38.2% |
| 2004 | 0.38 | (-19.1%) |
| 2005 | 0.42 | 10.5% |
| 2006 | 0.44 | 4.76% |
| 2007 | 0.51 | 15.9% |
| 2008 | 0.52 | 1.96% |
| 2009 | 0.67 | 28.8% |
| 2010 | 0.80 | 19.4% |
| 2011 | 0.88 | 10.0% |
| 2012 Company Estimate | 0.94-0.96 | 6.8%-9.1% |
This growth had been fueled by a steady increase in its number of stores and its stores' popularity. This increase in popularity is shown in the chart below, from Google Trends. This chart tracks the number of people who had searched "Texas Roadhouse" on Google over the past eight years (from 2004). This is a novel way to observe the traffic of a store, and it is very useful in my opinion. This also confirms that Texas Roadhouse is getting more and more popular over time and not the other way round, which would be a warning sign that it could be getting unpopular with the public.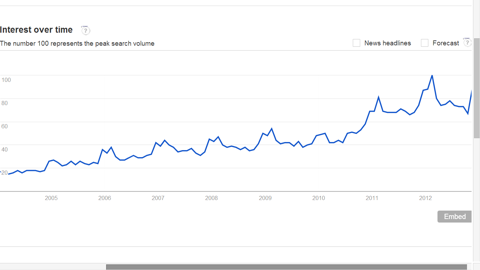 Future Growth
Texas Roadhouse's mission is "Legendary Food and Legendary Service," which has propelled the company forward with growth over the past few years and will continue to do so in the future. With this mission of always serving customers with top-grade food and service, it has recently been named the #1 steak house in America through a recent consumer survey. The survey is based on 130,000 restaurant visits made by consumers over a span of around nine months, and then rated on a variety of qualities, which includes atmosphere, craveability, cleanliness, food quality, likelihood to return, and a few other qualities. Furthermore, the online reviews for Texas Roadhouse's food have been very favorable, with a 4-star (out of 5) rating given for most of the reviews (here is a Google search for "Texas Roadhouse reviews").
Consumers are not the only ones who are happy, employees are generally happy with their job too, with the average employee review on glassdoor.com at 3.5 stars out of 5 and the average employee review at indeed.com at 4.1 stars out of 5. The company's employee reviews are one of the highest I have ever seen, with other eateries like Burger King (BKW) only getting a 3-star rating, Brinkler (NYSE:EAT) getting a 3.3-star rating and McDonald's (NYSE:MCD) getting a 3.1-star rating. In addition, it hosts a National Meat Cutting Challenge yearly (since 2001) to recognize efforts of its steak cutters. This will fuel the steak cutters, among the most important employees in the restaurants, to do the best they can in their daily efforts. In my opinion, this will maintain the quality of the food and will keep consumers going back for another high-quality meal in the future.
Favorable Fundamentals
Firstly, its ROE has been maintained above 10% since its IPO, and had locked in a good 13.31% ROE over the first three quarters of 2012. A high ROE indicates that a company's management is using shareholders' money more effectively, which is good both for the company and its shareholders. The definition of ROE is the amount of net income returned as a percentage of shareholders' investments. This measures a corporation's profitability by revealing how much profit a company generates with the money shareholders have invested. The table below shows Texas Roadhouse's ROE number over the past eight years (since IPO).
| | |
| --- | --- |
| Year | ROE (%) |
| 2005 | 13.10 |
| 2006 | 10.70 |
| 2007 | 10.70 |
| 2008 | 10.60 |
| 2009 | 11.20 |
| 2010 | 11.70 |
| 2011 | 12.90 |
| 2012 (First 3 Quarters) | 13.31 |
Secondly, its Book Value per Share number had been increasing since its IPO in late 2004, to $7.78 per share as of the latest quarter. The BVPS value is calculated by subtracting all liabilities from all assets, then dividing it by the total number of outstanding shares. The table below shows Texas Roadhouse's BVPS values since its 2004 IPO.
| | |
| --- | --- |
| Year | BVPS (Book Value Per Share, $) |
| 2005 | 3.28 |
| 2006 | 4.30 |
| 2007 | 4.91 |
| 2008 | 5.14 |
| 2009 | 6.02 |
| 2010 | 6.96 |
| 2011 | 7.18 |
| 2012 Latest Qr. | 7.78 |
Thirdly, the company has a low amount of debt. It has kept debt below $150M and its debt/equity below 0.4 over the past eight years. The company has $51.4M in debt as of the latest quarter, and a low debt/equity ratio of 0.09. These numbers are fabulous in my view, especially that its debt/equity number (of 0.09) is below my personal limit of 0.5. This shows that the company is earning enough to not consistently rely on debt to expand itself. The debt/equity ratio, on the other hand, shows the proportion of equity and debt the company is using to finance its assets, and the higher the ratio, the more debt, rather than equity, is financing the company. A high level of debt compared with equity can result in volatile earnings and large interest expenses. Below is a table containing Texas Roadhouse's debt numbers over the past eight years.
| | | |
| --- | --- | --- |
| Year | Debt ($) | Debt/Equity Ratio |
| 2004 | 13.53M | 0.08 |
| 2005 | 6.88M | 0.03 |
| 2006 | 35.36M | 0.11 |
| 2007 | 66.48M | 0.18 |
| 2008 | 132.48M | 0.37 |
| 2009 | 101.18M | 0.24 |
| 2010 | 51.91M | 0.10 |
| 2011 | 61.60M | 0.13 |
| 2012 Latest Qr. | 51.35M | 0.09 |
Lastly, its days' inventory number has been dropping over the past eight years. This number is currently at 3.50, which means food stays in its storage for approximately 3.5 days before it is being sold, therefore the food served is still very fresh. Days' inventory is a measure of a company's performance that gives investors an idea of how long it takes the company to sell its goods in the inventory. This is another positive point about the company as this is a sign that sales are improving. Below shows the days' inventory numbers for Texas Roadhouse over the past 10 years.
| | |
| --- | --- |
| Year | Days Inventory |
| 2004 | 6.40 |
| 2005 | 5.90 |
| 2006 | 6.40 |
| 2007 | 5.80 |
| 2008 | 4.10 |
| 2009 | 3.80 |
| 2010 | 4.10 |
| 2011 | 4.30 |
| 2012 Latest Qr. | 3.50 |
Other Merits
In addition, insiders own a considerable 11% of the stock float, which is very good in my opinion. This ensures that the interests of its management are in line with its shareholders, and that management would strive to govern the company to the best of its abilities. Here is the list of major holders, with CEO and Founder Mr. Wayne Kent Taylor owning the most of all the insiders - 6,500,000 shares, or about 9% of the stock float.
Furthermore, the company had also been producing shareholder value by a number of ways: dividends and share buybacks. Although the number of shares outstanding had increased overall since the IPO, management has reduced the number of shares outstanding in recent years, and has set aside an amount of cash to repurchase shares, as seen from the excerpt below from Texas Roadhouse's Q3 2012 conference call.
Since we did not repurchase any shares of stock during the quarter, as of the end of the quarter, we had $100 million still available under our board authorization.
The company had also initiated a $0.32 dividend last year and will pay a dividend of $0.36 this year. This is an attractive 2.17% dividend for investors to supplement their portfolios. The dividend may not be very high, but it is already more than what I expect, especially for a small cap like Texas Roadhouse. Even so, the company's payout ratio (net income given out as dividends) is still at a low 35.21%, which shows that the dividend is by no means unsustainable. The table below shows the company's dividend payments.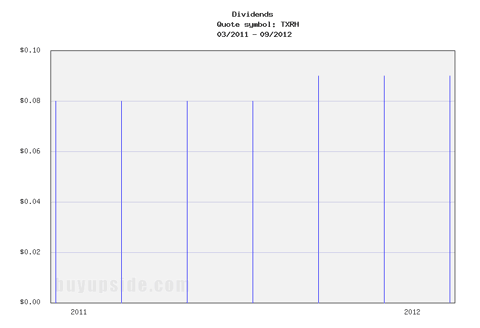 Valuation
| | | |
| --- | --- | --- |
| P/E | P/B | P/S |
| 16.92 | 2.13 | 0.95 |
Texas Roadhouse is trading at 16.92X earnings, 2.13X book value and 0.95X sales, which is acceptable in my view. Its P/E, when compared with its closest competitors, is in line with valuations. Competitor BJ's Restaurants (NASDAQ:BJRI) has the highest valuation of all, with a P/E of 28.46 and a P/S of 1.35; Brinkler has a P/E of 14.95 and a P/S of 0.76; and Darden (NYSE:DRI) has a P/E of 14.63 and a P/S of 0.85. Besides this, its P/E ratio of 16.92 is near its historic low of 14.95 set in 2008, and is considerably lower when compared with its highest P/E of 62 set shortly after its IPO in the winter of 2004.
Next, the Price/Book (P/B) ratio, which is a supplement to the aforementioned BVPS, is a comparison of a stock's market value to its book value. At 2.13, it is considered to be an acceptable number. It is also the lower than most of its competitors. For me, I consider P/B ratios of above 4 to be overvalued, but it varies from one industry to another, like all other valuation ratios.
Key Risks And Flaws
Regardless of how many merits a company has, it is bound to have some flaws. Here, I list some of Texas Roadhouse's risks and flaws.
Low Current Ratio
Firstly, the company's current ratio is at a low 0.98, which could be potentially dangerous for the company. The formula for the current ratio is current assets divided by current liabilities. A current ratio below 1 (like Texas Roadhouse has), means that the company has more current liabilities than assets, and therefore the company could have difficulties paying off short-term obligations. Although Texas Roadhouse's current ratio is not far below 1, I still view this as a flaw.
Current Assets
Current Liabilities
$118.37M
$120.65M
Current Ratio: 0.98 (here is the link to the company's balance sheet)
Rising Beef Costs
Secondly, the company's profit margin could be reduced due to rising beef costs, which is the main ingredient that the company has to use in its meals. As seen from the chart below, the price of live cattle (which essentially is beef) has been increasing steadily over the past five years and could increase further in the future judging by current circumstances. In addition to beef, the other meats that the company has to use have also been rising in their costs, which could further threaten its profit margins.
The management at Texas Roadhouse has also expressed its concerns for rising beef prices in its latest Q3 2012 conference call, as shown in the excerpt below.
We continue to battle an inflationary commodity environment in a challenging consumer environment. (...) Looking ahead to next year, we will be facing some cost uncertainty, especially with our beef cost.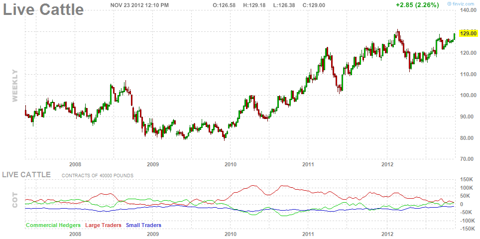 Intense Competition
Texas Roadhouse also operates in a highly competitive environment, and it does not solely compete with restaurants with similar concepts, it also competes with larger mid-priced casual dining restaurants like Brinkler, Darden and even Buffalo Wild Wings (NASDAQ:BWLD). In addition, with the number of competitors around, a good restaurant site location would undoubtedly be more difficult to find, and top-notch food and service will have to be served to increase income and fuel further growth.
The Takeaway
Overall, Texas Roadhouse looks like one delicious buy over the long term, with a host of merits. Although it has a few flaws, I believe that its merits make up for its flaws and make the company a favorable investment for the long run. With fast growth in place and an extra dividend to help, Texas Roadhouse looks like it is worth a steak.
Disclosure: I have no positions in any stocks mentioned, but may initiate a long position in TXRH over the next 72 hours. I wrote this article myself, and it expresses my own opinions. I am not receiving compensation for it (other than from Seeking Alpha). I have no business relationship with any company whose stock is mentioned in this article.