It's been a volatile few months for shares of Apple (NASDAQ:AAPL). After rallying to a new high above $705, Apple shares fell about $200, almost losing the $500 level recently. Since then, Apple has bounced back a bit and shares now stand at almost $590. There has been plenty to talk about when it comes to Apple. The new iPad Mini, iPhone 5, and poor gross margin guidance are just a few noteworthy items.
Recently, I discussed a number of reasons why the Apple fall has taken place. In my opinion, it came down to a bunch of math that investors just didn't understand, referring to Apple's guidance and gross margin forecast. Today, I'm going to build on some of those numbers. I will take a look back at Apple's financial performance over the last few years, and use those numbers to look ahead to fiscal 2013.
Looking Back: The Past Three Years
Before I can look ahead to the current 2013 fiscal year, I must show some headline numbers for Apple over the past three years. All of these numbers were taken from Apple's earnings report page. We can use these numbers as a base to form projections for the next couple of years. The following table shows the two numbers everyone focuses on: revenues and earnings per share. Also included are the expense rates for Apple, as a percentage of revenues. So, for example, when cost of goods sold tallied 60.62% in 2010, that meant gross margins for the year were 39.38%.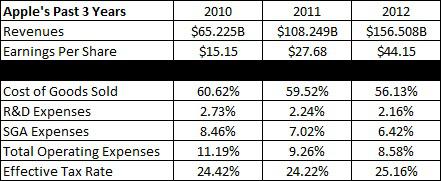 You'll notice that both the cost of goods sold and operating expense rates came down over the period. Apple was able to keep costs in check, and that is why margins rose nicely. However, I noted in my Apple math article (linked above) that the iPhone 4S and its high gross margins may have spoiled investors, with gross margins peaking at 47.37% in fiscal Q2 2012.
Going forward, I will use this numbers as well as Apple's Q1 guidance to project what Apple will do this year. One scenario will be a base case, in which I use a sort of "worst-case scenario" for most of the numbers. The second projection will start with a revenue number comparable to what analysts are expecting for the year, with some improvement in other categories. The final scenario will be a "best case" type of scenario. In each scenario, I'll explain each number used and its significance.
No. 1: Base/Worst Case
The first scenario is mostly based off a lot of numbers I presented in my prior article, the link in the opening of this article. Apple guided to $52 billion in revenues for fiscal Q1 this year. If you were to normalize last year's Q1, because it was 14 weeks instead of 13, Apple is guiding to 20.86% growth for a 13-week period. So for this period, I will assume Apple has 20.86% revenue growth for each quarter of the year. Apple also guided to 36.00% gross margins for the quarter. As it described, a lot of its newer products were more expensive, plus it incurs higher costs when it introduces new products. Since it is launching several new products during the quarter, gross margins are expected to be very low this quarter, but Apple expects them to rebound going forward.
For this scenario, I'm going to assume 36.00% gross margins for the entire year. Again, this is just a base case, and I'll be building on this case in the next two sections. For this case, I'm also going to assume that Apple's operating expenses jump back up to 9% of revenues. For these projections, it does not matter what the breakdown of R&D vs. SG&A expenses are because overall a dollar of expense in either equals the same amount. If you remember, Apple's operating expenses were 8.58% of revenues in fiscal 2012.
There are three other numbers you need to know. First will be Apple's "other income" items. This number is between operating income and pre-tax income. In 2012, Apple produced "other income" of $522 million. For this case, I'm assuming that other income drops to $300 million for the year, or $75 million per quarter. Also, this case assumes Apple's effective tax rate rises to 26.00% for the year, which would represent about a similar rise as the increase we saw from 2011 to 2012, which was 24.22% to 25.16%. The rise in the tax rate could be due to a number of factors, including higher net income in higher taxed countries. The final number I'll use is 954 million diluted shares, as used for diluted EPS numbers. Apple had 945.355 million diluted shares, as used for diluted EPS numbers in fiscal 2012, up about 9 million from the prior year. This case assumes about an equal rise, meaning Apple's share repurchase plan does not provide much help to the rising share count.
So what happens in the base, or worst-case, scenario? Well, Apple generates revenues of $185.158 billion. While that represents nice growth from 2012, that figure would miss current analyst estimates by nearly $8 billion. Apple would have gross margins of 36.00%, operating margins of 27.00%, and net profit margins of 20.10%. All three of those would represent significant declines over the prior year period (more on the margins later). For the bottom line, Apple would generate net income of $37.216 billion. Based on the above share count, Apple's earnings per share would be $39.01. That would represent a significant decline from last year's $44.15, and well below the current analyst average expectation for $49.32.
No. 2: Middle/Analyst Average Case
The first scenario may have seemed like a doom and gloom one, and it was supposed to be. It forms a base for what Apple could do if things turn out better. The second scenario assumes that Apple revenues will be approximately what analysts currently think they will be for the fiscal year. That number stands at $192.95 billion as of Sunday.
But the takeaways here are that Apple does a lot better in the other items, primarily the expense categories. In this case, Apple's gross margins for the year are 40.00%. This assumption is based off the fact that Apple provides conservative guidance, and that Q1 margins will probably end up somewhere between 37.00% and 38.00%. As Q1 is expected to be the peak of the cost curve, Apple's gross margins will improve over the next three quarters, and for the year a 40% average seems fairly reasonable. Apple's gross margins were 43.87% in fiscal 2012, so this still represents a bit of a decline, but the new products are more expensive to produce, and the iPad Mini will hurt margins.
In the middle case, total operating expenses come out at 8.5% of revenues, slightly below the 8.58% from fiscal 2012. Also, other income rises to $600 million on the year, from $522 million in 2012. This case also assumes that Apple's effective tax rate declines slightly to 25.00%, from 25.16% in fiscal 2012. Finally, this case assumes that the diluted share count for EPS purposes rises to 951 million, where Apple's repurchase plan does help limit the rise in the share count somewhat.
Obviously, in this case, Apple does a bit better with nearly $193 billion in revenues and 40.00% gross margins. Operating margins come in at 31.50%, which is still down a bit from 2012, but still 28 basis points above 2011 levels. Net profit margins come in at 23.86%, slightly below the 2011 figure just because of the higher tax rate. In this scenario, Apple's earnings per share are $48.41. That's a solid figure, but about 90 cents below where analyst estimates stand. But we can generate a good deal of information there, as we can see basically where analysts are overall. They are probably looking for gross margins above 40.00% for the year, and net margins would need to be above 24.00% based on that revenue figure.
No. 3: High/Best Case
In this case, Apple produces yearly revenue growth of 30% each quarter. For fiscal Q1, I am starting with an adjusted 13-week figure for last year's period. In this case, Apple does about $199.16 billion in revenues, or about $6.2 billion more than the middle case and what analysts are expecting right now. This case assumes that Apple does well, but also prices in somewhat of a chance that a new iPhone could be released in September, like Apple did with the iPhone 5.
In this case, Apple does really well with all of its expenses, compared to where expectations are now. For the year, gross margins tally 42.00%. While that is still down from the 43.87% figure reached in 2012, it's not the huge drop many feared when Apple guided to 36.00% for fiscal Q1. Also, Apple does quite well controlling operating expenses, which come in at just 8% of revenues, continuing the recent downward trend in that category over the past few years.
Apple also does exceptionally well in producing $800 million in other income. The tax rate also comes back down to 24.00%, which really would help the bottom line number. If Apple generates more income in lower taxed countries, the tax rate could easily decline to this level. This case also assumes that the share repurchase plan does limit the share count rise to just 948 million shares. The count still goes up, but by less than one-third the amount of the increase from 2011 to 2012.
I'm sure Apple investors would love this scenario where the company just misses $200 billion in revenues. Gross margins at 42.00% would definitely exceed current estimates in my opinion. Operating margins of 34.00% are still down 130 basis points from 2012 levels, but up 278 basis points from 2011 levels. In this scenario, net profit margins of 26.15% are down 52 basis points from 2012. But with the higher margins and lower share count, Apple's earnings per share come in at $54.93. That's about $5.60 ahead of current expectations, yet still $4 below the highest estimate on the Street.
Explaining the Significance of These Numbers
Like almost any other person out there, I can create and throw out any number out there and it seems logical. I can make a case that based on its conservative guidance, Apple will do more than $52 billion in revenues this quarter. I can state that if this is the true height of the cost curve, Apple's gross margins should see decent improvement in quarters two through four. But these numbers are just that, numbers. Investors may not truly understand the importance of each, which is why I'm providing some extra information here. For the purposes of the arguments in this section, assume the middle, or analyst average revenue number. We'll work off that.
So let's start with gross margins. This is obviously the most important expense category. In the middle case, the cost of revenues is almost $116 billion dollars, at a 60% of revenues (40% gross margin) rate. That's almost four times as much as the $32 billion of expenses between the two operating expenses and income taxes. Gross margins are also crucial for the bottom line. A 1% total change in gross margins, to either 39% or 41%, impacts earnings per share by $1.52 in this example. That means that even a 10 basis point change in gross margins impacts earnings per share by $0.15. That doesn't seem like much when you are talking about nearly $50 in earnings, but every little bit makes a difference.
I can skip the impact of operating expenses, because they are similar to gross margins. Every 10 basis points equals about 15 cents. When it comes to "other income" items, that number is constantly overlooked. Apple generated $522 million in other income last year, which seems small compared to over $156 billion in revenues. But in the middle case, each $100 million in other income (assuming all other variables stay constant) represents about $0.08 in earnings per share. So the difference between Apple producing say $400 million in other income versus $800 million is about $0.31 when it comes to the bottom line. Again, a few cents here and there don't seem like much, but when they add up, you're talking about dollars, and not cents.
The tax rate seems the least important, being toward the bottom of the income statement, but under this scenario, Apple is paying more than $15.3 billion in taxes, which represents nearly 8% of revenues. A big change in the tax rate will certainly affect the bottom line. When it comes to the tax rate, every 25 basis point change is about a $0.16 cent change to the bottom line. So a one full percentage point change, say 26% instead of 25%, is a $0.65 difference on earnings per share. The final change is in regards to the diluted share count, which is used to determine earnings per share. Under the middle case, every million shares results in about a 5 cent difference to earnings per share. So depending on how many shares it buys back compared to things like executive options dilution, a 6 million share difference could impact the bottom line by about $0.30.
Recap/Final Thoughts
I've presented a ton of numbers in this article over the three cases, so I will provide a recap table below to show an overview of each case. The three cases will be compared against fiscal 2012 results.

When it comes to Apple's current fiscal year, I can guarantee one thing: that none of these cases will be what actually happens. However, I was not trying to predict what it will actually do in this article. The point here was to show a variety of scenarios that could occur, and what the significance of each number really is. Apple might come in around the middle case for gross margins, but the best case for operating expenses, and worst case for other income. Anything is possible.
All of this expected growth makes Apple a stock that should be owned going forward. You have a company expected to grow revenues by about 26% (adjusting for last year's extra week), along with a 1.85% dividend. This company sells some of the hottest products on the planet, and who knows what will be next. Apple is also buying some stock back now. Apple has upside remaining, but it is possible that fiscal cliff worries could push markets lower. Investors looking to get into Apple may want to start a small position here and buy more if we go lower. The discussion over Apple's valuation is an interesting one to have, and I'm sure many are looking for my thoughts there. I'll cover Apple's valuation in my next Apple article, which I expect to have out the first week of December.
Disclosure: I have no positions in any stocks mentioned, but may initiate a long position in AAPL over the next 72 hours. I wrote this article myself, and it expresses my own opinions. I am not receiving compensation for it (other than from Seeking Alpha). I have no business relationship with any company whose stock is mentioned in this article.
Disclaimer: Investors are always reminded that before making any investment, you should do your own proper due diligence on any name directly or indirectly mentioned in this article. Investors should also consider seeking advice from a broker or financial adviser before making any investment decisions. Any material in this article should be considered general information, and not relied on as a formal investment recommendation.