3M Co. (NYSE:MMM), part of the S&P 500 and the Dow Jones Industrial Average, is a diversified technology and manufacturing company that operates in six business segments: industrial transportation, healthcare, consumer and office, safety, security and protection services, display and graphics, and electro and communications. MMM, associated with strong innovation, is known especially for popular consumer products, such as Scotch Tape and Post-It Notes. With MMM's innovative culture, bottom-line focus, and low-cost manufacturing, it will continue to enjoy a wide moat around its business and is positioned well for the long-term growth. Investors can start to pay attention to this stock due to its cyclical nature in an industry of diversified industrials.
Recent Developments
On Nov. 1, 2012, 3M earned a top spot on Booz & Company's list of most innovative companies for the third consecutive year, ranking No. 3 behind Apple (NASDAQ:AAPL) and Google (NASDAQ:GOOG).
On Nov. 12, 2012, the board of directors of 3M declared a dividend on the company's common stock of 59 cents per share for Q4 2012, payable on Dec. 12, 2012, to the shareholders of record at the close of business on Nov. 23, 2012. 3M has paid dividends to its shareholders without interruption for more than 96 years. 3M has also been named to the Dividend Channel "S.A.F.E. 25" list. 3M had the list because of these qualities: S -- solid return; A -- accelerating amount; F -- flawless history; and E -- enduring.
On Nov. 16, 2012, MMM stated it had received final antitrust clearance from the Austrian Federal Competition Authority regarding acquisition of Ceradyne Inc. (CRDN). The deal is worth $670 million net of cash, short-term investments, and debt acquired, which represents a premium of 43% to CRDN's closing price on Sept. 28, 2012, of $24.43. As reported, "3M expects the acquisition to add a cent to its earnings in the first 12 months following the completion of the deal, excluding adjustments. On a GAAP basis, 3M expects the deal to reduce its earnings by 5 cents."
Fundamentals Overview and Technical Analysis
With the data gathered from MorningStar, a quick comparison of 3M's keys stats to its competitors in the industry of diversified industrials will be reviewed below. The competitors include Johnson & Johnson (NYSE:JNJ), Sherwin-Williams Company (NYSE:SHW), and Avery Dennison Corp. (NYSE:AVY). Despite the trailing EPS growth (three-year average), 3M achieved a higher revenue growth (three-year average) of 5.4 as compared to the industry average of -0.2. 3M also demonstrated more efficient operation with higher operating margin of 21.6% TTM and net margin of 14.9% TTM as compared to the averages of 15.4% and 8.6% TTM, respectively.
The strength of 3M is also shown by its higher ROE of 25.5, as compared to the average of 14.9, and debt to equity of 0.3, comparing to the average of 0.8. 3M is currently undervalued with P/E of 14.4, as compared to the industry average of 16.3. With 3M's solid balance sheet and consistent cash flow, long-term investors should put 3M on their watch list. Investors need to be aware that 3M tends to feel the pinch of economic slowdowns relatively early, and near-term headwinds could crimp the firm's results for several quarters, as reported by MorningStar.
3M closed at $90.09 with 0.21% loss on Nov. 26, 2012. The volume of 1.91M is only 61.22% of 30-day average volume of 3.12M. 3M had been trading the range of $75.55-$95.46 in the past 52 weeks. The MACD (12, 26, 9) had been showing a bullish sign since Nov. 19, 2012, and the MACD difference continued to diverge.
As seen in the chart below, 3M is currently trading between 50-day MV of $90.93 and 200-day MV of $88.04. The momentum indicator, RSI (14), is showing an increasing buying momentum at 53.60. If MMM continues to go up and breaks its 50-day MV, the next resistance will be $92.29, R1 pivot point, followed by $97.56, R2 pivot point.
Click to enlarge image.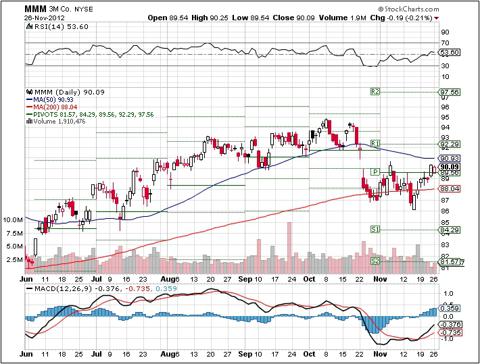 Click to enlarge
Source: StockCharts.com.
Options Play
The long-term outlook for 3M remains strong and stable, and the short-term trend for 3M is technically bullish. However, as 3M approaches its resistance of 50-day MV and as the U.S. fiscal cliff looms, a more conservative options strategy of credit put spread will be reviewed below for long-term investors who would like to acquire 3M stock at a reduced price while gaining some upside potential.
Short 1 times April 20, 2013, put at the strike price of $80.00 for the credit of $1.35
Buy 1 times April 20, 2013, put at the strike price of $75.00 for the cost of $0.76
The maximum profit is $0.59, and the maximum risk/margin requirement is $4.41 ($5 dollar loss - $0.59 credit received). If 3M closes above $80 on April 20, 2013, 13.38% return will be profited. If 3M falls below $80 upon options expiration, the 3M stock will be purchased at $79.41, which is 11.85% lower than the current price of $90.09. The projected annual dividend yield will be 2.97% based on the acquisition cost of $79.41 and projected dividend of $0.59 per quarter. 3M should be a safe, stable long-term investment with the annual dividend yield of 2.97%. For more conservative investors, it maybe safer to wait until the concern of fiscal cliff is resolved before setting up the long-term position.
All prices are quoted from the close on Nov. 26, 2012, and all calculations are before fees and expenses.
Disclosure: I have no positions in any stocks mentioned, but may initiate a long position in MMM, JNJ, AAPL over the next 72 hours. I wrote this article myself, and it expresses my own opinions. I am not receiving compensation for it (other than from Seeking Alpha). I have no business relationship with any company whose stock is mentioned in this article.
Disclaimer: Investors and traders are recommended to do their own due diligence and research before making any trading/investing decisions.