Intel (NASDAQ:INTC) has seen its stock fall significantly over the last couple of months. Its hard to believe that such a strong company can fall so quickly. Instead of fearing the price drop, investors should take advantage of it.

Click to enlarge
To put things in perspective I decided to perform a Discounted Cash Flow (DCF) analysis. I used fairly conservative values when modeling for the future of the company.
I used an EBIT growth rate of -1%. This means that each EBIT should decline 1%. Considering that Intel has grown EBITDA nearly 73% in the last five years, a decline is still highly unlikely.
For the tax rate, I used 32%. The company's effective tax rate has been around 29%. Even if the government plans to increase taxes for corporations, Intel will most likely not be effected. There are many corporations that are paying a significantly lower tax rate that Intel and they are the likely targets for the government.
For depreciation and amortization, I used $6 billion. Last year, the company reported total D&A a little more than $6 billion. I expect this to be normal and there probably won't be any significant change going forward.
Intel typically spends around $5 billion for capex. Last year, they spent nearly $11 billion. I don't think this is going to be a trend going forward. While I do see Intel increasing capex, I don't see it being more than $9 billion.
Change in working capital has varied quite a bit each year. Since it was difficult to figure out what would be an appropriate estimate, I had to overestimate in order to get a conservative value. I used $500 million, which is more than sufficient considering most of the time, the changes have been under a $400 million. In 2008, the change was greater than a billion, which can be attributed to an increase in inventory due to the recession.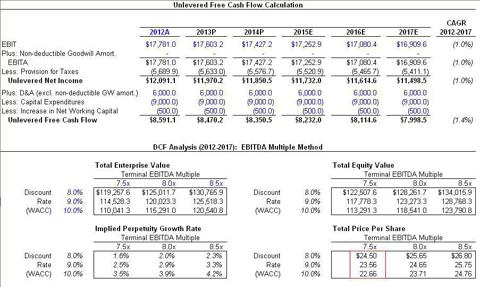 Click to enlarge
In order to understand the discount rate (OTC:WACC) Intel deserves, we need to understand the risk behind the company. Intel is a fairly strong company with a monopoly-like status. Therefore, investors believe that Intel has less risk associated with the stock. An 8% WACC is pretty generous considering Intel gets its debt significantly cheaper than that. Intel's stock is also yield 4.5%, so investors are not exactly expecting a company like Intel to deliver an 8% return annually. However, since we are conservative in our analysis, if we assume Intel has a WACC between 8%-10% at a 7.5x EBITDA multiple, Intel is clearly undervalued.
Based on the assumptions, Intel's stock should be trading at least above $22.66, but I believe it can easily trade at the 8% discount price of $24.50. Buying Intel now would be a wise choice for not only long-term holders, but also income investors. Intel is undervalued and I expect the market will realize this eventually and the stock will rise.
Disclosure: I am long INTC. I wrote this article myself, and it expresses my own opinions. I am not receiving compensation for it (other than from Seeking Alpha). I have no business relationship with any company whose stock is mentioned in this article.