Perhaps it is just me, but when I look at market movement over the past several years, I am struck with the same sensation that I feel after the summer solstice. Examine the graph below, which plots the course of the current bull market:
Figure 1: S&P 500 Performance Since March 2009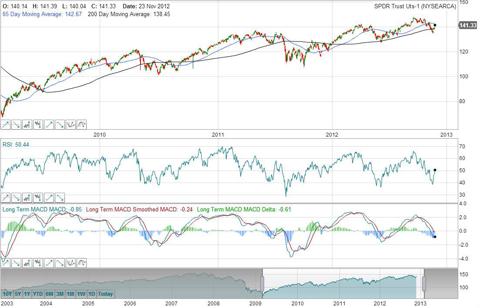 Just as the days get shorter and shorter as summer turns to fall and then winter, the rallies of this bull market have become both shorter in length and weaker in appreciation. The table below plots each of these market rallies in both duration and appreciation.
| | | | |
| --- | --- | --- | --- |
| Time Frame | Gain | Duration | Percentage Decrease |
| March '09 - April '10 | 75% | 58 weeks | 56%, 26% |
| July '10 - May '11 | 33% | 43 weeks | 25%, 26% |
| Oct. '11 - March '12 | 25% | 26 weeks | 40%, 40% |
| May '12 - Sept. '12 | 15% | 15 weeks | 40%, 43% |
| Nov. '12 - ??? | ??? | ??? weeks | target: 40%, 40% |
Beginning in March 2009, the S&P 500 rallied off its bottom for a gain of approximately 75% over the course of 58 weeks of trading until correcting in April of 2010. On average, each rally thereafter has been 40% weaker and 40% shorter. It appears that a bottom has been put in place for the S&P 500 at approximately 1335 on a closing basis on November 16, 2012.
An indicator that has properly timed the tops of the previous two rallies is a moving average convergence divergence indicator (MACD). Setting the sampling time of the MACD indicator to a long duration (25,50,18) has given an early signal to exit the market as momentum wanes.
A target to reenter the market is when the SPY has become very oversold. Part of this strategy is to stop convincing yourself when the market is overbought that it will not become oversold in the near future. In other words: you should do what feels wrong by forcing yourself to sell into an overbought market and buy only when the market is oversold. It is interesting to note that while rallies have become shorter, buying opportunities have become shorter as well. A trading strategy to take advantage of this feature is to enter the market as soon as the RSI drops below 40, or exit if it ever exceeds 70.
Conclusions
What I believe these oscillations are evincing is movement of large amounts of money by hedge funds and other active traders in and out of the market. Notice the recent Apple (NASDAQ:AAPL) sell-off and consider if it is a coincidence that Apple is the most owned stock among the hedge fund community. What we have is a small group of well-pocketed individuals who chase the market up and down. As rallies have become weaker, these individuals have become more and more active, creating a "wave-like" effect in the market as momentum has overtaken company or economic fundamentals. It is probably also not surprising that hedge funds had their maximum exposure to the market on November 2nd, coinciding very closely to the market top.
If the trend of weakening rallies continues, I expect the current rally to persist until the end of January 2013 with a target price of approximately 1500 on the S&P 500 (incidentally, this means the rally is more than halfway to completion already). While I am not a trader by any means, the high volatility of the market and penchant for overreaction greatly lowers the opportunity cost of waiting for sizable pullbacks. As a result, it is my opinion that investors should use rallies to raise cash and wait for such pullbacks in high quality companies.
Large, long generational bull markets are only possible with equally long holding times. Current holding times for stocks are at the lowest level they have ever been. As a result, the next generational bull market is likely quite a long ways off as of yet. While buy and hold will generate average market returns, buying panic and selling complacency may prove far more profitable.
Figure 2: Average Holding Period for Stocks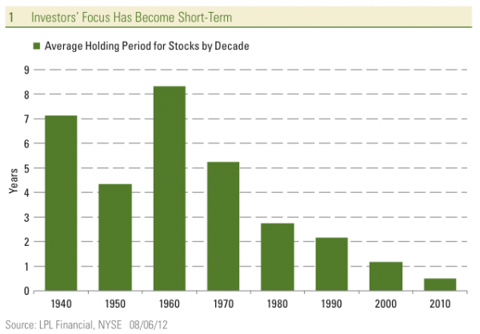 Disclosure: I am long AAPL. I wrote this article myself, and it expresses my own opinions. I am not receiving compensation for it (other than from Seeking Alpha). I have no business relationship with any company whose stock is mentioned in this article.