Just about every company paying a dividend yield has had extremely strong stock gains over the last year. Main Street Capital Corporation (NYSE:MAIN) has been no exception to this rule. Though the company continues to raise the dividend, the current yield has dropped to 6%.
The company is a principal investment firm that primarily provides long-term debt and equity capital to lower middle market companies and debt capital to middle market companies.
Now that the company has gained 69% over the last year, the question remains whether investing in a BDC that only pays a 6% dividend is worth it. The company has a primary focus in the lower middle market that has a favorable investment opportunity as fewer lenders have competitive offerings for this sector after the financial crisis.
Q3 2012 Highlights
The company reported the following highlights for Q3 2012:
Total investment income of $23.0 million, representing a 34% increase from the third quarter 2011
Distributable net investment income of $16.2 million (or $0.51 per share), representing a 48% increase from the third quarter 2011
Net Asset Value of $17.49 per share at September 30, 2012, representing an increase of 15% compared to $15.19 per share at December 31, 2011
Paid third quarter 2012 dividends of $0.435 per share, or $0.145 per share for each of July, August and September 2012, representing an 11.5% increase compared to third quarter 2011 dividends
Declared fourth quarter 2012 dividends of $0.45 per share, or $0.15 per share for each of October, November and December 2012, representing an 11.1% increase compared to fourth quarter 2011 dividends
Estimated spillover taxable income (taxable income in excess of dividends paid) at September 30, 2012 of $30.3 million, or $0.96 per share
Typical of the last four quarters, these earnings beat analyst estimates by $0.03. With a Q3 dividend of only $0.435, the earnings easily surpassed the payout, increasing the estimated spillover taxable income to nearly $1.
Net Asset Value
While the stock has soared during the last year, the Net Asset Value (NYSE:NAV) has only increased 15%. This leaves the $30 stock considerably above the NAV of only $17.49 as of September 30th. Do investors really see value at these levels?
According to the below chart, the company trades at the highest NAV of a comparable group including Ares Capital Corp (NASDAQ:ARCC), American Capital (NASDAQ:ACAS), KKR Financial (KFN), and Triangle Capital Corp (NYSE:TCAP). All of these companies have different variations of investment plans whether debt, equity, or mortgages, yet the basic thesis of investing in small to mid sized companies remains common.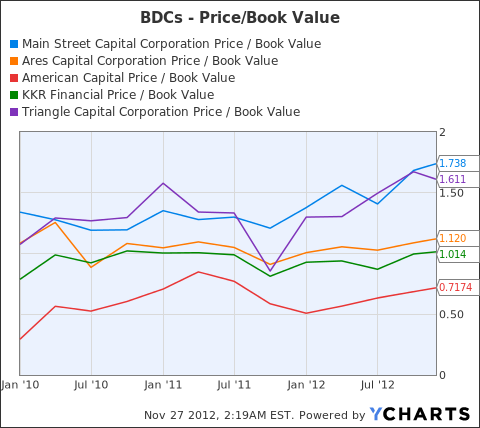 MAIN Price / Book Value data by YCharts
Dividends
The company sports a regular dividend yield of 6% and announced a special dividend of $0.35 payable in January 2013. As the spillover income hits nearly $1, the special dividend might become a consistent payment. In such a scenario, the actual yield can be assumed at 7%.
Even at this level the dividend yield is now lower than competitive investments such as Ares Capital, KKR Financial, and Triangle Capital Corp. American Capital prefers to repurchase stock with the stock trading below NAV. See chart below: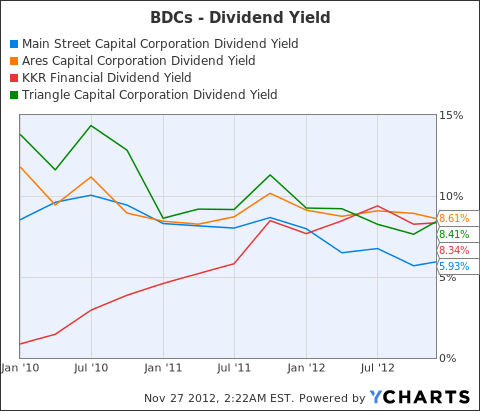 MAIN Dividend Yield data by YCharts
Stock Price
After a sell-off last week, the stock as rebounded back to 52-week highs. The high price on Monday ended up just shy of the 52-week high. The company has performed well compared to its peers in the BDC sector. Only the much-maligned American Capital, which still trades below book value, has a higher 1-year return.
1-Year Chart - BDCs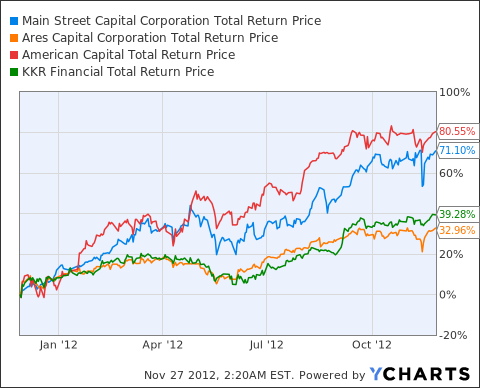 MAIN Total Return Price data by YCharts
Oddly, the stock increase this last year exceeds the roughly 48% increase in distributable net investment income to $16.2M, or $0.51 per share compared to the corresponding period in 2011. Unfortunately for investors, that increased income was dramatically diluted due to follow-on stock offerings in October 2011 and June 2012.
The diluted share count increased from 23.1M in Q3 2011 to average of 31.6M for Q3 this year.
Conclusion
While Main Street Capital has a solid dividend that easily surpasses government bonds, numerous other stocks in the sector provide more attractive investment options. Investors shouldn't expect any stock gains in the near term for Main Street Capital, though a total dividend yield of 7% keeps the stock worth holding compared to other investment categories.
Disclosure: I have no positions in any stocks mentioned, and no plans to initiate any positions within the next 72 hours. I wrote this article myself, and it expresses my own opinions. I am not receiving compensation for it (other than from Seeking Alpha). I have no business relationship with any company whose stock is mentioned in this article.
Additional disclosure: Please consult your investment advisor before making any investment decisions.