Osiris Therapeutics (NASDAQ:OSIR) is likely the most promising stem cell and regenerative therapeutics stock on the market. With increasing sales, over 2 million in revenue per quarter, lower R&D costs, and 40 million in assets, Osiris is a relatively low risk bet in a very risky bio-tech sector.
In 2008 Osiris stuck a deal with Genzyme to manufacture and distribute Prochymal. The deal could have cost Genzyme upwards of $1.4B in royalties and production, with $130M paid upfront to Osiris. This deal is the cause for much of Osiris's strong revenue until recently. In February 2011 French pharma giant Sanofi (NYSE:SNY) acquired Genzyme for upwards of $20B. As a result the manufacturing deal with Osiris was terminated, however, Osiris has recently managed to regain rights to Prochymal. While critics interpret the break from Sanofi as validation of Prochymal's poor prospects, Osiris has already found another manufacturing partner, Lonza, a Swiss based biotech.
With Prochymal approved in New Zealand and Canada, the U.S. should not be far in following, and revenue should grow to meet demand. The exact size of the market, and the amount of revenue, however, is difficult to estimate.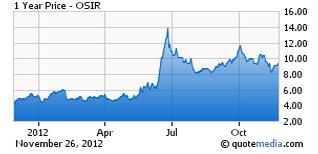 1 year graph of OSIR. The price has ranged from $8-$12 since the approval of Prochymal for Graft Vs. Host Disease
Sales of Orsiris's biosurgury products, Grafix and Ovation, acheived $2.2M in the 3rd quarter 2012, up 32% from Q2 2012, and up 6x year on year. This trend is encouraging, and suggests that Osiris might reach profitability by next year on current approved product sales alone.
Osiris also has good venture capital and management backed by Peter Frieldli's New Venture Tech. Mr. Friedli also backed Myriad Genetics (NASDAQ:MYGN), a medical diagnostics company that has gone from $3 in the 90s to be worth over $30 today. Mr. Friedli states his investment strategy is to "build companies who have successfully penetrated large markets with their products." With this is mind, we can conclude that Friedli wants to grow sales of Grafix, and Prochymal, possibly slowing R&D to build revenue.
Osiris does have a lot of projects in the pipeline, and is currently conducting several clinical trials (Crohn's, Diabetes, Cardiovascular disease), the result of which will no doubt increase volatility in the share price. However, with growing revenue, and increasing product approvals, Osiris arguably presents the most stable and low risk long-term bet in the regenerative medicine field.
Disclosure: I am long OSIR. I wrote this article myself, and it expresses my own opinions. I am not receiving compensation for it (other than from Seeking Alpha). I have no business relationship with any company whose stock is mentioned in this article.