Dell (DELL) currently has a market cap of about $16.5B, including about $5.5B in net cash. Over the last five years Dell has made many acquisitions. This short article explores whether those have been adding value at Dell, and whether the strategy is working. First, let's add them up:
| | |
| --- | --- |
| ASAP Software Express (2007) | $340M |
| EqualLogic (2008 | $1.4B |
| MessageOne (2008) | $155M |
| Perot Systems | $3.9B |
| Exanet (2010) | $12M |
| Compellent (2010) | $960M |
| SecureWorks (2011) | $612M |
| Force10 (2011) | $700M |
| Quest (2012) | $2.4B |
| TOTAL ANNOUNCED M&A (five years) | $10.5B |
To this we can add many acquisitions for which the deal price was not announced: Gale, Make, Clerity, Wyse, SonicWall, AppAssure - all just in 2012. One can also add various integration costs, and, of course, the 200 people at Dell with M&A responsibility, amounting to another $30M a year or so for the company. Dell has long been acquisitive, but recent acquisitions are a part of Dell's strategic shift in recent years - more or less since 2008 - to Enterprise solutions and services. Here's what Michael Dell had to say on the eponymous company's recent acquisitions: "We also continued to invest in our intellectual property portfolio by acquiring RNA Networks and Force10 Networks, companies that specialize in virtualizing and automating data center and cloud networks. We've acquired more than a dozen companies since we began executing our solutions strategy… These companies bring critical, market-tested IT modernization, desktop virtualization, storage and security capabilities to Dell that are enabling our end-to-end solutions strategy."
The company insists that the strategy is playing out nicely. Dave Johnson, Dell's Senior VP Corporate Development, said: "I believe we have a very good strategy, and we can align our acquisitions with that strategy." It's no secret that Dell is trying to be a little more like IBM (NYSE:IBM) (where Johnson headed M&A before moving to Dell) and "is reorienting itself around sales of products like servers, networking gear and storage systems to businesses and through consulting services." How is this strategy playing out for Johnson and Dell? Look at the chart below; Enterprise Solutions and Services - the area that the new strategy favors as the main future profit engine for Dell - has grown from 23% of Dell revenues to 29% since 2008.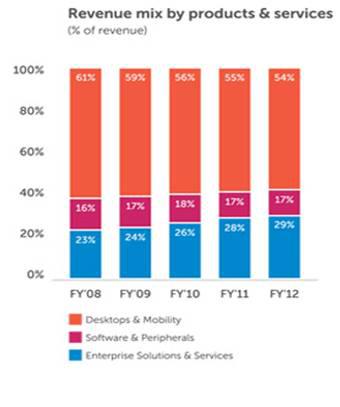 The strategy seems to be working, in that Enterprise Solutions & Services is growing as a proportion of Dell revenues. But if the strategy is working so nicely, then where is the value going? Except for a few months in Nov 2008-March 2009, Dell's share price has not traded at current low prices since 1997. In other words, over the 15 year period, notwithstanding dividends, buybacks, and net cash, Dell has not grown in value despite purchasing $10.5B in M&A. In fact, Dell's stock is down over 60% since it started its new strategy; sure that includes the global financial meltdown, but even from its 2010-2011 levels, the stock is down about 30% (while the NASDAQ is up about 30%).
Doing M&A right is absolutely crucial for Dell, since the company has made M&A its main catalyst of change and renewal. As a reflection of just how important M&A is to Dell consider the report from BusinessWeek in 2009 Dell that "directed heads of its business units to scout for deals, and even tied part of their compensation to company growth through acquisitions." M&A is not just a piece of their strategy - it is the dominant execution mechanism. To highlight this, consider look how Dell's R&D (i.e. the 'build' side of 'build v buy') compares with R&D at HP (HPQ), IBM (IBM) and Cisco (CSCO), for example.
| | | | | |
| --- | --- | --- | --- | --- |
| R&D / Rev (%) | DELL | HPQ | IBM | CSCO |
| 2012 | 1.38% | 2.82% | 5.85% | 11.91% |
| 2011 | 1.06% | 2.56% | 6.03% | 13.47% |
| 2010 | 1.18% | 2.35% | 6.08% | 13.08% |
Since Dell conducts relatively negligible R&D, one could reasonably expect to see Dell's strategy more clearly realized in its M&A. Admittedly Dell has thrown off significant cash as dividends, and holds about $5B net cash today. But the returns have certainly not, or not yet, justified the massive investments. Dell has invested over $10B in M&A and is still worth just $16B; it is very, very hard to see how those $10B spent provide value for money. Dell has so far seen only a slow shift in revenues to services. In a recent interview Johnson was twice asked over what time frame he measures returns on M&A, and he was fairly evasive. For now the company would have been better off giving this cash to shareholders, and this seems supported by the market sentiment: again, over the last five years Dell stock is down over 60%, compared with IBM's 112% gain, and NASDAQ's 12% gain.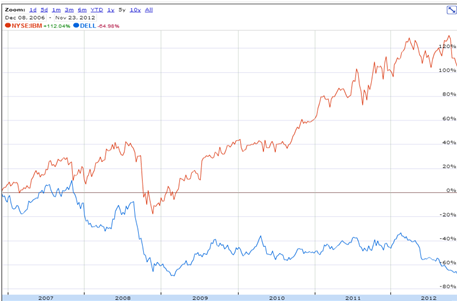 There is a way forward for Dell. As Johnson noted, PCs and Laptops are still Dell's biggest markets. Laptops and PCs account for 54% of revenues. PC sales are declining, but Laptops are constant at 31% of Dell revenue in recent years, and PCs are still over 20% of revenues. There may not be much revenue growth from these sectors, and margins are getting squeezed, there is still a lot of money to be made by selling services for those devices. Johnson also said in that interview that he's not focused on cost synergies, only on revenues. But that might be a part of the mistake. Merjerz users have suggested a couple of M&A deals that could actually justify themselves largely on the cost side, but have significant upside potential in line with Dell's strategy.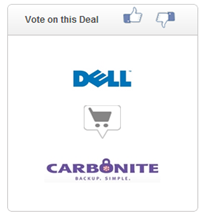 One insightful Merjerz user has suggested Carbonite (CARB), take a look here to understand the logic. Carbonite is not yet profitable, but COGS/Rev is dropping significantly year on year, as revenues grow nicely. Dell could easily and quickly make this company very profitable.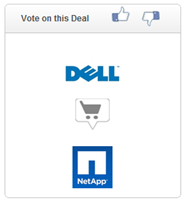 A second idea suggested on Merjerz is NetApp (NTAP). This would be a massive deal for Dell - NetApp's cap is about $11B - but this would instantly make the combined entity the biggest player in the storage space. Might this be the kind of drastic step that could reinvent Dell? After all, NetApp would cost about as much as the Dell's recent acquisitions have done, and could have added $6B in sales - before any synergies - read this analysis to see what synergies could follow.
Dell is a great company (and one we like - this article is being written on a Dell XPS), we like its brand, and its product. Unfortunately Dell's M&A does not seem to be providing value for money. Hopefully Dell will manage to do the right deals to stay in the game and grow again.
Disclosure: I am long DELL, CSCO. I wrote this article myself, and it expresses my own opinions. I am not receiving compensation for it (other than from Seeking Alpha). I have no business relationship with any company whose stock is mentioned in this article.